In early 2019, the L train in New York City will shut down for 15 months to repair damage caused during Hurricane Sandy. Leading up to the closure, VICE will be providing relevant updates and policy proposals, as well as profiles of community members and businesses along the affected route in a series we're calling Tunnel Vision. Read more about the project here.
Alan Minor just wanted to play soccer. It was summer of 2010, and World Cup fever left Minor with cleats and a ball in his trunk, always at the ready. So he traversed his hometown of Birmingham, Alabama, returning to the parks of his youth, where he knew at least one would have a soccer net still standing. He came up short. "I was literally driving around for two hours," Minor said. "Then I found one, and it had no net."


Albeit defeating, the drive inspired him to devise an idea for a social network where people could come together for one-off community service events like repairing a soccer net. The app itself never came to fruition (at least not yet), but it did bring Minor to New York, where he soon faced a similar problem. This time, it was on the subways.
In the last few years, Minor has found himself at the forefront of an issue rarely recognized, yet all too routine to riders: the closed staircases and entrances of New York's 472 subway stations. He has helped map them out with reporters; he has called them out in the press; he even recently wrote his master's thesis at Pratt University on them. According to Minor's research, which focuses on North Brooklyn, the closures inflict micro-level harms on a local community. And with the L train shutdown approaching, his call to action has picked up serious steam.

Minor holds claim to a number of titles—urban planner, litter prevention activist, organizer, etc.—and one at the top of the list is board member since 2014 of Neighbors Allied for Good Growth (for simplicity: NAG), a volunteer organization with a long history
of grassroots organizing on issues related to environmental justice in the area. So I met Minor at the NAG headquarters in Williamsburg, where he explained the crux of his work: an increasingly popular concept in urban studies known as "spatial justice."

As the theory goes, social justice can be viewed through the lenses of physical space—both justice and injustice arises in our degree of access to it. If we see subway stations as a public good meant for and paid for by everyone, we must then ask: is it equally accessible to everyone?
Out of the 472 subway stations citywide, Minor, along with WNYC reporters Kate Hinds and Alan Palazzolo, found that 119 had an entrance shuttered to the public. The highest concentrations are in north and downtown Brooklyn and different parts of Manhattan, even though many of those areas have seen explosive population growth in recent years. Minor said the reasons given by the MTA then were for austerity during times of record-low ridership—less access points, less of a need to pay for a full-time station agent—and crime prevention. "These are areas that were very different in the late 70s and early 80s," he said. "Different in that they were economically depressed."
In his research, he analyzed the local commute times and employment statistics in neighborhoods with high concentrations of closures, like Bed-Stuy and Bushwick, which have around 15 stations with some type of closure. Since he began his self-described "obsession" Minor says he has visited "probably" half of the 119 hubs. "What you see is a lot of vacant storefronts around some stations with closures," he told VICE. "There are impacts on real estate development, on economic development, and on public safety."
"Essentially you are deactivating a public space, because people aren't going to that access point anymore," Minor added. "They're going to take the most direct route to the access point of the station."
Often times, that means running across heavily frequented thoroughfares like Broadway in Brooklyn, which has a string of stations with closed access points. Minor knows from his own commute: when he lived off Montrose Avenue for almost four years, he'd hear the J or M train arriving at Hewes Street, and start sprinting across intersections and up flights of stairs just to catch it. He wasn't alone, either. "Sometimes [people] don't even have a light. It's kind of like Frogger," he said. "You're basically forcing more people into these chokepoints along this dangerous corridor, and I'm sure that's the case in other parts of the city."
A subway station, he continued, "needs as many points of egress as possible." If not, hordes of riders can quickly bottleneck, creating an issue of crowd control—like at the Myrtle-Willoughby Avenues station, where two street access points are closed to the nearly 6,000 riders who crammed through it daily to catch the G train in 2016.
Unlike other transit advocates and activists, Minor said he fully believes the MTA's estimates that 70 to 80 percent of the 250,000 riders who take the L every day will switch to alternate subway lines. Yet many of those, he said, can barely accommodate the current levels of ridership—especially at stations with closed access points—and increased car traffic on local streets only spells out more danger for those trying to cross them.
Outlined in the official L train shutdown mitigation plan released in December, the MTA will attempt to address the issue in a number of ways. As VICE has reported, stairs will be widened or added at Broadway Junction, Marcy Avenue, and Court Square. New elevators or entrances will be added to Bedford Avenue and 1st Avenue, in Manhattan. The vital transfer at Metropolitan Avenue and Lorimer Street will see a new stairway, and improvements to two "control areas." And entrances at Flushing Avenue, Metropolitan Avenue, and Hewes Street will also be reopened.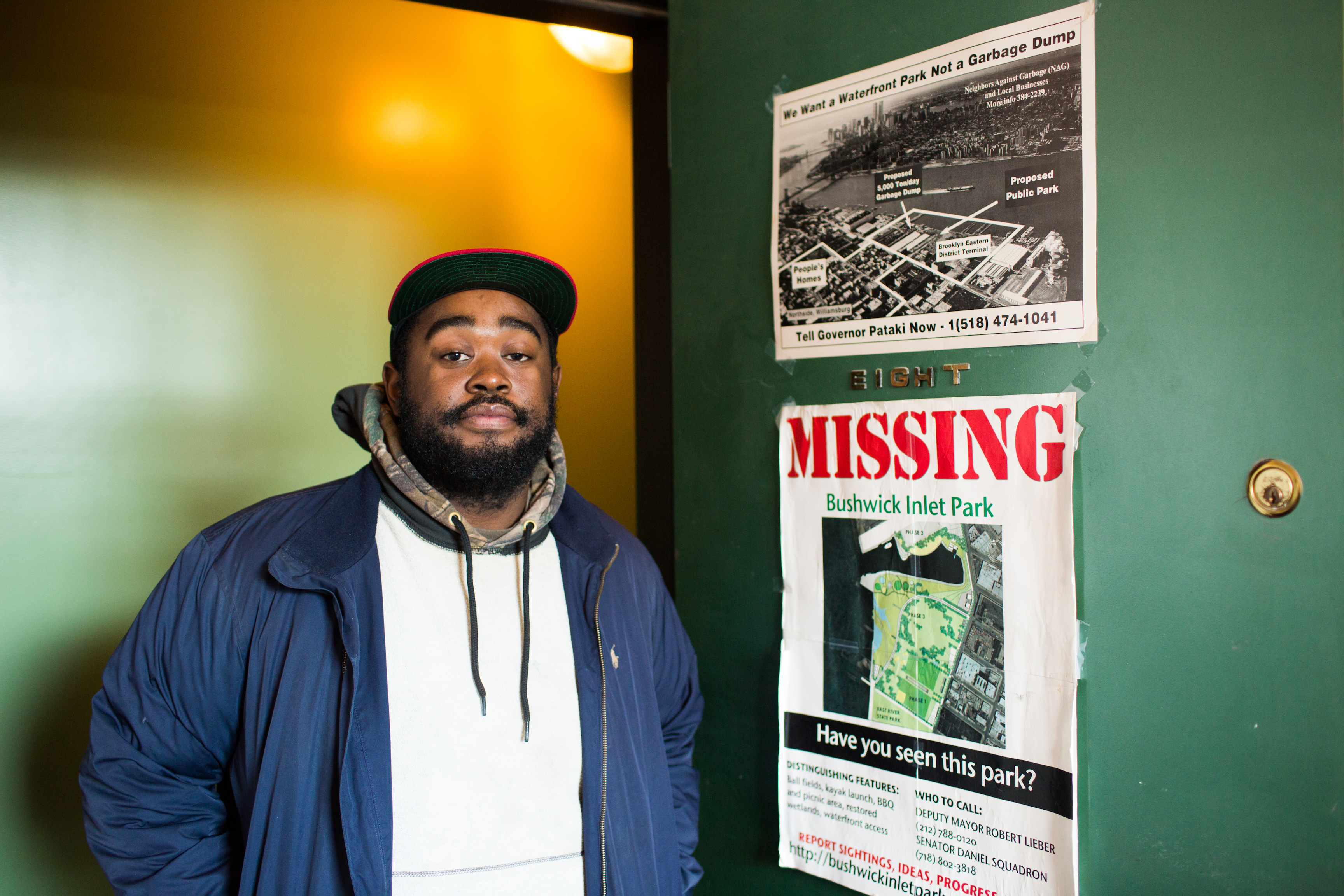 "The MTA is committed to making sure that customers are able to move as easily as possible during the Canarsie Tunnel repairs and accordingly more than two dozen stairways are planned to be reopened, expanded, or built anew along the impacted lines," Shams Tarek, an MTA spokesperson, said in a statement to VICE. "The MTA is holding a series of community meetings in conjunction with NYC DOT and public input from those and other meetings will help inform the final details of the mitigation plans that go into effect in 2019."
It may not be an overstatement to say that Minor's push on the issue—and his partnerships with reporters to shine light on it—at least partially influenced those decisions. But as it stands, Minor thinks the plan is the "minimal palatable option" and that the authority "could definitely do a lot more than [what] they're doing." Until the shutdown actually happens, Minor said he'll be "gung ho" about raising awareness.
"The thing about the subway is that it's a real fixed network, where you get in, and you can go out to so many different parts of the city. Whereas a bus, you're going to one destination," he said. "So I think there should less emphasis on ferry service or even actually bus service… I really think the emphasis should be on strengthening the transit infrastructure."

Sign up for our newsletter to get the best of VICE delivered to your inbox daily.

Follow John Surico on Twitter.