Moments after the Philadelphia Eagles beat the New England Patriots, winning their first ever Super Bowl, mobs of people started to fill the city's streets.
Philadelphia Police had prepared for the night by greasing various light poles with hydraulic fluid to keep fans from climbing up them after the chaos that ensued when the Eagles won the NFC Championship game in January.
But even with a heavy police presence and well lubricated poles, the good people of Philadelphia managed to go completely nuts, celebrating the surprise win the only way they know how.
Some people celebrated in various states of undress.
Others climbed up to the awning of the Ritz-Carlton to fully embrace the City of Brotherly Love.
Until it collapsed.
With the light poles greased, some took to scaling the gates of city hall instead—keg in hand.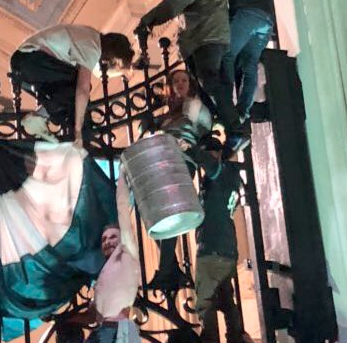 Then things started to take a turn into The Purge territory. Fires were started:
Cars were flipped:
And this guy celebrated by kneeling on the ground to take a giant bite of horse shit:
The entire city of Philadelphia is probably still drunk, and local officials still have an official parade to plan. According to the Philadelphia Fire Department, the city saw 781 EMS incidents, 153 fire incidents, and seven structure fires on Sunday night, and it's a miracle no serious injuries were reported. Still, there's no telling what this guy was up to last night.
Sign up for our newsletter to get the best of VICE delivered to your inbox daily.