Over its 11 year history, Pitchfork Music Festival has always delegated a substantial portion of its lineup to local music. It's the one major music festival in Chicago that best covers the talent, variety, and eclecticism in its various local communities: you're just as likely to see a footwork legend immediately after checking out a rising rapper or indie rock band. While Lollapalooza always books a handful of Chicagoans, the much-smaller Pitchfork Fest feels like a better reflection of the city. Compared to last year's record-breaking nine Chicago acts, the 2017 Pitchfork Fest lineup only had five locals and they all played on Sunday. All five of these acts reflect critical moments in Chicago's recent music history and all of them killed it.
Fresh off their rowdy Lincoln Hall festival aftershow set Saturday night, NE-HI transferred their bouncy, clanging brand of noisy indie rock to the Green stage. For a band that cut its teeth playing crammed DIY venues, it was probably the largest stage they've ever played. While it was unnatural to see the band perform with so much space between its members, it was a needed-jolt of energy to hear these relentlessly peppy post-punk songs so early in the day. From the bass-heavy rush of a song like "Prove" to the mesmerizing thump of their 2014 self-titled album opener "Since I've Been Thinking." While NE-HI's recorded output is stellar, specifically their new album Offers, there's a physicality to their live set that's undeniable. Watching frontmen Jason Balla and Mikey Wells flail around onstage is one of the best things about being an indie rock fan in Chicago. To top it off, the four-piece pulled out all the stops for their set closer, a fierce cover of Harry Nilsson's "Jump Into The Fire."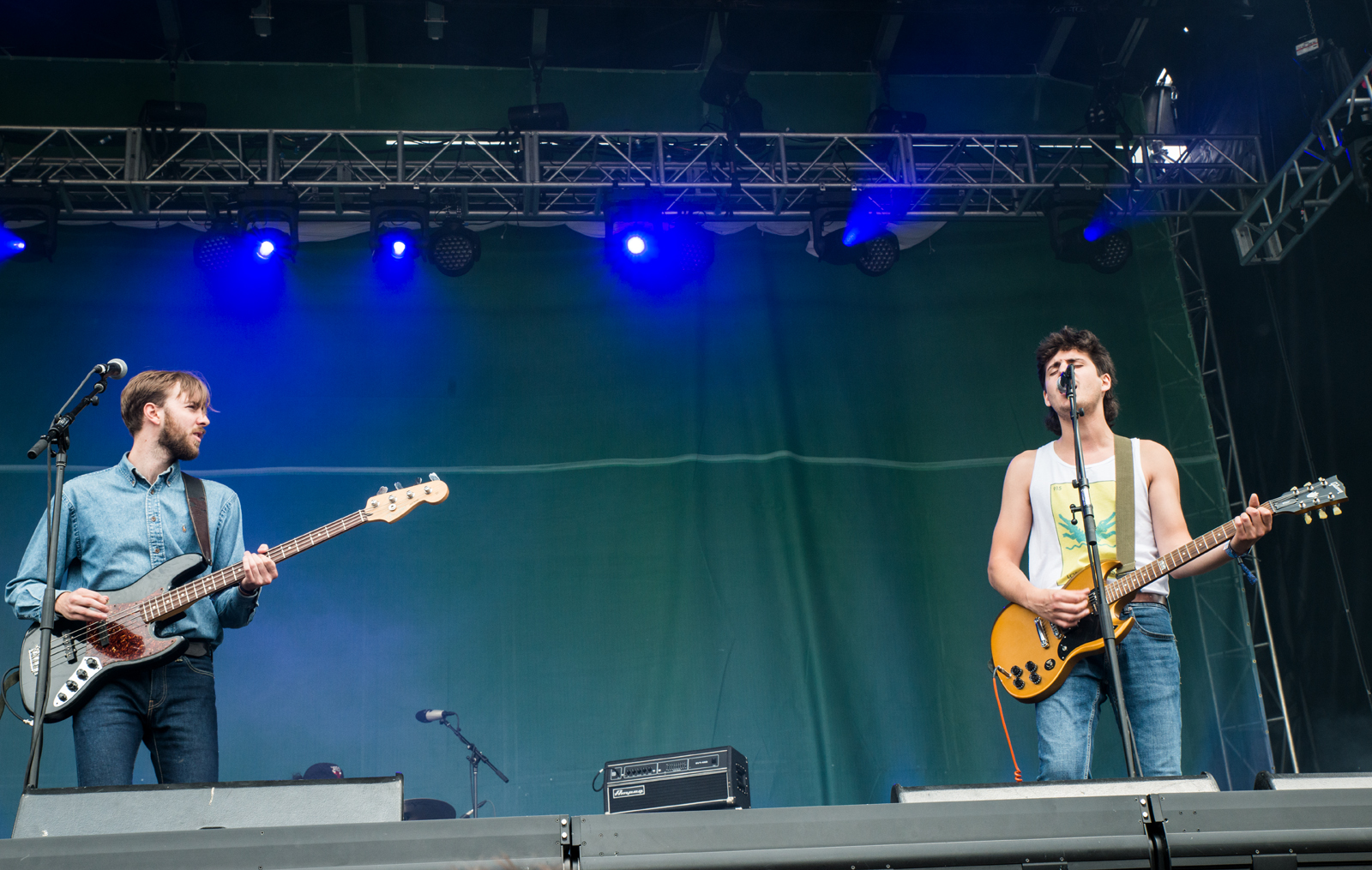 The festival vibe could not feel more Chicago walking from NE-HI's DIY-influenced rock to house legend Derrick Carter's masterful DJ set at Blue stage. This is a guy who's been playing around Chicago and influencing its dance community for over a quarter of a century and he's still as relevant and vital as ever. He's still doing regular DJ sets at iconic clubs like Smart Bar and while those shows mostly take place after midnight, no closer did it get to a full-on dance party than Carter's afternoon seamless lesson in dance, disco, house, and R&B. Carter's managed to stay so vital as a part of Chicago's house community by always bucking trends and staying himself. Just because it was a high profile festival set did not change Carter's commitment to unrelenting grooves.
Later at the Blue stage, Joey Purp reminded the audience how far the Chicago rapper has come so far in his career. "I've been at this stage so many times. I've been to Pitchfork so many times. I've stood there. I've been there," he exclaimed while pointing at various spots in the crowd. Without a doubt, Purp proved why he's there, giving a ripping tour of his music, from his Leather Corduroys days with rapper Kami, to his most recent mixtape iiiDrops to his upcoming project Quarter Thing. But besides his unassailable catalog so far and the simple fact that no one sounds cooler behind the mic, Purp's charismatic set was a rousing success for his rotating cast of guests and collaborators.

Backed by Knox Fortune and Social Experiment maestro Peter Cottontale, Purp enlisted the help of Kami for Leather Corduroys' "Mexican Coke" (few Chicago rap songs are a better rave up than that track), Towkio for "Playin' Fair" and a surprise appearance by Vic Mensa for "Winners Circle." It's a testament to Chicago's music community that Purp, Towkio, Kami, and Mensa, three friends since high school or even middle school, can all stake out places in local hip-hop and stay as consistently hot as they've been. For people who just years ago were watching the Blue stage with General Admission wristbands, it'd be understandable if you got goosebumps for the stripped down piano-led version of "Cornerstore."
While the Avalanches abruptly-cancelled appearance was a major disappointment, it came as a blessing in disguise for fans of Jamila Woods, who took over the band's Green stage slot. The Chicago singer-poet capitalized on the momentum from her still-sublime hook on Donnie Trumpet and the Social Experiment's "Sunday Candy" with Heavn, an intimate and stunning mixtape that showcased her ear for delicate melodies, revealing sketchbook lyrics, and emotionally resonant songwriting. Her early evening main stage set was surprisingly the perfect venue for these sometimes quiet songs, proving she had the stage presence and voice to carry it to a sizable crowd. Backed by a trio of backup singers, and for a couple songs, ballet dancers, Woods' potential seemed unlimited.
Though American Football formed in Urbana-Champaign, Illinois, we're counting the recently-reunited and revitalized emo icons a Chicago band because frontman Mike Kinsella has long been based there. Plus, the band's probably played more shows reuniting after a 14 year hiatus than they ever did when they recorded their groundbreaking emo pioneering album American Football in 1999. With their new 2016 album, also called American Football, the band scrapped the ramshackle vibe that permeated throughout their classic debut for crisper, tighter songwriting. That showed as they closed out the Blue stage, kicking off their nine-song set with "Stay Home," one of the best cuts off their debut and even adding tasteful vibraphone throughout the gig. Like LCD Soundsystem, who found new life post-hiatus, American Football are playing the best music of their career now and clearly having a lot of fun doing it. Even if they didn't kickstart their career in Chicago, the rapt Sunday night crowd felt like a homecoming.
While there's little on the surface connecting Chicago house music with twinkling emo or New Zealand-inspired indie rock with hip-hop, there's a resilience at the heart of each of these acts. It's distinctly Midwestern grit that keeps Chicago's music thriving and every Pitchfork weekend, the city's weirdest and most vibrant musical corners come to life on the lineup.
Josh Terry is probably drinking Old Style somewhere in Chicago this afternoon. Follow him on Twitter.