How Rwanda Embraced Innovation to Help Establish Affordable Health Care
A campaign to bring clear vision to people has reached 90 percent of the African country's population, but the problem remains for 2.5 billion worldwide.
Image via Clearly
We all have a vision of the future. Perhaps it is of a world revolutionized by alternative intelligence, driverless cars, or even a human touch-down on Mars. My vision is for a world where everyone has access to healthcare. Where we prevent needless death and suffering by ensuring that all of the cutting-edge healthcare innovations out there are reaching everyone who needs them, so that everyone can lead their best lives possible.
Ironically, part of my vision is 'vision' itself. Poor vision is an issue where the world has a lot of catching up to do. The humble spectacles were invented over 700 years ago, yet a third of the world - 2.5 billion people – still have poor vision and no access to glasses. The majority of people affected by poor vision – approximately 90 per cent - live in the developing world.
Rwanda's approach to tackling poor vision is proof that ending poor vision in the developing world is possible.
People are staggered when they hear these numbers. New research from the Clearly campaign – which aims to bring clear vision to the 2.5 billion people denied it as quickly as possible – has for the first time broken down these figures in a global ranking of countries with the highest numbers of people suffering needlessly from poor vision. It makes for stark reading. China has a staggering 720m people with poor vision, followed by 477m in India, 94.6m in Nigeria, 89.9 m in Indonesia and 79.4m.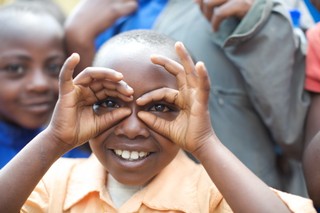 Five years ago, when I was Health Minister, Rwanda was one of these statistics. But today we give all of our 11.8m citizens access to local affordable eye care, making Rwanda the first low income nation to establish a sustainable Primary Eye Care System.
This achievement is a product of Rwanda's nearly universal health care system, which today now reaches nearly 90 percent of the population. The unique funding model, which blends tax revenue, international aid and voluntary insurance premiums, has been closely studied by development agencies and governments across the developing world.
Today, a baby born in Rwanda can expect to live until the age of 66, up from a life expectancy of 46 in 1980. That's still fifteen years less than the life expectancy of an American baby, but it is a significant achievement, particularly when you consider that Rwanda's economic output per citizen is less than one-eightieth of an American citizen, totaling roughly $800 USD per person.
Rwanda's secret ingredient is embracing collaboration and innovation.
---
Check out more videos from VICE:
---
In Europe and the U.S., vision correction and treatment relies on highly trained ophthalmic experts, high-cost equipment and complex, technical eyewear inventories. Without the education infrastructure or technical supply chain required, that model is near impossible to recreate in the developing world.
In Rwanda, there are a handful of eye-care specialists available to test the entire population's eyesight. We had to do something to change that, but the ordinary route of recruiting and deploying more experts would have taken decades. Working closely with UK Charity Vision for a Nation (VFAN), founded by visionary James Chen, and the Rwandan Government turned this on its head and rolled out a three-day training programme to teach nurses the basic skills needed to deliver eye screenings to all 15,000 villages.
This year Rwanda passed the milestone of screening two million people for poor vision under five years of age.
Now there are over 2,700 nurses in Rwanda trained to perform eye-tests in the community, and to make referrals where necessary, freeing up the country's eye specialists free to concentrate on people with more complex eye-care needs.
Rwanda's government took other steps too, waiving taxes and duties for glasses and deregulating the sale of glasses. Glasses can cost as little as £1 to produce, but by the time they get to market they are cost prohibitive for so many.
This move to disrupt the status quo has enabled rapid delivery and impact. Indeed, this year Rwanda passed the milestone of screening two million people for poor vision under five years of age.
The government's focus on improving the health outcomes of low-income people, will not only enhance public health, but raise the country's economic outlook.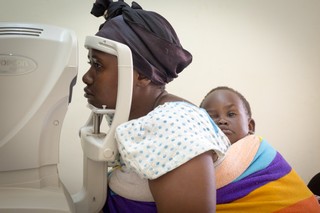 Vision correction is often pushed down the agenda of global issues because it is not a life-threatening issue. And the money currently available from governments and NGOs is understandably channeled towards the 165 million people who need medical interventions to address sight loss. However, investing in vision correction is in many ways the golden thread that will help the world reduce poverty, by delivering quality education, decent work and decrease injuries.
Rwanda's approach to tackling poor vision is proof that ending poor vision in the developing world is possible. Indeed, Chen calls out the progress he witnessed in Rwanda as a roadmap to emulate across the developing world to eradicate poor vision in his new book – 'Clearly: How a 700-year-old Invention Can Change the World Forever'.
Next year's Commonwealth Summit in London provides an opportunity for world leaders to take action and program such as the one implemented successfully in Rwanda should be front and centre telling the story of its inspiring and visionary journey to help the rest of the world mat this success. That is my vision for next year, at least.
Support Clearly to make sureCommonwealth leaders to put vision on their agenda for the Summit and make sure your voice is heard.
Stories