Baseball Has Never Seen Anything Like the Shohei Ohtani Sweepstakes
A once-in-a-generation talent, and a series of really complicated and confusing stipulations have combined to create a really weird, and entertaining set of circumstances.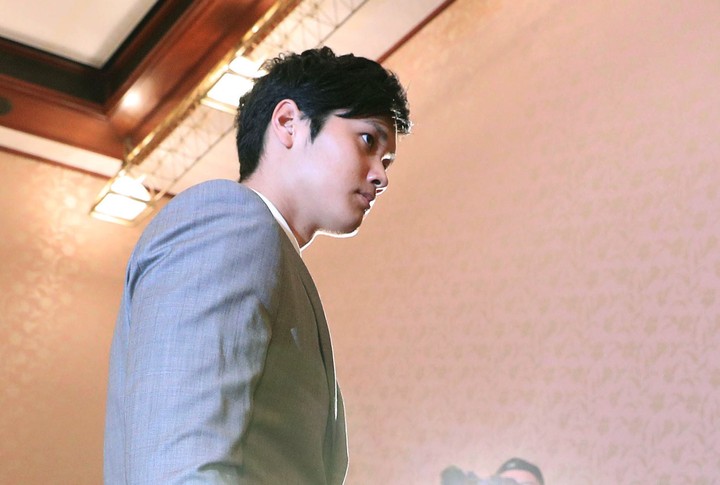 Photo via Kyodo News
Baseball has never seen a prospect like Shohei Ohtani. It has also never seen anything like the pursuit of Shohei Ohtani.
The arrival of a once-in-a-generation talent, and a series of really complicated and confusing stipulations in baseball's Collective Bargaining Agreement have combined to create a situation unlike anything else in baseball history.
If you haven't heard of Ohtani, here's the deal: He's fascinating. He's a 23-year-old pitcher who can get his fastball into triple digits with ease. He also has one of the better splitters you'll see, a ridiculous slider and two other solid pitches. Oh, and he also has plus-plus power and big time speed, and projects to be a middle-of-the-order hitter.
Yep. A legitimate two-way player.
So, as you can imagine, a player of this talent has virtually every team interested. And when we say virtually every team, we mean 29-of-30 teams. The only team that reportedly didn't put in a bid for Ohtani was the Miami Marlins. We'll get back to them in a second.
As for those complicated and confusing stipulations? When baseball ratified the current CBA back in 2011, they created a cap on the amount teams could spend on international players. Teams are given a certain amount of cash—$4.75 million for most, $5.25 for some, $5.75 million for others (the amounts depend on their own complicated stuff). Teams can also trade for up to 75 percent of their given balance, and teams are allowed to trade any amount they're given to other clubs. If this sounds like an arcane system designed to keep salaries down, well that's because it is.
Usually the cash is spent on teenage prospects from Latin America—not MLB ready superstars in their early twenties. But now they apply to Ohtani, with the only exception being that the team who signs him must pay his former club, the Nippon Ham Fighters, $20 million dollars in exchange for his rights. He'll get a small percentage of that fee, but outside of that, he's limited to the funds available to clubs.
And because of the limited funds available, and because teams are allowed to trade these leftover funds, we have chaos. Beautiful, beautiful chaos. The first thing that happened was that the cap limited the amount of money teams could spend on Ohtani—a few million dollars is a pittance for a player of his caliber, which means that he was looking at other factors to decide on his future MLB home. Which also means we don't know who will sign him: we can't just presume it will be the highest bidder.
Last week, Ohtani requested detailed memos from MLB teams who were interested in signing him, covering things like facilities, medical and performance philosophies, and how they would integrate him into their franchise and city. After reading the proposals, Ohtani and his representatives narrowed his list down to seven teams. (None of which was the Yankees, which shocked baseball insiders.)
In some ways, Ohtani's signing process has resembled that of a big-time college football or basketball recruit being wooed by universities more than anything we've ever seen in professional sports. It's been truly surreal.
And that was even before all hell broke loose.
Look at what happened Wednesday night. Jon Morosi of MLB Network reported right around 7 P.M. PST that a team who was in the Ohtani sweepstakes was close to a trade to acquire $1 million in international bonus pool money from the Minnesota Twins. Fifteen minutes later, the Mariners announced they had traded David Banuelos—one of the team's top dozen prospects and possible catcher of the future—for that price.
And no more than five minutes later, the Angels, another one of Ohtani's final suitors, announced they had done the same thing, trading prospect Jacob Pearson for the exact same amount. Then on Thursday afternoon, the Mariners acquired Dee Gordon for two of their best prospects, and just so happened to acquire another million bucks in international prospect funds. It's the third trade Seattle has made this year for IFA money, as they also dealt potential closer Thyiago Vieira to the White Sox.
Now, none of these prospects are household names, but both of these players have a chance to be everyday players. In fact, Pearson was given a seven-figure bonus out of high school just last year, and was one of the few prospects in the Los Angeles system with offensive upside.
So the Angels gave up a player who had a chance to be an everyday player, the Mariners have given up three of their better prospects, and what they received in return, was the right to maybe, possibly sign a player.
Unheard of.
And it just goes to show you how much teams value Ohtani's talent. You'd see teams clamoring for him even if he was just a pitcher. Add in the fact that he can help you offensively as either an outfielder or designated hitter? The chance to have a potential top of the rotation starter and a 30 homer player who can score from anywhere because of his speed? We shouldn't be surprised to see teams willing to give up maybes to get a certainty—or close to one, anyway.
And yet it's still fascinating to see. What if the Mariners gave up a substantial portion of their farm system and "all" they have to show for it is Dee Gordon (a very good player, no question, but not Ohtani) and some cash to spend on 17-year-olds. What if the Angels only have the latter? Yes, the reward is worth the risk in these cases, but the risk is real. One of these teams, possibly both, will come home from the Ohtani sweepstakes empty-handed.
But one team: the Mariners, Angels, Cubs, Padres, Dodgers, Rangers, or Giants, will come home with a transcendent talent.
And because of these insane, backwards, wonderfully archaic rules, it has been a lot of fun finding out who.
Stories