It's LGBTQ Pride Month in America, and the White House, for the second year in a row, is letting it pass without recognition or support. I can tell you, it's a silence the LGBTQ community hears loudly.
In the face of it, though, queer people around the country are shining all the brighter by transforming it into continued action and celebration. Pride, since its beginning 50 years ago in NYC at the Stonewall Riots, seems to be more common than ever in America. And more and more small towns, many in Republican states, are moving in progressive directions by becoming beacons for love and optimism.
Take Columbus, Indiana, for example, a town of 47,000—a couple of hours away from my hometown— that just held its first ever LGBTQ Pride festival. Though locals consider the town a fairly progressive center within a conservative state, it has never held any sort of pride celebration until this year. And not only was this year's the town's first, it was organized by a high school senior—fitting, at a time when the youth are getting rightful attention for leading movements around the country and world. Not only that, Columbus also happens to be the hometown of one the LGBTQ community's biggest political enemies: Vice President Mike Pence.
That senior was from Columbus Signature Academy, Erin Bailey, and she organized the event as a class project to show the acceptance she felt as a bisexual teenager in her community. A celebration of LGBTQ Pride on the main streets of Columbus, she felt, might send a more positive message to the world about Indiana than the one Pence was sending.
Pence, once Governor of Indiana, has a deep history of promoting traditional family values and discriminatory anti-LGBTQ policies. He thrust Indiana into the national spotlight in 2015 for his Religious Freedom Restoration Act that would have allowed businesses to deny service to LGBTQ people there.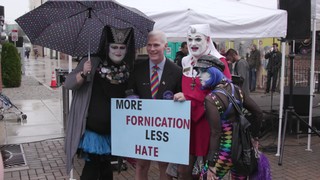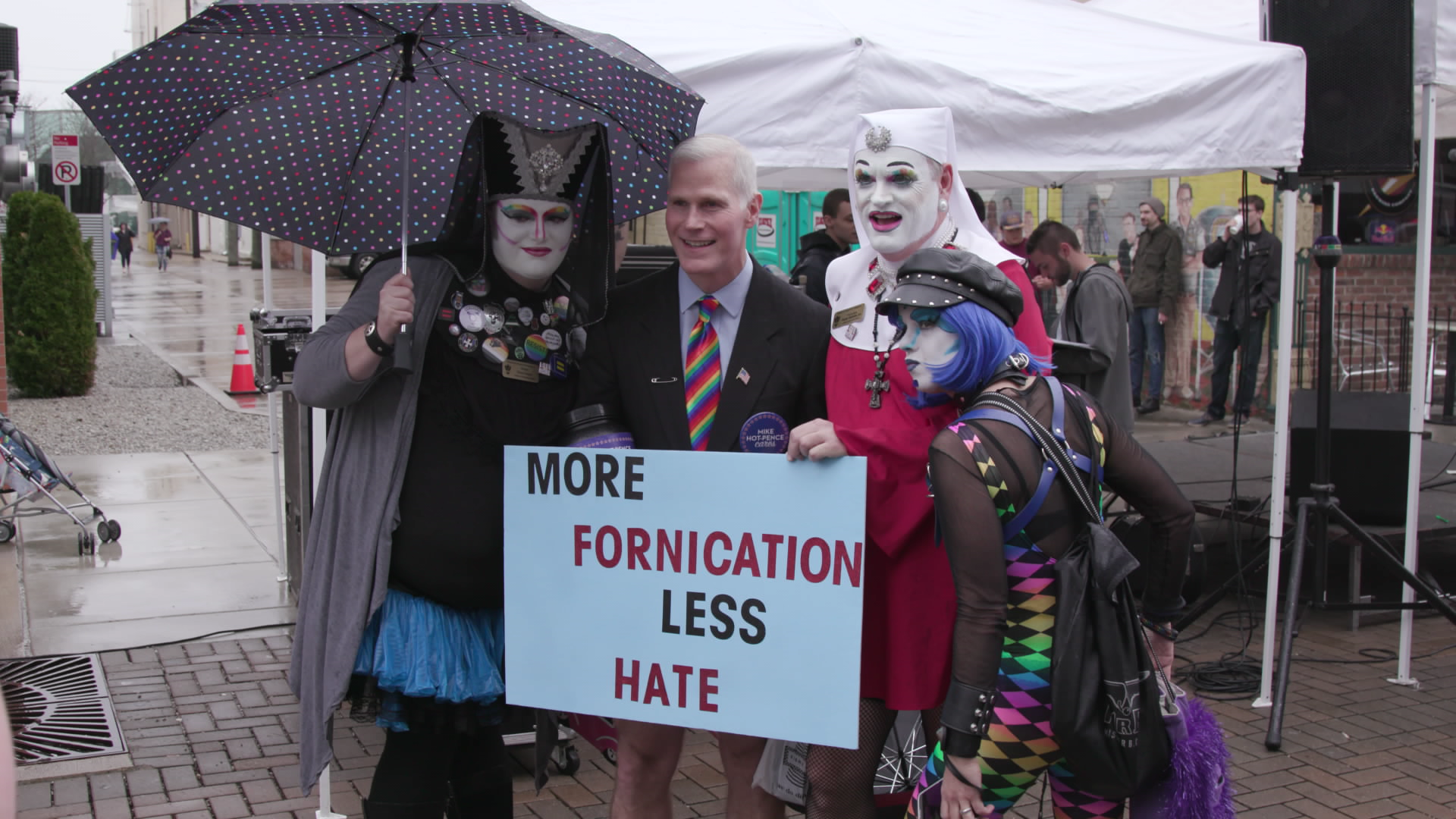 In Indiana and other Republican states in the U.S. today, many LGBTQ-friendly policies are being dismantled and anti-LGBTQ policies that marginalize and hurt lives put in place. Under the Trump/Pence Administration, Americans have actually become less accepting of LGBTQ people, a GLAAD study found. Many people I talked to in Columbus understood this harsh reality personally and were taking responsibility to transform that suffering with collective compassion.
I tagged along with Bailey as she prepared for the event that intended to set an example of hope. Despite rain on the day, and a slow start, eventually hundreds of people started to gather, then up to 2,000. The festival, with over 30 vendor booths and an extravagant drag show, took up two blocks of the town's main street.
As Bailey moved through the crowd, I was deeply moved by the intense emotions of people greeting her (hugs, excitement, congratulations, tears), people in every direction, people from all over the country. Many were straight allies. Some were queer teenagers from Columbus, nearby towns, from cities far away. A few expressed to Bailey that they were not yet out to their parents (they wouldn't be accepted), but drove many miles just to be around other LGBTQ people. They thanked her for bringing people like them together. They were able to see people like them in the flesh, not just online, and it felt pivotal to their future wellbeing.
Erin's pride event is not the first time LGBTQ rights and visibility in Columbus has gotten this kind of national attention. Back in 2000, Cummins, the town's largest employer, announced they were extending benefits to all same-sex partners and caused a local uproar and backlash in the area. But LGBTQ activists fought back, risked their lives, convened, and made themselves more visible than ever. Because of them, Columbus gained a reputation for standing against discrimination in a small pocket of Indiana.
Sandra Bolte, an activist who prominently fought that discrimination in 2000, greeted Bailey at the close of the festival, beaming. Bolte's 18 years of activism in the town had paved the way for Bailey's own organizing. Watching them together, it felt as though a torch had been passed. But also that Bailey—in her innocence, freshness, and lack of limitations—had lit her own.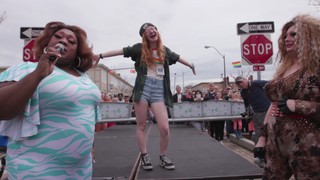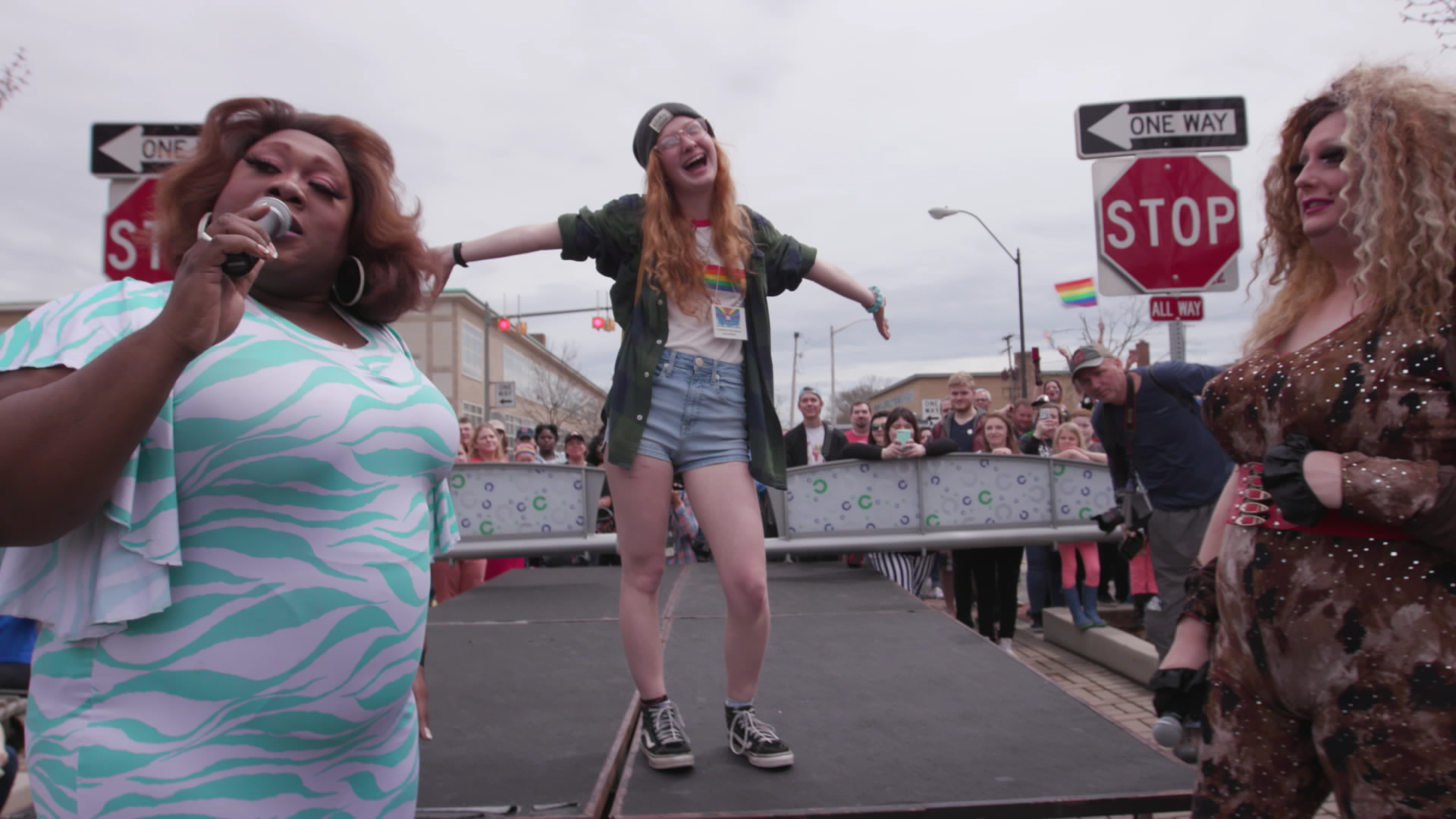 I witnessed the power that day of queer people deeply needing to be heard and seen, and suddenly an unassuming teenager was giving them that visibility. A quiet high school girl had revealed possibility to people in a town that once saw impossibility. And Columbus Pride thrived because the community allowed her to lead them.
I grew up in small-town, southern, conservative Indiana, and know first hand the struggles and isolation of growing up LGBTQ in this environment. The stories today are the same: rejection, depression, and a growing fear that regressive politics and bigoted rhetoric is harming their lives. These public displays of queer acceptance and solidarity are so important in shifting those oppressed stories. Actively, physically, taking part in them is a demonstration of your values, and that visibility can change lives. In Columbus, I witnessed how Pride can bring out the best in a small town.
For More Stories Like This, Sign Up for Our Newsletter
Bailey's hope, and mine too, is that other small towns will recognize their power to shift hearts and minds everywhere and will consider following suit. Bailey said several people from small towns nearby have reached out to learn more about how she pulled it off. In fact, some from Vincennes, Indiana (where I went to high school) were inspired and are creating the very first pride festival there this week.

Celebrating queerness in small-town America is, honestly, a revolutionary act. In places where laws and attitudes want to keep LGBTQ in the margins—quiet, ashamed, afraid—queerness does its best work when it celebrates in the face of that. It is most impactful when its openness and freedom challenges and changes its community; when it asks us to do our best to shine when it might be easier to hide, to come together when it might be easier to divide.