Woman Faces Felony Charges After Impersonating Cop to Get Chick-Fil-A Discount
"Do you have some sort of 'Federal Agent Special?'"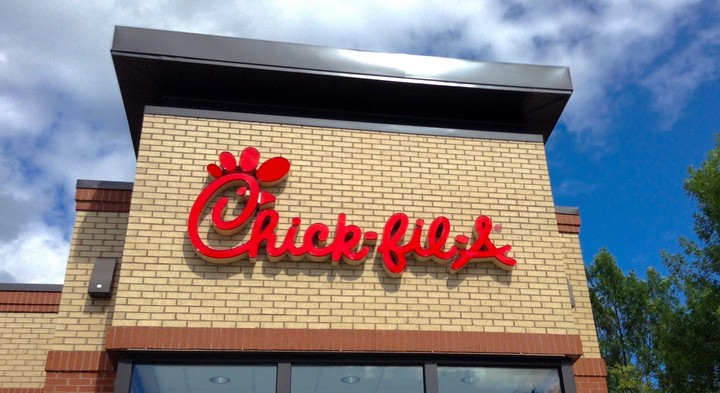 Photo via Flickr user Mike Mozart
Despite what we all learned from Let's Be Cops, impersonating a police officer is a serious crime with harsh consequences including sky-high fines, prison time, and felony convictions. Even accused defendants with expensive attorneys usually end up with a criminal record, so if you're gonna dress up like a law enforcement officer, you'd better make it for something really, really good—like, literally anything other than a Chick-fil-A discount.
But that was the risk taken by Tara Marie Solem. The Georgia woman is facing two felony counts after pretending to be a federal agent when she ordered her meal at a Marietta Chick-fil-A. According to the Atlanta Journal-Constitution, Solem told a drive-thru worker that she was a special agent, but the Chick-fil-A staff didn't believe it.
Rather than drive off or, like, pay full price, she allegedly went inside to argue about it with employees, muttering expletives and flashing a fake badge in a black wallet. The managers on duty told Solem that, in order to get a discount, she needed to be in uniform—and she had an answer for that, too. According to the warrant issued for her arrest, she told them that "she was undercover and that for them asking her to be in uniform would blow her cover and possible [sic] get her killed."
When she didn't get her discount (there's no report of what her attempted order was), she called Chick-fil-A's corporate office and reported "Agent Solem's" poor treatment in one of its restaurants.
She later changed her story and said that she wasn't a federal agent, but was with the Georgia Bureau of Investigation; the police officer who issued the warrant for her arrest confirmed with the GBI that no, it did not have an Agent Solem.
Although this seems like the dumbest possible idea, it's not a unique one: In the past, a 21-year-old Indiana man was arrested for pretending to be a cop for free Taco Bell; a Tennessee man was arrested for flashing a fake "Tennessee Tactical Bureau" badge to try to score free McDonald's; a Buffalo, NY man used a fake badge-and-real-gun combo at a Starbucks; and yet another Tennessee dude showed his own bogus badge and gun at a Golden Corral, telling them. "The drink is usually free." (And these are far from being the only other offenders of this kind.)
During Solem's first court appearance, a magistrate set her bond at $6,500 and ordered her to never again visit that particular Chick-fil-A. Although she was only in jail for ten hours at the time, she may have a lengthy sentence ahead of her; she has been indicted on two felony counts and will be back in court in the future.
Hopefully, she's retired her badge for good.
Stories