'RuPaul's Drag Race All Stars' Recap: Nancy (Pelosi) Boys
This week, Nancy Pelosi stopped by the workroom to remind all of the queens of their most important duty: to kick out their competition.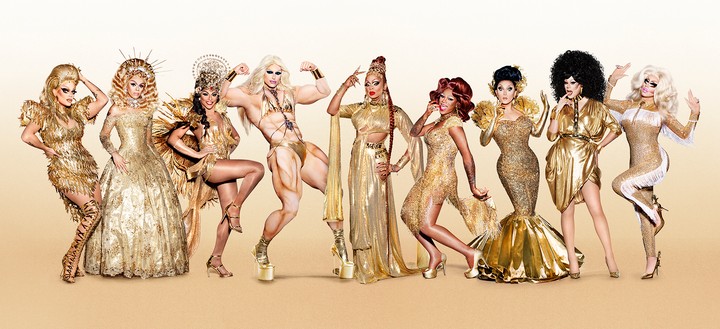 Image via VH1
The following post contains spoilers for the March 8 episode of RuPaul's Drag Race All Stars.

This show has never been a democracy. Not only is it lorded over by RuPaul, a benevolent queen wearing a crown of fake curls, but this season we saw the weekly election of an autocrat who got to eliminate one of their competitors. There are no votes on this show, the winner decides who gets sent to "the house;" a mysterious place that Shangela kept bringing up that is probably next door to the farm upstate where your parents sent your childhood dog to play.
The irony was not lost on me that Nancy Pelosi and her pant suit sauntered right into this fascist regime and reminded everyone about the power of voting. I'm not saying that she's wrong, but she's a paragon for representative democracy, and went in to an environment where absolute power is absolute.
These workroom visits—like the one we saw from Marc Jacobs earlier this season or Lisa Kudrow last season—are, generally, absolutely worthless. They're an occasion for the producers to show off that the show has fans that are so famous, they can't take an entire day off to actually judge the runway. I mean, it's not like this week's guest judges Garcelle Beauvais and Chris Colfer have anything to do, but Marc Jacobs is busy, henny.
---
This time I was actually here for it. Ru using his platform to talk to his audience—which is mostly made up of gays, people of color, women, and other members of disenfranchised populations—to remind them that things are only going to change if they vote is a powerful message. If that's what it takes to turn a few of these red states blue, then I am happy to give up a few minutes of workroom chatter for it.
Politics aside, this week the challenge was to have the girls star in the trailer for a movie mixing high art and low art, which is the essential algorithm for camp. Ru provided the script for My Best Squirrelfriend's Dragsmaid's Wedding Trip starring fake Erin Brockovich, fake Queen Elizabeth II, fake Black Swan, fake Emma Stone in La La Land, and fake Octavia Spencer in everything she's been in except Snowpiercer. As a gift to the returning Morgan McMichaels she got to assign the roles to each of the queens.
Shangela played fake Octavia, wearing her bottomless granny glasses that she's pulled out at least four times so far this season. It was perfect casting. BeBe Zahara Benet as the queen also seemed like a natural fit. Otherwise Morgan's casting choices weren't so hot. She gave Kennedy fake Emma Stone because she can dance, and she was blander in that role than a bad bagel soaked in milk. (No, not Milk milk—milk. Oh, you know what I mean.) Trixie didn't seem like a natural fit for fake Erin Brockovich, but she's so inspired and over the top I could see her nailing any of these roles, as long as she never has to play RuPaul ever again.
The biggest failure though was Morgan casting herself as fake Black Swan, who is supposed to not only be a dancer, but an insane person. She was not up to the task and we saw her repeatedly playing it safer than a PrEP pill in three condoms. She later told Kennedy that she wanted to show the judges something different. Something different? She was there for one challenge. She just needed to show the judges something.
This just proved what BenDeLaCreme said all along, that Morgan McMichaels had a weak performance the first week and should have gone home. This is why I hate when queens get to come back, because it's just a waste of a week. All of the negativity and vitriol of her personality aside, Morgan proved in this challenge that she wasn't nearly as talented as the other queens left in the race.
I have to say, the same thing was true for BeBe. Imagine the way Ben would have made playing the queen. It would have been over the top and haughty like the role demanded.
I will give both BeBe and Morgan credit for their runway looks, however. The theme was "Red to Filth," and BeBe came out with her face covered with some sort of glittering membrane, wearing a bulbous, equally encrusted gown that made her look like a lobster that got attacked by a diamond monster. Morgan looked like the sluttiest girl in a community theater production of Brigadoon and I would definitely give her a dollar if she wore it for a Judy Garland number in a WeHo gay bar.
The weakest look of the night, as usual, was Kennedy's. She was just in a long, red, jeweled dress. It was pretty and glamorous, for sure, but it looked like a Jessica Rabbit costume that would have won a Halloween costume contest in 1992. Kennedy has grown into my favorite queen on the show. Her opinions are usually right, she has a take-no-shit attitude, and her performances are usually top notch. But her drag, for me, is forgettable or—even worse—memorably bad.
Look at the top two of the night. Shangela showed up looking like a sea urchin that got dipped in blood and was invited to Leigh Bowery's house for an afterparty. And, as she walked down the runway, that motherfucker inflated. That is surprise. That is drama. That is nothing we have ever seen before. That is the person who we want to talk to first at the meet and greet. Trixie came out as a sexy schoolgirl with a pile of books on her head and an apple on top. The outfit was cute, but not revolutionary. But what she gave us was a character. Her look told us a story and played with a familiar archetype. In both instances, they made an outfit do a lot more than just look good.
The lip sync came down to Shangela and Trixie and, from the moment Shangela walked out as a fat old lady in a robe and the trademark grandma glasses, we knew the jig was up. There had to be at least one reveal under that gown and it was a great one. Shangela was an enormous stripper underneath there. She joked and twerked all over that stage in one of the best lip sync performances of all time. She did not come to play this year and, by god, does Shangela deserve to win not only this lip sync but the whole competition. She showed up this week, every week, and every week for the rest of eternity. Amen.
Though she seemed tortured about it, the decision to send Morgan home was an easy one. Not only was she returning after missing a whole slew of competitions, she let herself be vulnerable by not winning the first time she was back. More than any of the others her fate was in her own hands and she proved, now and forever, that she let the competition get to her.
Follow Brian Moylan on Twitter.
Sign up for our newsletter to get the best of VICE delivered to your inbox daily.