Every time he walks onto a basketball court, Anthony Davis transforms the 20 feet of hardwood around his opponent's rim into his own personal playground. He swoops around—from the left elbow, to the right block, to the nail, up into the air, nose-level with the rim—in a choreographed dance of destruction, unleashing a 7'6" wingspan that transcends the limitations of complex defensive schemes, brushes aside muscular enemies instructed to slow him down, and dismisses gravity out of hand.
Davis owns this space like few others ever have: Should he bully his defender down for a jump hook? Knock him back with a jab step, pump fake him into a lunging panic, then glide by with the grace of a ballet dancer? Face up, crossover, spin, and finish with a stunning finger roll? Invent a brand new move? Davis can do it all. He's the EGOT winner of NBA talents.
"Bad shots" are conceptually redefined when spun from his right hand. His all-around excellence at 24 years old is a catastrophe for 29 NBA teams, and what's truly scary (and, so far, kind of mystifying) is that the five-time All-Star has yet to walk along the most obvious evolutionary path laid in his way.
As wondrous and seemingly complete as Davis already is, not even he floats above basic math. There are nights (like Wednesday) where he'll need only 18 shots to score 42 points, and the three-point line will be used as nothing more than a garnish. That's terrific. But in order to envision a world where his impact is truly universal, Davis needs to step behind the arc more often.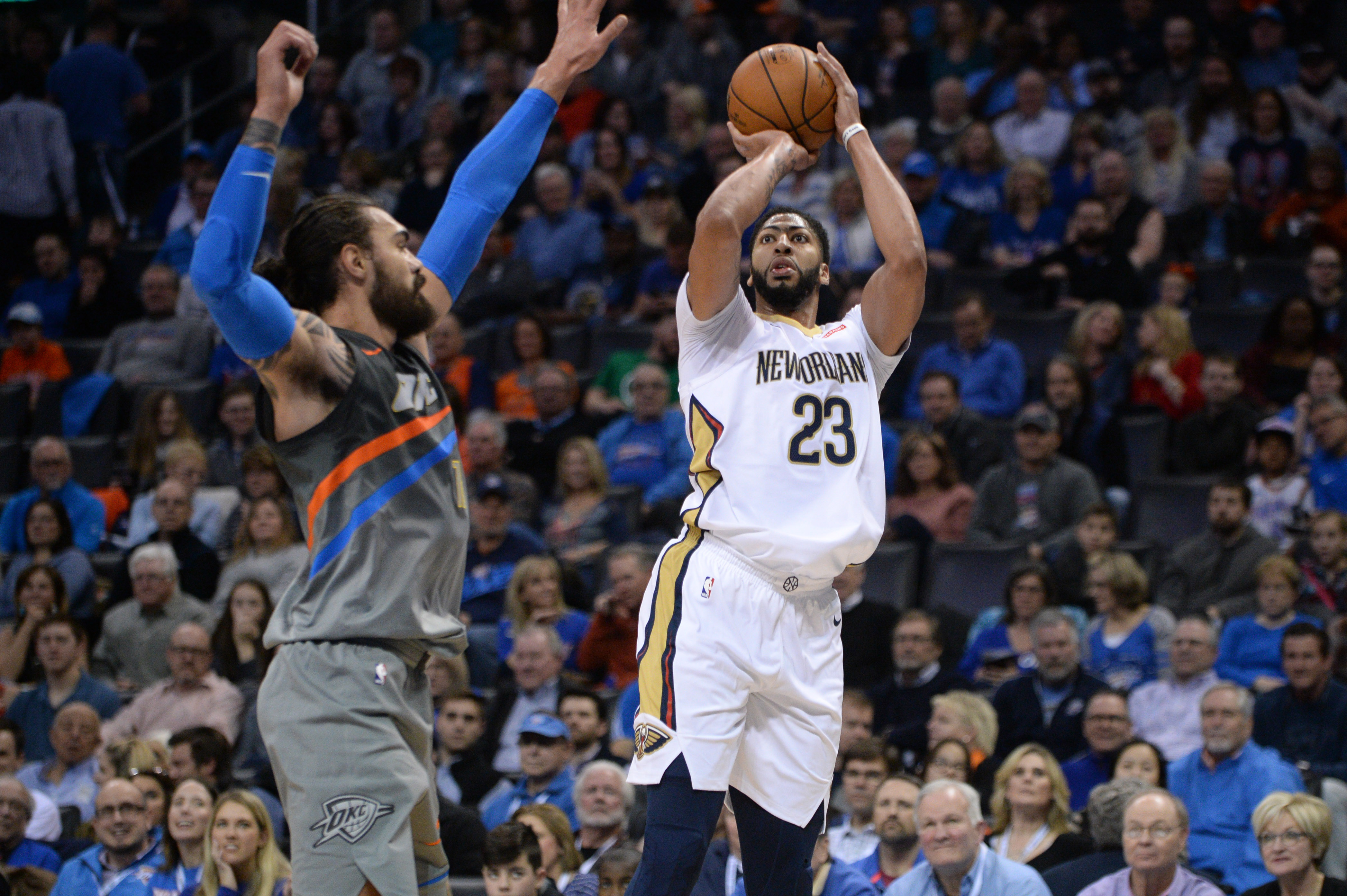 Davis is taking more threes than he ever has this season. His three-point rate is nearly double his career average. That's a hopeful sign. But he still ranks just 385th out of 502 players. And for every three Davis shoots, he hoists up a pair of long twos.
"That's gotta come from him," New Orleans Pelicans head coach Alvin Gentry told VICE Sports. "He knows if the shot is available that he can take it and there are some nights where he feels really good about it and other nights that he doesn't. But we don't say you've got to get up six threes a game or you can't shoot more than two threes a game. I think it's totally up to him and the way he feels that night and the way he's shooting the ball."
Davis ranks third in PER and points per game, and fifth in Win Shares, with a True Shooting percentage that's way above the league average. If nothing is broken, what's to fix? That's fair. Davis is the rare talent who can make the Hall of Fame without evolving.
Plus, the three-point shot isn't for everyone, and just because his most notable contemporaries—Joel Embiid, Karl-Anthony Towns, Kristaps Porzingis, etc.—have spearheaded a revolution at their position doesn't mean Davis has to join. He's a career 30.9 percent shooter from deep and went 1-for-12 during the entire 2014-15 season. A clear predicament pops up when a player starts taking harder (albeit more analytically justifiable) shots instead of dominating the paint in all the various ways they can, too.
But it's not like he can't hit threes at a consistent clip. His mechanics are polished, his stroke is effortless, his release is fast and high, and his range is ocean deep. This is the recipe for a legitimate outside threat. Right now Davis is shooting 36.7 percent from behind the line (41.2 percent over his last 10 games), and the New Orleans Pelicans are 6-0 this year whenever he attempts at least five threes.

"I really feel he can shoot them," Gentry told VICE Sports. "And if he can shoot them at 35 percent then it's worth the shot. So I think he can do that, it's just that I want him to feel comfortable in that situation, and if he doesn't then he moves the ball on. He can do so many things for our team."
That's true. But it's still puzzling that 8.7 percent of Davis's shots are wide open threes and 12.9 percent are contested long twos. It's frustrating whenever he passes up a good look within the flow of New Orleans' uptempo offense. It doesn't help him or his team.
Now, contrast the play above with the what happens below, and think about how defenses will have to start defending Davis on pick-and-pop action when opposing scouting reports underline the fact that he's able and willing to get the ball up without hesitation.
Maybe opponents will treat that shot as a life line, a less damaging alternative compared to all the massive ways Davis can single-handedly obliterate everything in the half-court. But more likely than not—especially after he makes a couple—they'll either respect his shot and allow his gravity to open driving lanes for guards like Jrue Holiday and Rajon Rondo, or late switch a smaller defender onto him, which opens up even more avenues for New Orleans to attack.
There's another key ancillary benefit to having a reliable three-point shot for Davis: physical relief. This is a body that's used to crashing around down low, slamming into 250-pounds of muscle on a nightly basis. Reducing that contact can only help in the long-term.
"I think there's a benefit to every big guy that can step out and shoot the basketball," Gentry told VICE Sports. "You're not banging in that possession. It takes its toll on you."
Beyond the aforementioned comfort level being an issue, it's a little strange that Davis doesn't already take advantage of such a popular and practical shot more often. Unlike Giannis Antetokounmpo, the only other top 20 scorer who averages fewer than 3.0 threes per game, Davis is skilled enough to actually make them at a high rate.
"He can shoot the three ball pretty good," Pelicans guard E'Twaun Moore told VICE Sports. "Corner. Top. Anywhere on the floor. He's got deep range."
Davis's three-point rate has seen a slight uptick since DeMarcus Cousins ruptured his Achilles tendon, but it's too early to say whether this is Davis compensating for the absence of his teammate, or the beginning of a new phase in his career. Nothing in the sport would terrify opponents more than an Anthony Davis who decides to permanently shift three or four of his mid-range jumpers per game back behind the three-point line. Gentry thinks that eventually, he'll get to this point.
"There's a good possibility [he takes as many threes as Cousins was]," Gentry told VICE Sports. "I think what you'll see is some nights he'll take six or seven, and there's gonna be nights where he takes two. That's gonna be his game the next three, four, five, six, seven years."
So if we've already answered the first question at play—which is "Can he make them?"—then what's next to figure out is "How much should they be a part of his diet?" It's unclear if anyone has the answer, or whether there's any urgency to figure it out. Threes are better than twos, but Davis's game is built on well-roundedness.
His post game is unstoppable, as a rolling lob threat he's second to none, and he's more efficient than just about anybody on putbacks or corralling drop off passes from Pelican guards. Just over 40 percent of Davis's shots are in the restricted area, where his field goal percentage is over 10 points higher than the league average. (The only player who's tallied more 40-point games this season is James Harden. Davis has five. Harden has eight.)
But that three ball is just sitting there for him to master, and he's slowly starting to be more conscious about where it is and how he can best utilize it. Look at Davis's footwork in the play below. It's almost eerie to see him recognize where the line is, then backpedal his way like Ray Allen might to make sure he's behind it.
This is what NBA coaches are looking at if Davis evolves into a more dedicated three-point shooter.
Imagine Davis coming off screens for shots in the corner (like Towns) or regularly being able to pump-and-drive his way into the paint (like Al Horford). Maybe someday he'll conduct inverted pick-and-rolls, and when the defense malfunctions trying to figure out what to do, Davis will simply rise up and can a 25 footer.
The line between "honest evaluation" and "optimistic day dream" gets hazy when watching Davis on a basketball court. He's that magical. But if/when he embraces the three-point line as much as he should, the whole NBA will be at his mercy.