How Myanmar's Paranormal Spirit Wives Escape LGBTQ Persecution
A tight-knit nat kadaw community is thriving in this deeply conservative country.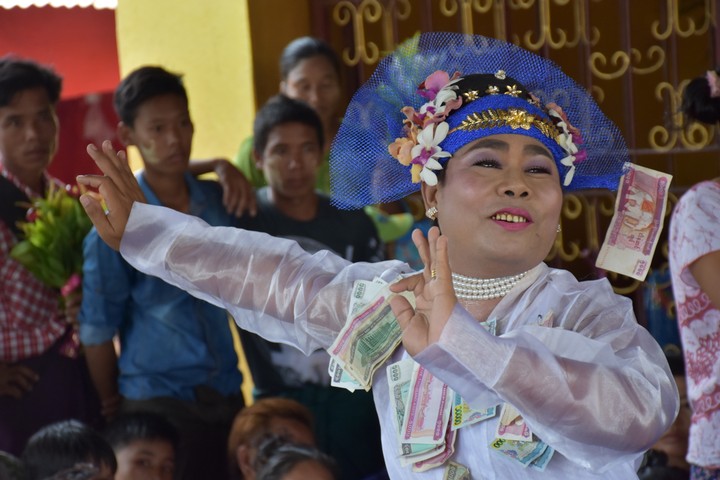 A nat kadaw performs at Taung Byone, the largest nat festival in Myanmar. All photos by the author
When Myanmar teenager Htet Htet recently came out as transgender, the reaction was unexpectedly cruel and quick.
"My dad just kicked me out of home," said Htet Htet, whose name has been changed at her request due to persecution she could face. Her father simply could not tolerate living with someone transgender, even if it meant disowning his own child. So—with few other options—Htet Htet decided to leave town and become a nat kadaw, or "spirit wife."
While Myanmar is almost 90 percent Buddhist, many also worship a collection of local spirits called the nats. It's believed that a shaman-like nat kadaw can be possessed by these otherworldly beings and provide important life advice. The theatrics of Myanmar-style spirit possession (think elaborate costumes and pastel makeup) is thought to have first drawn in gay men and transgender women around the 1980s. Today, the spirit medium business has become one of the only accepted career paths for gay men and trans women there, especially in regional areas.
Htet Htet's experiences with her family are not unusual in this deeply conservative Southeast Asian nation. Intolerance toward the LGBTQ community is rife there. Homosexuality remains illegal, with the British colonial-era penal code banning "carnal intercourse against the order of nature." Though the ban is seldom enforced, it enshrines the LGBTQ population as second-class citizens in the eyes of the law.
Local author Ma Thanegi, who has written extensively about nat theology, said there are essentially three respectable job prospects for trans people: beautician, fashion designer, and spirit medium. And the former two, Ma Thanegi said, "need huge investments" by Myanmar standards.
But nat kadaws don't just talk to spirits out of financial necessity; the role offers respite from the usual stigma that accompanies being queer in a country like Myanmar. "These people face discrimination their whole life—then as a nat kadaw they are worshipped," said Ko Hla Myat Tun, an activist who works with Myanmar LGBTQ organizations &Proud and the Colors Rainbow LGBTQ Network. "This job means they gain respect and avoid discrimination."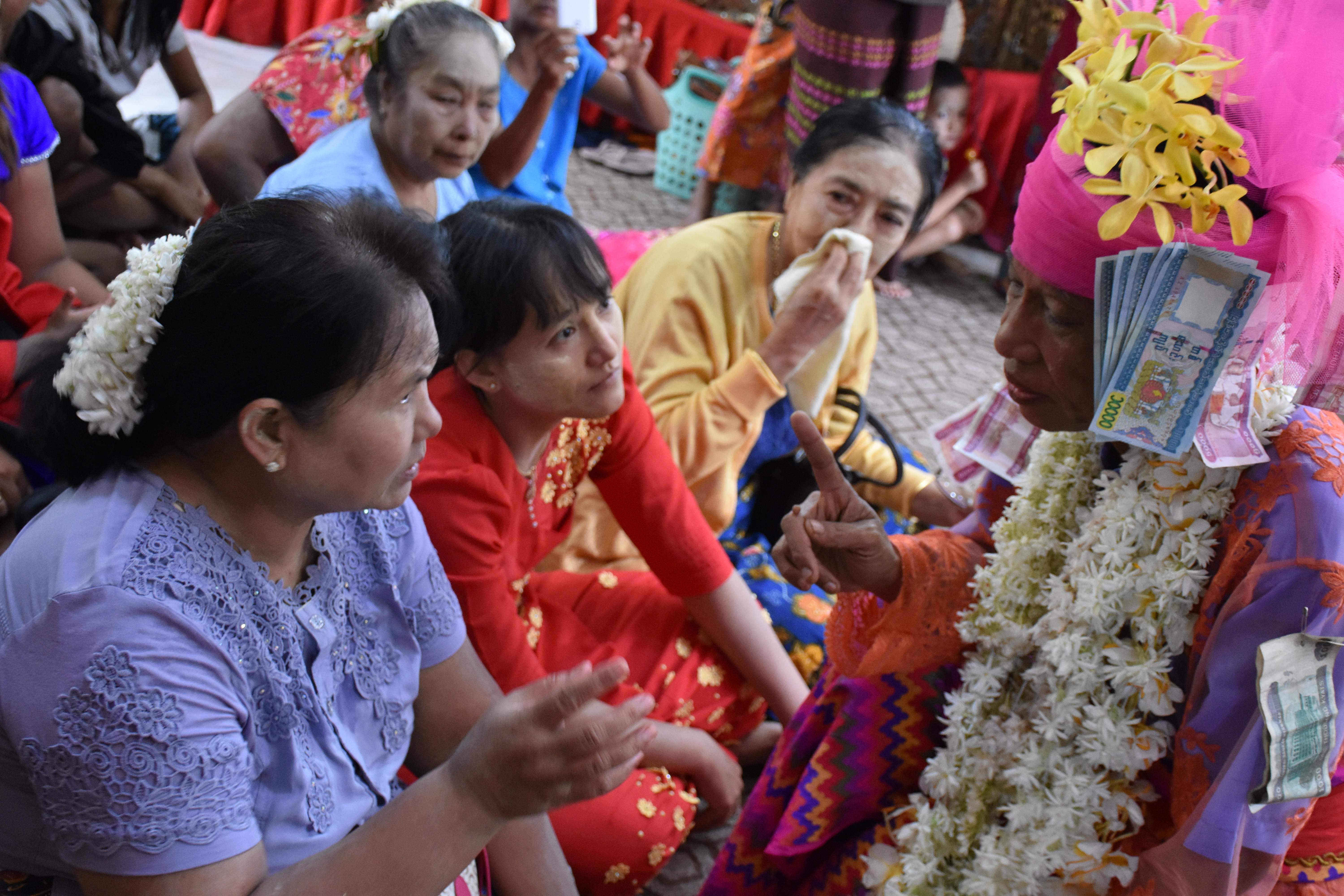 Over recent decades, larger nat kadaw gatherings have evolved into a cross between a religious experience and a pride carnival. This was certainly the case during the Bo Bo Gyi Nat Festival in Amarapura, near Mandalay, last month. As the wet season rains beat down, nat kadaws in extravagant costumes channeled nat beings and answered questions for concerned villagers. The possessed nat kadaws then danced to excruciatingly loud music. Bottles of Johnnie Walker Red Label were downed by both performers (or, technically, by the spirits possessing them) and attendees. By 10 AM, Amarapura felt less like a village and more like a nightclub.

Htet Htet and a group of young friends were at the Amarapura event as part of their nat kadaw training, which involves shadowing older nat kadaws and learning the finer points of the trade. No one seemed to take any issue with openly gay and transgender teens socializing outside a neighborhood temple. "This profession will mean I can help people deal with their problems," Htet Htet said between proceedings. "Also, I get to dance a lot, and I love to dance!" Her friends cheered in agreement.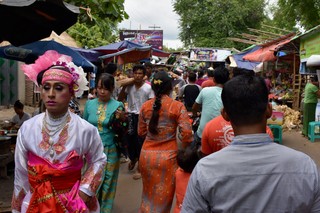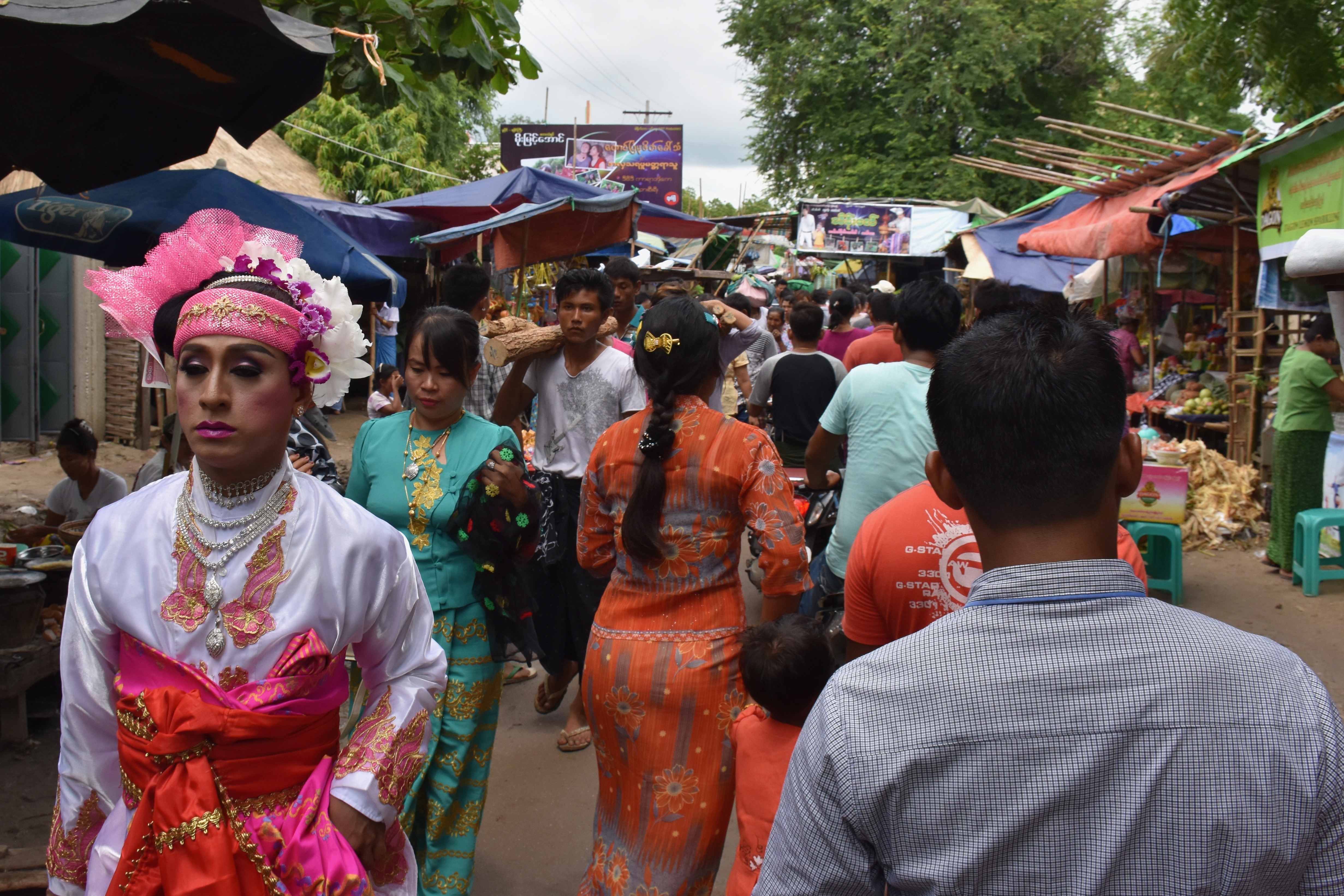 Despite the celebration, any discussion surrounding the LGBTQ experience in Myanmar inevitably turns somber. "People in this country think homosexuality is unnatural. So there's a lot of discrimination," said U Kyaw Kyaw Moe, who helped organize the festival. The 53-year-old said he's been helping organize nat festivals for nearly 30 years. It's discrimination he's experienced firsthand, he said, recounting his youth: "First my parents beat me, then my friends beat me, then even my teachers beat me."
This cultural climate means the Myanmar LGBTQ community is extremely close-knit. The discrimination and danger they face has created what one nat kadaw at Amarapura called "very strong unity."

Nowhere is this unity more pronounced than at the annual Taung Byone Nat Festival, also held near Mandalay. It's by far the largest event on the nat kadaw calendar. There, hundreds of nat kadaws gather each year for a bacchanal of spirit possession and socialization, but this year's Taung Byone was canceled due to an outbreak of H1N1 flu, to the disappointment of many.
Though Myanmar is facing rapid political and cultural shifts—more than 50 years of military rule came to an end in 2016, and decades of US sanctions, which severely crimped the country's economy, have been lifted—it remains to be seen how long it will take for attitudes around the LGBTQ population to thaw. Various ethnic groups in the country currently face violent oppression, including Rohingya Muslims, who are fleeing what some are calling genocide and have been pushed into a refugee crisis. For the country's LGBTQ population, equality is a long way off; Aung San Suu Kyi's new civilian government is yet to pass any major measures that promote it, and life remains bleak for most of the transgender community.
Lawmakers "do not see LGBTQ rights as human rights issues," said Ko Hla Myat Tun. This became painfully obvious in comments made by a top government official, Win Htein, in a phone call recorded for the documentary Life in the Shadows: Silent Suffering in Myanmar's LGBT+ Community last year. When asked about LGBTQ rights by a foreign journalist, his response was "I'm not interested… [Myanmar] is not like the West. Gender issues are not important… We cannot give priority to [this]."
But Htet Htet and the other novice nat kadaws at Amarapura were surprisingly optimistic. "Our dream is that same-sex marriage becomes legal here," one of the aspiring nat kadaws said. It's a change that's likely very far away.
Follow Nick Baker on Twitter.