Human activities, like fossil fuel consumption and widespread deforestation, are contributing to climate change by disrupting the global carbon cycle. To better understand these anthropogenic impacts on the planet, NASA launched the Orbiting Carbon Observatory-2 (OCO-2) on July 2, 2014, to follow up on its original OCO satellite, which was lost in a 2009 liftoff failure.
For the past three years, OCO-2 has collected almost a million "soundings" (atmospheric measurements) every day, from its Sun-synchronous orbit 438 miles (705 kilometers) above the planet's surface.
On Thursday, the journal Science published five new studies based on the spacecraft's high-precision observations, demonstrating the value of the OCO program for climate science in the wake of the Trump administration's proposal to cancel OCO-2's follow-up mission.
This motherlode of research includes an overview of the findings led by the mission's deputy project scientist, Annmarie Eldering of NASA's Jet Propulsion Laboratory (JPL); two studies about the impacts of the 2015-2016 El Niño on the carbon cycle, led by JPL data scientist Junjie Liu and NASA Global Modeling and Assimilation Office (GMAO) scientist Abhishek Chatterjee; a study about tracking carbon from localized sources, like volcanoes and cities, led by JPL geochemist Florian Maximilian Schwandner; and an assessment of the performance of an OCO-2 instrument designed to monitor global photosynthetic patterns, led by geospatial scientist Ying Sun of Cornell University.
Taken together, this quintet of studies helps to "discriminate the impacts of fossil fuel emissions, fires, and the 2015–2016 El Niño on the atmospheric CO2 budget," according to Eldering's team. "Understanding these mechanisms and their dependence on climate and atmospheric CO2 levels is central to understanding how the carbon cycle may amplify or mitigate future climate change."
Simulation of atmospheric carbon dioxide over the Northern Hemisphere in April. GIF: A. Eldering et al., Science (2017)
One of the major takeaways outlined by Eldering's team is the enormous influence of seasonal weather on atmospheric carbon levels, especially in the northern hemisphere. During summer months, plants soak up more carbon dioxide for photosynthesis than they produce through respiration, but in the winter, that dynamic is reversed. As a result, atmospheric carbon levels, amplified by consistent fossil fuel emissions, peak in April.
The two studies that focused on the most recent El Niño, which is a cyclical warming pattern that occurs every few years in the equatorial Pacific, found that this event "led to historically high temperatures and low precipitation over the tropics, while the growth rate of atmospheric carbon dioxide (CO2) was the largest on record," according to Liu's team. Chatterjee and his colleagues were able to study how byproducts of El Niño, like droughts and wildfires, contribute to this spike in carbon levels.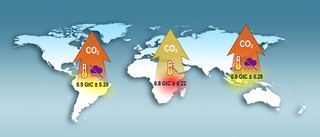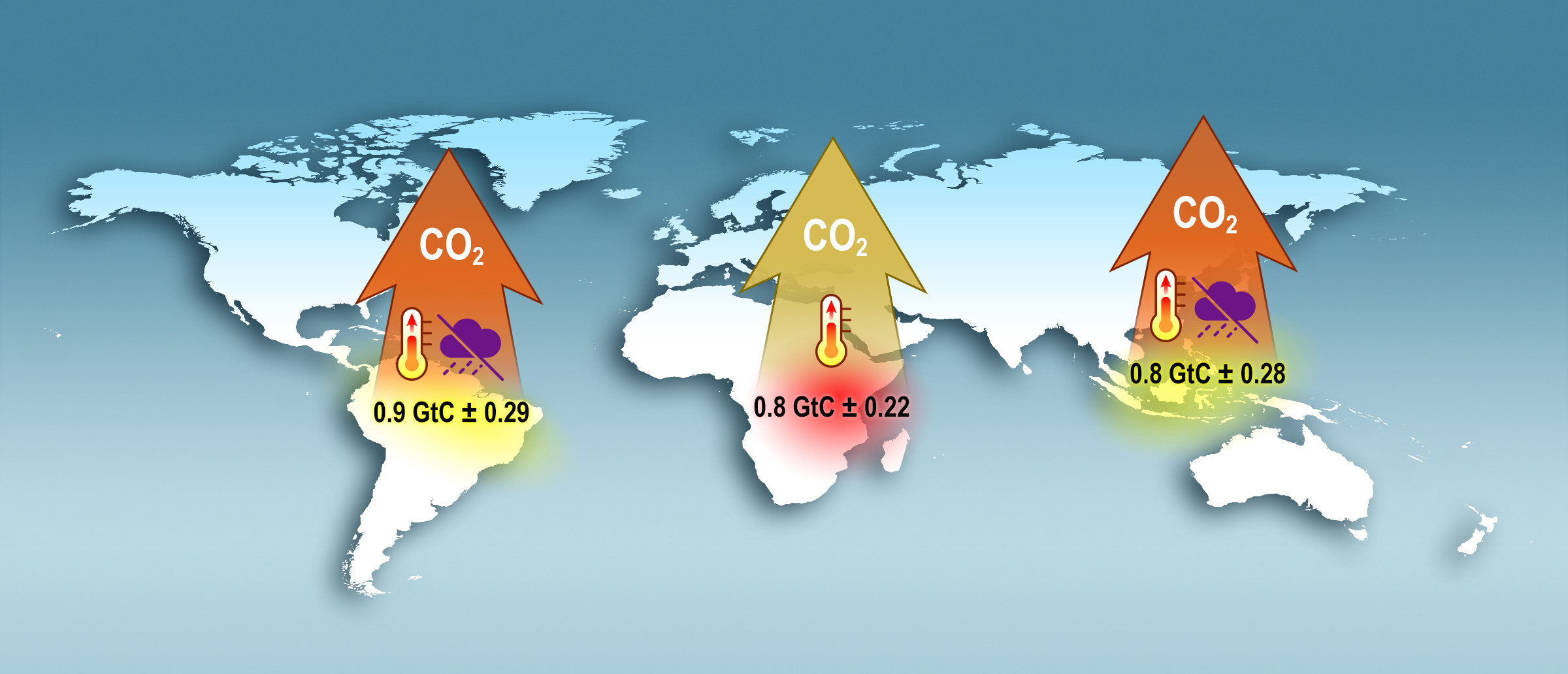 Schwandner's team used OCO-2's kilometer-scale resolution imagery of Los Angeles to reveal how the city's anthropogenic carbon dioxide emissions peak over its most densely populated centers, and taper off in suburban areas. The effects of the continuous carbon dioxide plume coughed out by the Mount Yasur volcano in Vanuatu was also measured by OCO-2.
Last, results from the OCO-2's solar-induced chlorophyll fluorescence (SIF) instrument, which monitors the potential of photosynthetic plants on Earth to uptake carbon dioxide, showed that space-down measurements of terrestrial carbon sources and sinks largely corroborate ground-based instruments, according to Sun's team.
Though previous satellites, such as GOSAT and SCIAMACHY, have studied the carbon cycle from orbit, OCO-2 has much higher spatial resolution and more frequent soundings, providing an unprecedented glimpse of worldwide atmospheric carbon dioxide concentrations and distribution.
"This information is crucial for [...] predicting the carbon cycle's response to a warming climate," Elderling's team said. "Fortunately, as OCO-2 completes its 2-year prime mission and begins its first extended mission, the spacecraft and instrument remain healthy, and data products with improved accuracy and coverage are in development."
Read More: Nothing to See Here: Trump Cuts NASA and NOAA's Eyes on Earth
But though OCO-2 is poised to continue delivering crucial insights into anthropogenic climate change and its impact on the carbon cycle, its companion mission, OCO-3, is in limbo after the Trump administration's 2018 budget proposal suggested it be axed, along with four other NASA missions focused on Earth science and climate change. These cancellations are part of President Trump's broader pattern of marginalizing climate change research, including his decisions to pull the US from the Paris climate accord and end the Clean Power Plan.
OCO-3 was originally on track for launch to the International Space Station in 2018, where it would be attached to the Japanese Experiment Module Exposed Facility (JEM-EF). The mission is designed to monitor the influence of growing urban populations and fossil fuel emissions on climate change. Over email, Steve Cole, a spokesperson for NASA's Earth science division, told me that the fate of OCO-3 is still being deliberated on in Congress.
Get six of our favorite Motherboard stories every day by signing up for our newsletter.