This article originally appeared on VICE Sports Canada.

Andrew Stoeten answers your questions in our Blue Jays Mailbag, which runs weekly at VICE Sports. You can send him questions at stoeten@gmail.com, and follow him on Twitter.
The big 10-game road trip out of the All-Star break is over, and the Toronto Blue Jays are... still playing baseball, it turns out. They actually won in their return home on Monday, but… woof.
We beat on, boats against the current, and all that. Which is a hell of a mood to be in as we get set open up this week's edition of the mailbag, isn't it? So let's have at it!
If you have a Blue Jays question you'd like me to tackle for next week, be sure to send it to stoeten@gmail.com. As always, I have not read any of Griff's answers.
Hi Stoeten
Could the Blue Jays market Liriano as a potential high strikeout lefty coming out of the bullpen?
Obviously it would help his value if he was performing that role right now but he did perform that role last year down the stretch and in the playoffs
Thanks
Josh
Uh, market him? I really don't think that's how this works. Other teams might see him as a reliever, sure, but they would be aware of his usage last year and how he would fit their team. The Jays won't be making sales pitches. They're not running a used car lot.
---
Who should stay and who should go on the Jays team? Marilyn
Well, I'd say that anybody the Jays can't get appropriate value for on the trade market should stay. Meaning: I don't want to see them give players away, or trade them just to trade them.
Or... I would have said that if their continuing limp play wasn't slowly sucking the life out of us all, making the notion of keeping any of their impending free agents feel more pointless by the day.
---
---
Who should go is the more interesting question, I think. Goins and Barney I'd just kind of like to stop watching at this point, so I'm OK if they exit in some way or another. Tulo is likeable as hell and I'll probably keep believing massive production at the plate is just around the corner for the rest of his time here, but if they could get rid of that contract—which they can't—I'd be all for it. Steve Pearce is more DH than outfielder, so they really probably only need to keep one of him or Kendrys Morales—and as much as moving the Morales contract would be better, it's probably Pearce who has the value. And if they could get something worthwhile for Kevin Pillar, at this point, why the hell not? I could handle planning for Pompey, Alford, or whoever in centre next season if it meant turning Pillar into a piece a little less redundant.

---
Are they trading Marco? I know you have a crystal ball, so tell us all! LOL. Will we see Lourdes Gurriel this season in Sept? Liz
Haha. I don't know! If there's a team out there that has looked at his last couple months and thinks they know how to fix him, though, he probably will be. I just have a hard time believing that team exists right now. A couple strong starts before the deadline might change that.
And as for Gurriel, maybe? I'm hearing good things out of New Hampshire about how he's looked against Double-A pitching. Perhaps they give him a September call-up just to get a taste of the big leagues, and to get a few extra at-bats between the end of the minor league season and the start of the Arizona Fall League. But I honestly have no clue what the thinking is there.
Hey Andrew,
What the hell ever happened to Chad Jenkins?
Cole
Interesting question, apart from the fact that I could not possibly care less! But what's happened to Jenkins is—at least as far as a cursory Google search tells us—is something close to a mystery. He was released last year and hasn't pitched in affiliated ball since—nor in any of the leagues that you'd expect to see on his Baseball Reference page, either: no sign of Mexico, Japan, Korea, or Indy ball.
---
VICE Sports Explains Blisters in Baseball
---
Best I can tell is that he's gone back to school. He has a LinkedIn page that says "attending Kennesaw State University." That was the school he was playing at when the Jays selected him five picks before Mike Trout (*COUGHHHHHHH*) in the 2010 draft, but his LinkedIn makes it clear that he's doing so in 2017.

So... mystery solved?
---
I would fire Gibbons. Only solution, if no Gibbons firing, is to trade your 'untouchables' Osuna, JD, Stroman, Smoak. Am I right?
Darrell
LOL. Holy shit, no. You're not right. You're not close to right. You're not on the same continent as right.
Gibbons is a treasure and hardly at fault for how the Jays' season has gone. There's no reason to fire him, or to start selling off everything.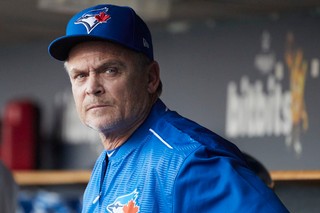 But, OK. I guess we might as well do this here, and skip all the other "buy or sell???" questions. Thing is, some people almost seem to have this weird thing where they think that just because a bunch of players are on an underperforming team (or, if you prefer to read it the other way, a bad team), there's no way we can expect them to be part of a good team next year. Donaldson, Stroman, Sanchez, Osuna, Smoak, Martin, most of the bullpen—these guys can be part of a team that could still be really good with the right pieces around it (one of which will be Tulo, because he ain't going anywhere). Just because 2017 seems to get more grim by the day, doesn't mean that what we thought a week ago isn't still true: The Blue Jays can be competitive enough in 2018 to justify not splaying open a giant, self-inflicted wound just yet.
In a vacuum where the club doesn't care about whether or not fans stick around the next two or three years, and what that does to what they'll be able to do in the future financially, maybe an immediate sell-off is the best course of action. But it's hardly a simple question.
---
Few dumb questions. Any news on Rogers Centre renos/improving fan experience? How is the 2018 draft class looking?Jays will prob have a top pick
Anthony
Oh relax with the top pick stuff. It isn't hockey.
---
Would you rather have Munenori Kawasaki on the team, or Ryan Goins? Kawasaki has a higher OBP (.320 vs. .270)
Jonah
The correct answer is "neither," but if you're forcing me to choose, I'm not judging my backup middle infielders based on how well they can hit first, then worrying about if they can play defence later. Goins hasn't had a great year with the glove, but Kawasaki should really never play shortstop, and so I have to give it to Goins on that alone.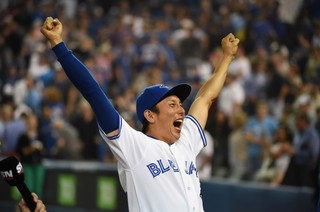 Plus, Kawasaki is 36 and slashing .248/.318/.323 for the Fukuoka Softbank Hawks. You think those numbers are going to translate to the big leagues any better than what Goins has been doing?
---
What's your take on why Donaldson has been...well...kinda bad lately?
Jordan
He's gotta be hurt, right?
---
Question: How will fans who can't put up with 3 months of bad baseball without yelling "blow it up" put up with 3-5 yrs of bad baseball?
Derek
Derek's got a follow-up question, but let's just admire this one for a second. Because it's fucking perfect.
Also, what is number one fan experience change you would make asap? (Besides craft beer..)
Derek
I'm not much of a craft beer drinker these days, but I know that doing right by the damn beer situation is something that would get a lot of people excited. I'm all for more local, more reasonable prices, and all that. Personally, I'd just like to be able to get a cider at its own stand instead of having to find the nearest giant wall of beverages and wait in an enormous line there. But the beer thing... honestly... whatever.
For me the big stuff is 4 PM games on Saturday (which is an idea they're apparently toying with), and fixing the in-game "entertainment." Shi Davidi was tweeting last week from Boston about some of the decent and deliciously ironic music choices the Red Sox were playing between innings, and I couldn't help but think, "I want that!" Nothing major, just a little less howling at me and a little more wit.
Uh... a better product on the field wouldn't hurt, either.
---
If you ranked all MLB players on projected WAR and then ranked them all on likeability, which Jays would be more likeable than valuable?
John
All of them?
Seriously, though. All of them. Especially Estrada, Donaldson, Tulo, and (as far as I'm concerned) Bautista. Those guys are great! At least they are when they're on your team. And they've all been pretty goddamned bad this season. To varying degrees, of course.
Ugh.
---
Hey Stoeten . How many bevvies at The Only do you think it takes to feel better about this year ?
Spartacus
A few hundred so far, and it's still not working!
---
Can you shed some light on the defensive miscues in the OF? Why do the Jays still struggle with the ability to call off each other?
Would also appreciate any exploration in Goins hitting track record w. bases empty vs RISP (also how he leads majors w. bases loaded hits?)
Kate
These are outstanding questions, and I wish I had more satisfying answers to them than what I'm about to provide...
In the outfield, what I'd say is that Zeke is Zeke, and to get whatever good you're going to get out of him—and, rather startlingly, he has a 115 wRC+ this season, which is well beyond solid—you're just going to have to live with the bad. And Pearce simply isn't really an outfielder. He's already played more innings in the outfield at the big league level this season than any other year in his career.
Neither of those are very satisfying excuses. And if there have been misplays between Pillar and Bautista, they're even harder to justify. But... ¯\_(ツ)_/¯.
I'll say this, though: I think that part of the reason we notice these things so much is that the lineup simply hasn't been scoring runs, and so the margin for error in terms of pitching and defence this season has been desperately thin.
As for Goins, you're right that it's quite interesting that this year he has eight hits in 11 plate appearances with the bases loaded. Those hits include a double and a home run, which adds up to an astounding .727/.727/1.091 slash line. Unfortunately, I don't think those numbers are terribly meaningful. I don't think any sample of just 11 plate appearances is going to be very meaningful.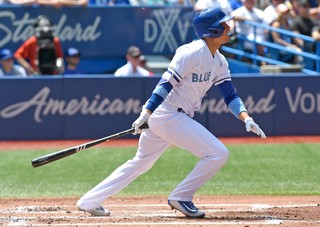 For me, there's certainly got to be a bunch of coincidence in there. There's probably a little bit of lineup protection as a factor—Goins has mostly been hitting ninth, and the Jays' lead-off man lately has been Bautista, and before that was Pillar when he was going really well (if you can fucking believe that!). Then again, bad hitters probably always get a bump in that situation, regardless of who is coming up behind him, just because it seems more appropriate to challenge a guy like Goins than to get too cute and end up walking him. (I'm sure someone has studied this).
Can Goins maybe apply some of what has been so successful about his bases loaded approach to help him be a better hitter in other situations? It certainly can't hurt to try—he sure as hell can't get much worse no matter what he does!—but I'm doubtful there's anything there. It's just 11 plate appearances.