In our cooking series Quickies, we invite chefs, bartenders, and other personalities in the world of food and drink who are serious hustlers to share their tips and tricks for preparing quick, creative after-work meals. Every dish featured in Quickies takes under 30 minutes to make, but without sacrificing any deliciousness—these are tried-and-tested recipes for the super-busy who also happen to have impeccable taste.
Chez Ma Tante is a cozy-as-hell bistro just up the road from us in Greenpoint, Brooklyn, where two Canadian ex-fine-dining chefs make constantly-changing, delicious AF, lightly-offally bistro classics heavy on the large-format proteins, along with a poached chicken for two that chef Jake Leiber describes as epitomizing their style of food.
One thing that never leaves the menu, though, is this killer chicken liver mousse, which Leiber and co-chef Aidan O'Neal stopped by the office to show us how to make. It starts, like all good recipes do, with a massive block of butter.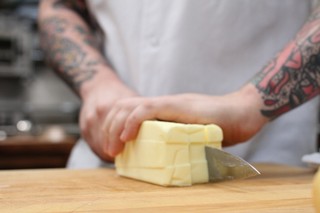 Leiber uses a pound of butter for every 600 grams of chicken livers, which, if the metric-to-imperial numbers are throwing you off, equals a shitload of butter. He's also soaked the livers in milk, "so they don't get that minerally, iron-y tang."
He pats the livers dry and adds them to a screaming-hot pan. "It's super important to caramelize the livers a little bit, to develop that brown, roasted flavor. But they don't need that much heat—you could actually cook them completely from the heat of the blender, but the reason you use the pan is to get that roasted caramelization. So either you can do it in a medium-hot pan, then take the livers out and let whatever's left in the hot pan brown, or you can do it really fucking hot. If it seems daunting, do the medium-hot pan."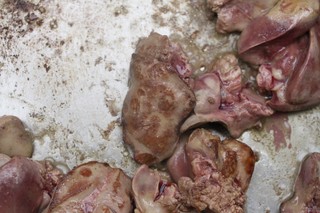 Once the livers are just barely browned, he pulls them from the heat ("It's always better to undercook rather than overcook livers. When you overcook them, they become grainy, they get a weird texture that you can't really get rid of."), and lets what's left in the pan continue to brown while he sautes some onions, which he eventually hits with more butter, then brandy, mustard, and heavy cream.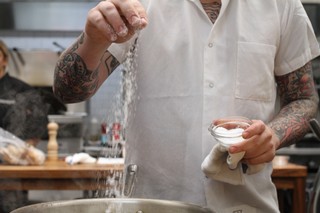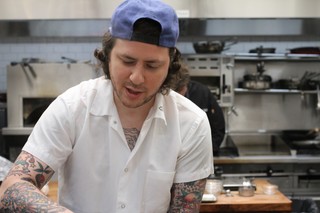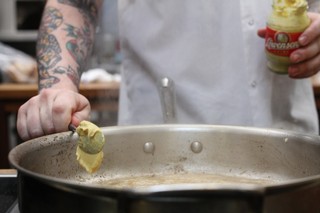 Once the cream is at a full boil, the whole glorious mess, plus the seared livers, gets transferred to a high-powered blender while Leiber adds chunk after chunk of butter.
MAKE THIS: Easy Chicken Liver Paté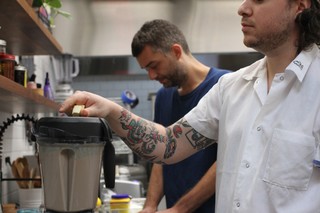 Once the entire pound of butter is incorporated, Leiber tastes and adjusts the seasoning with sherry vinegar and maple syrup. Why maple syrup? "Because maple syrup makes everything better."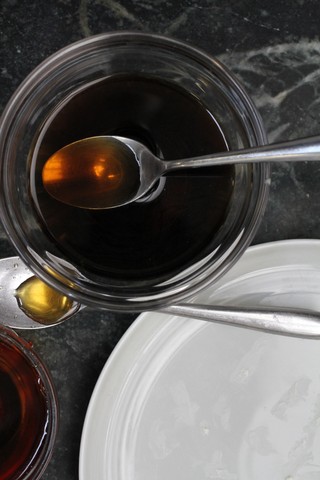 The whole thing gets scooped into a container to set up overnight: "It's just silkier if you let it rest." And then it's served, a giant scoop of it dragged across a plate and drizzled with olive oil and hit with flaky sea salt, and there's nothing else you could possibly want in the world.