Oh Hell Yeah, Sturgill Simpson Joined Chris Stapleton on SNL Last Night
Simpson was a surprise guest as Stapleton performed "Midnight Train to Memphis" and "Hard Livin'."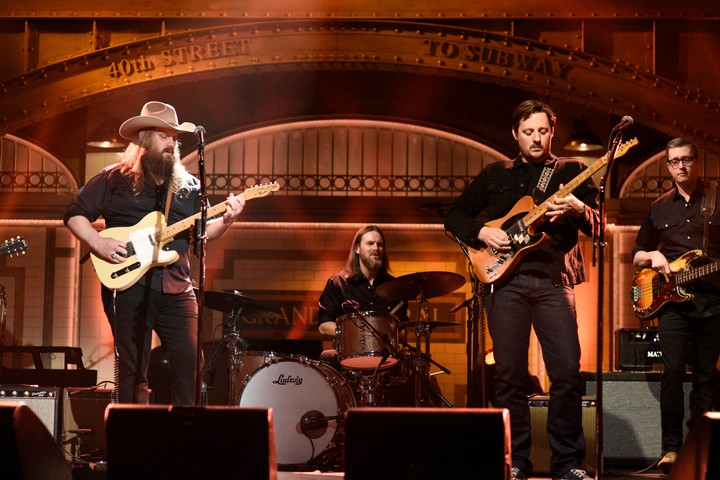 NBC
Chris Stapleton was lined up as the musical guest for last night's Saturday Night Live, and that would have been just fine. Stapleton's new album, From a Room: Volume 2, was a good showcase for the country singer's dextrous voice, even if the songs themselves felt a little too clean and professional. It would have been good SNL fodder either way, and we'd all have blown through Grammy weekend and into Music's Biggest Night™ without too much incident.
Instead, Stapleton brought Sturgill Simpson along to play "Midnight Train to Memphis" and "Hard Livin'," and it was brilliant. Simpson—the chill older cousin who your mom won't allow in the house anymore after that Christmas dinner conversation about how weed should be legal and the government is screwing us—shared vocals with Stapleton and soloed whenever he was given the chance. Simpson's and Stapleton's voices compliment each other perfectly, and both were on perfect form. This was, somehow, the first time the two have performed together onstage.
Watch both performances below, and read our interview with Simpson—his last ever, according to him—right here.
Follow Alex Robert Ross on Twitter.

Stories