The onslaught of controversy that is the Trump presidency has much of the country grasping for any form of respite from the constant flow of mind-boggling news. Some of us are eating our feelings, or pouring a stiff drink (or five) every night; others are taking up hobbies as form of escapism and stress relief; while the rest of us are scrolling through the internet all day in horror.
And for friends Tess Wilson and Leah Rosenberg, baking has become a source of comfort and protest in our tumultuous and divided political climate. While the two don't have formal culinary schooling, they both began baking professionally at the now-defunct Blue Bottle Coffee in SFMOMA, where they met and baked art-inspired pastries. Rosenberg also spent her weekends in grad school taking cake-decorating classes and wrote her thesis on the artistic possibilities of cake.
After Trump's inauguration, the two decided to start ProtestCakes, an Instagram feed of cakes that are baked and emblazoned with messages of activism. We spoke with the two about their inspiration, how they choose which issues to address each week when the news is coming at us so quickly, and what they hope their cakes are contributing to the resistance.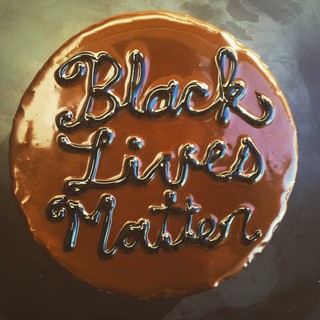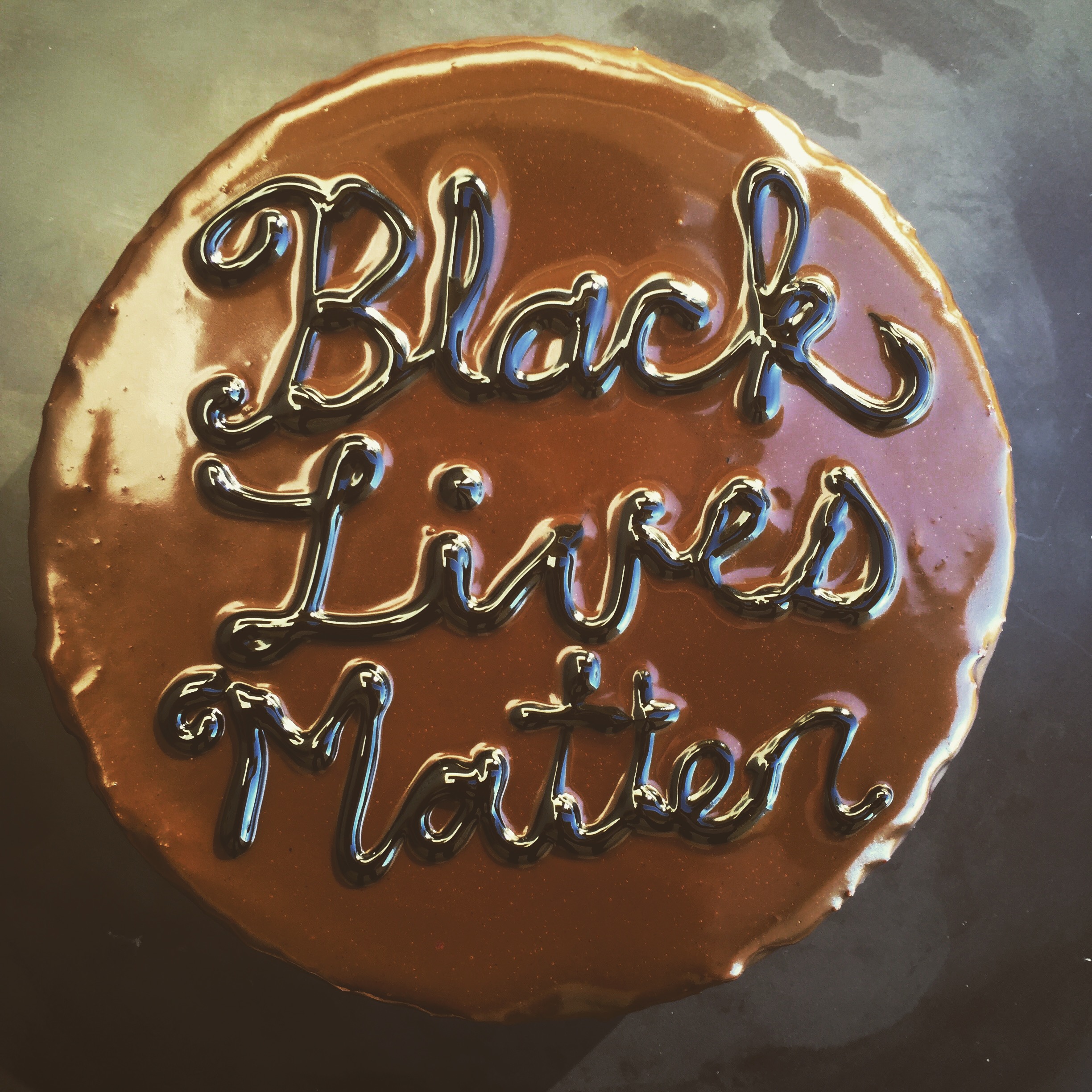 MUNCHIES: Hi, Tess and Leah. Where did the idea for cake as a form of resistance come from?
Tess Wilson: The idea for ProtestCakes came to me while I was on a flight from Chicago to San Francisco. Trump had just signed the first Muslim ban, and protests at airports around the country were in full swing—I went to the one at SFO as soon as I landed. Mid-air, I was thinking about the fact that though I'd been calling my reps every day, signing petitions, and going to protests with no intention of stopping, but I wasn't really bringing any of my strengths to the table. Then I had it: I'd make politically-inspired cakes, serve them at protests, post them on Instagram, and hopefully bring a little sweetness to all the people doing the hard work of democracy and resistance.
Leah Rosenberg: When Tess was in San Francisco, she brought up the idea of ProtestCakes and I thought, That's it! that's the way we can put ourselves and our attention into something we know we can do, that will also contribute in a minor way or will at least be something to corral this panic. There was a lineup of marches and gatherings happening around the country, [including] here in San Francisco, and I think we just thought we would only make cakes to bring to protests. But as time went on, there was more news, which meant more things to make cakes about.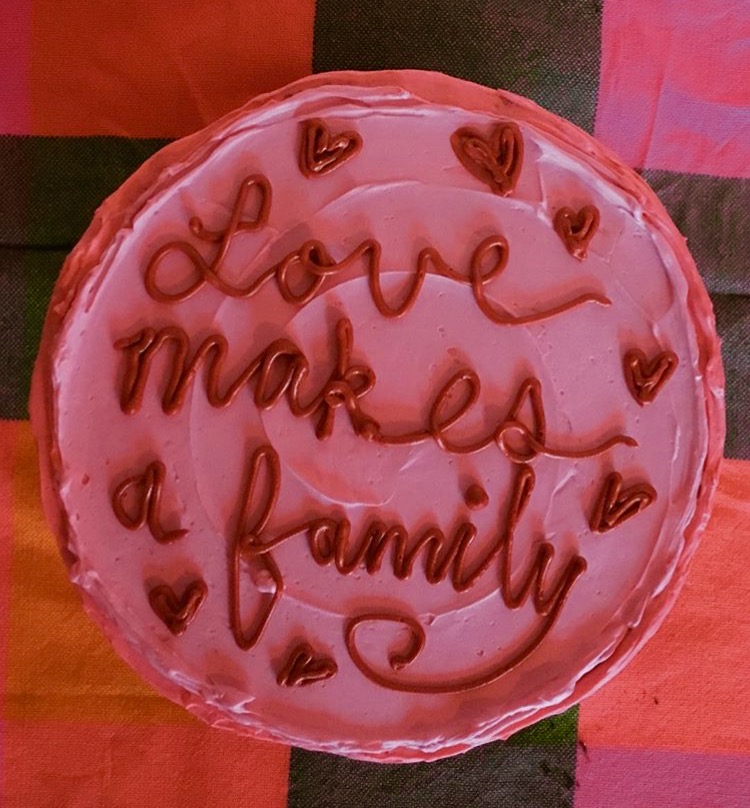 What was the first cake you made?
Tess: The "seven nations" cake. Following the first Muslim ban, there was a major protest at Civic Center in San Francisco. That was where we served our first cakes, because I was in town and we were able to do it together. The cake represented the seven countries that Trump included in the Muslim ban.
READ MORE: Scenes from the Anti-Trump, Pro-Taco Protest in Las Vegas
Leah: A couple of weeks later, there was a gathering at Ocean Beach in San Francisco where families came together and spelled out "RESIST" with their bodies, so I took an "I'm Peach Mint" cake to the beach that day. When I started slicing the cake, I turned around to explain what it was all about when suddenly, the woman I was speaking to's eyes got really big, and she screamed "RUN!" I turned around to see that every seagull from the beach had descended on the cake, and it was gone in a few minutes. There was no getting the cake back. It was, for me, this moment where I realized that sometimes it's just about showing up and being present.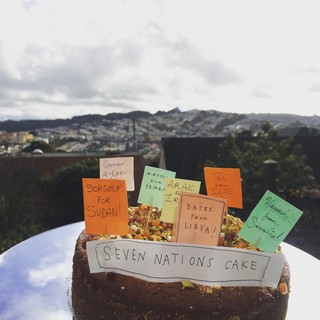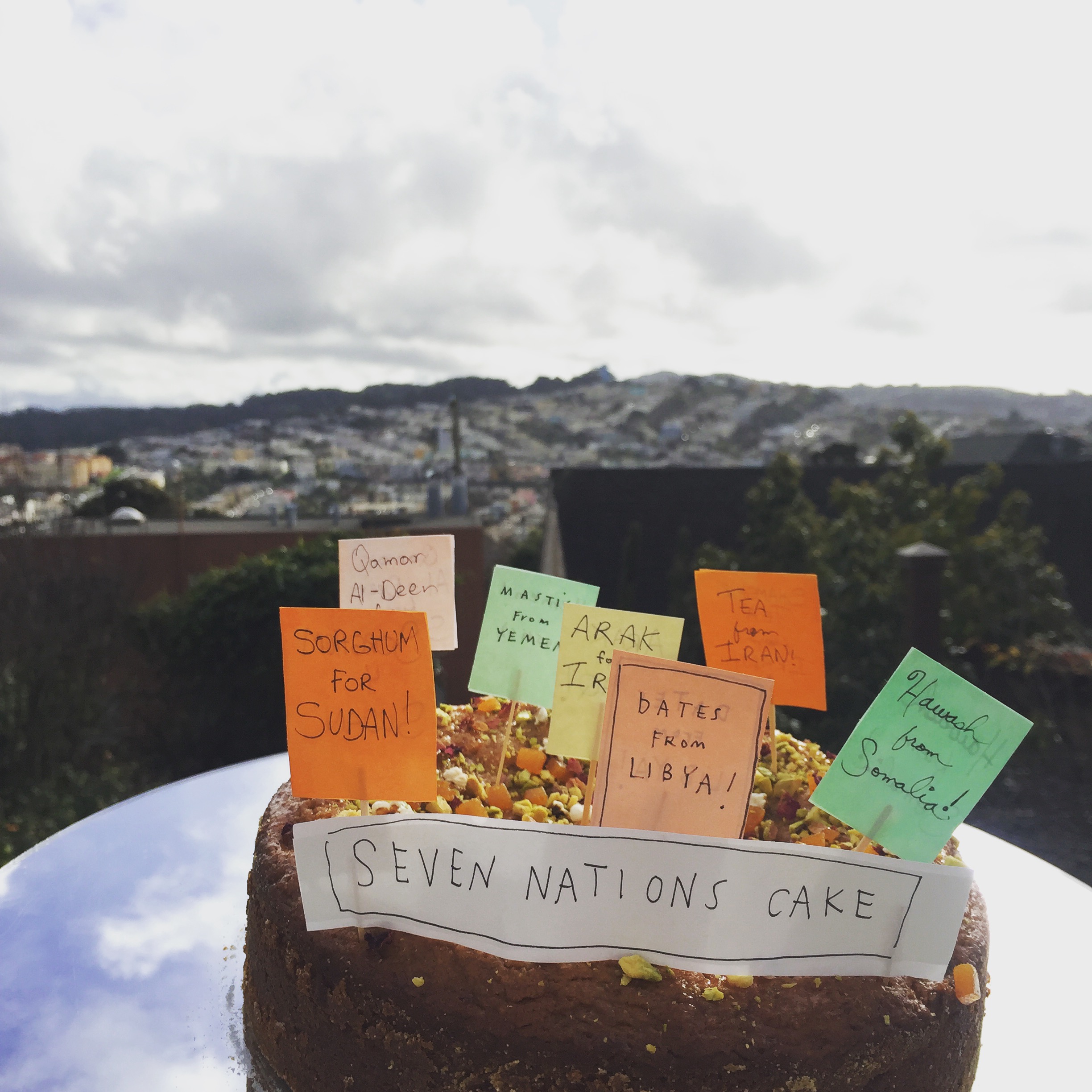 When the news is coming in so quickly, how do you hone in on an issue and find enough focus to bake it out?
Tess: We're constantly sending each other news articles that meant something to us via text, or alerts about upcoming bills that are being voted on, so it's a constant dialogue. Obviously, we can't make cakes about everything, but we toss ideas back and forth until the idea for the cake forms. Sometimes, one issue might be really important to both of us, and a few days go by, but we can't figure out a respectful and meaningful way to express it in cake form, so we won't do it.
We often approach things by seeing if we can get an historical or geographical tie into the cake, like the one we did in honor of the protest at Bethune-Cookman University. I found Mary McLeod Bethune's recipe for sweet potato pie in the Black Family Reunion Cookbook, and used it as a jumping-off point because it was a recipe created by the founder of the school. For the Sally Yates cake, we did an Atlanta upside-down cake, because she's from Atlanta. I also want to add that as much as we're reporting on shocking things and using this platform as a way of expressing our dissent, we also like to note triumphs in cake form, so that we're celebrating the ways that people are showing up. Sometimes, we want to make a cake that just feels nice and reminds people that self-care is also a form of resistance.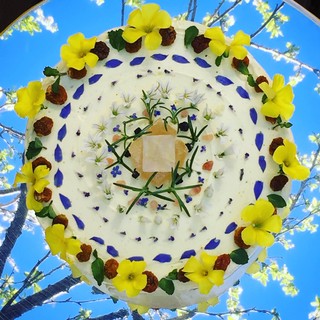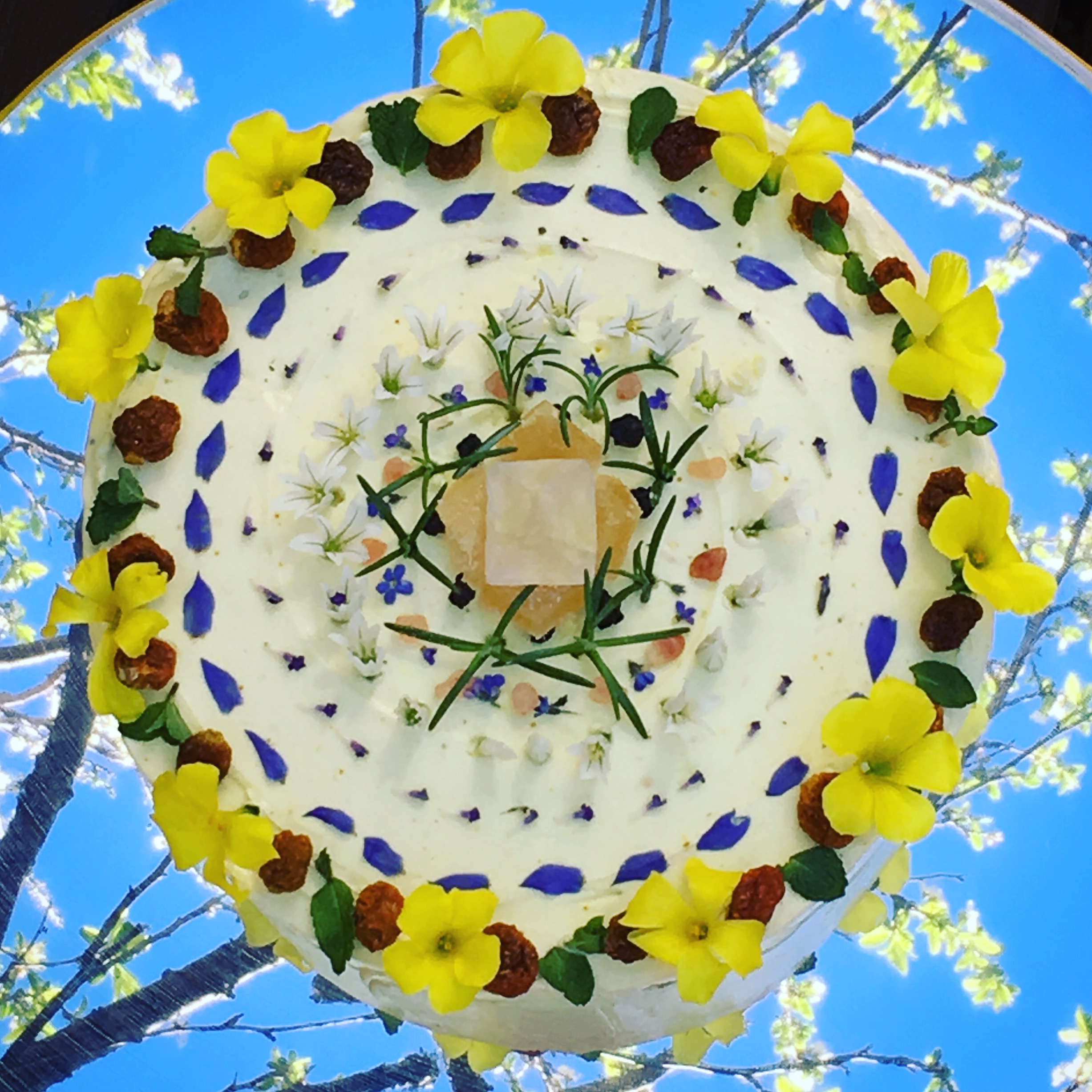 Do you have a defined goal that will come out of all of the baking you're doing?
Tess: Maybe we can get to the point where there's nothing left to protest! That's the final goal: serenity! I don't have a specific goal, but I think just engaging with people is so rewarding, and being able to do that more would be great. I'm novel to politics, so it's really rewarding to say "OK, I figured out all the information from this bill and who to call and I'm calling my representatives every day—and you can too! Here's the info, here's the number to call, don't be afraid! We can do it!"
READ MORE: Watch Protesters Stage 'Cough-In' at Fancy Trump Tower Restaurant to Fight Repeal of ACA
Leah: When I think about the world right now and working on a project that so invested in everyday news, it's easy to want to see an end in sight, but I think what we're doing is a one-day-at-a-time thing. But also, having more fridge space is a goal.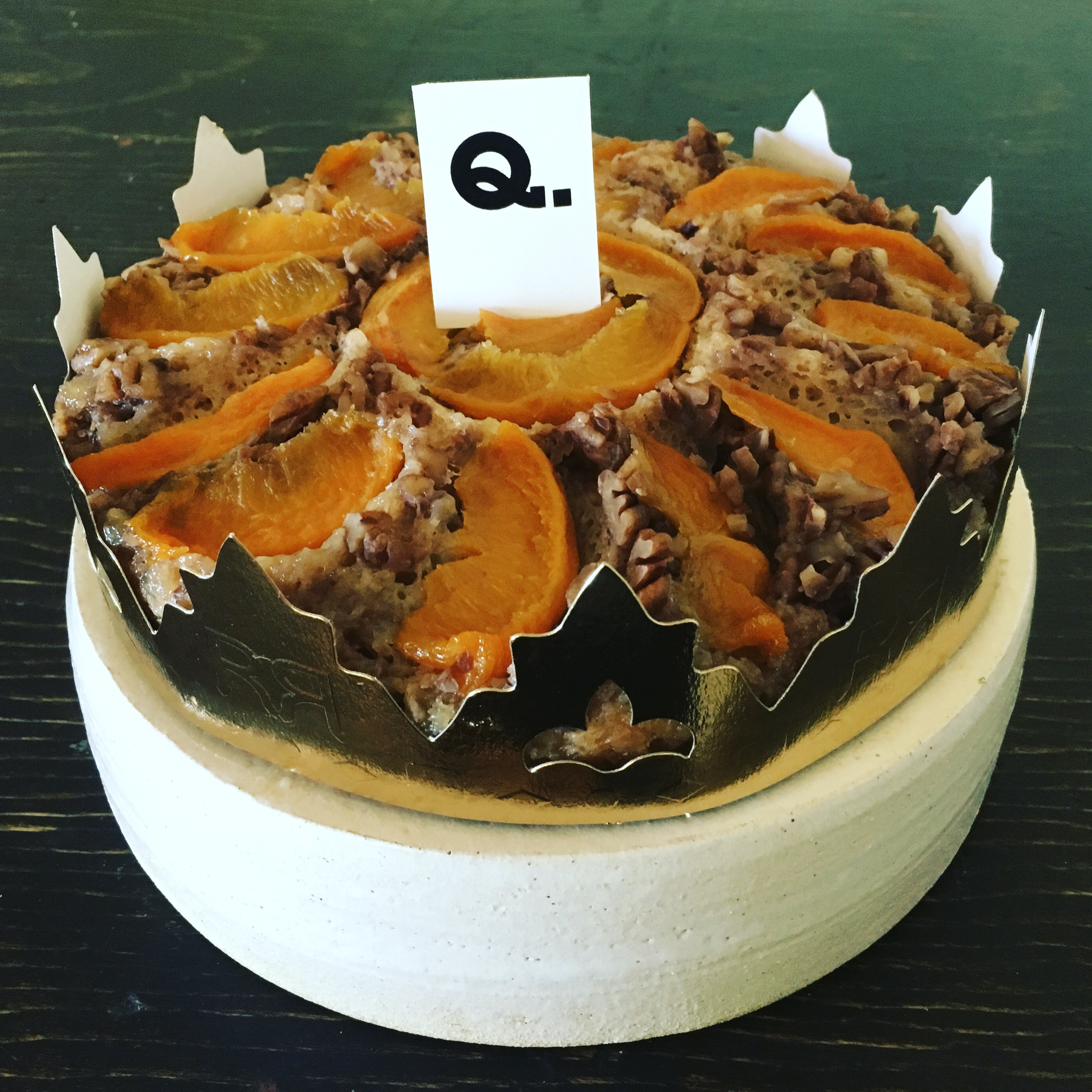 Have you had to deal with any haters trolling your page?
Leah: Not yet, but I think the point to is to let this unfold as it should. Everyone gets a voice, right? When we post a cake, we do think about how people will receive it because we're putting it out in a place where it's essentially free speech, so there are people who might not like [every] cake and it's okay. But if the trolls come, we're fully [prepared] to make a cake about it!
Thanks for speaking with us.