This story appears in the May issue of VICE magazine. Click HERE to subscribe.
On March 3, 1989, when José Antequera was five, he heard on the radio that hit men had killed his father. This was during a burst of political assassinations that shook Colombia in the 80s and 90s. There were between 4,000 and 6,000 related killings reported, which are known today as the extermination of the Patriotic Union, a left-wing political party composed of former members of the Revolutionary Armed Forces of Colombia, commonly known as FARC, the guerrilla army with which the Colombian government has been in conflict with for more than half a century. The Patriotic Union members had given up arms and plunged into political life; the spree of murders suffocated the potentially strong leftist movement. Ever since that day, Antequera, now a 33-year-old activist, told me his life has been dedicated to peace in Colombia.
For more than 50 years, the country's tangle with FARC, a Marxist-Leninist-inspired revolution that has transformed into a powerful and irregular army, has roiled Colombia, leaving at least 8 million victims in its wake. At FARC's strongest, at the turn of the century, it had more than 20,000 members and ruled large swaths of territory. Since 1986, the government has seen three failed attempts at negotiating peace, and then, in June 2016, Colombian president Juan Manuel Santos managed to sign a ceasefire deal with FARC's chief commander, Rodrigo "Timochenko" Londoño, after four years of negotiations that took place in Havana, Cuba.
On October 2, 2016, Colombians from across the country went to the polls to vote for (the "Yes" voters) or against (the "No" voters) the peace referendum. Antequera had campaigned for Yes and cast his vote at 8 AM. On the way, he said, his girlfriend told him, "If No wins, we'll leave Colombia." The Yes side was predicted to win, and he was prepared for victory. Antequera had planned a celebration at his apartment; there was whiskey, tequila, aguardiente (a strong, sugarcane-derived Colombian alcohol), and drums. But there wouldn't be a celebration.
At 5:45 PM, a little less than an hour after polling stations closed, it became clear that with a small majority, 50.2 percent of Colombians had voted to reject the peace accord. Silence dominated the streets on that rainy Sunday evening. Facing a possible rupture of the cease-fire agreement and a return to war, the media was unable to hide its surprise, and the word "uncertainty" was on everyone's lips. On television, President Santos and his chief negotiator, Humberto de la Calle, looked petrified. "I thought the Yes was going to win," de la Calle told me when we spoke this March. "Not by a landslide, but it was going to have an ample victory."
The winning side was also plagued with doubt. Francisco Santos, the former vice president of Colombia, from Centro Democrático (Democratic Center), the main opposition party, told me, "That afternoon [the party leaders] met, and I asked, 'What are we going to say if we win?' Everyone laughed." The No campaigners didn't know how to react. Even the opposition leader, ex-president and now senator Álvaro Uribe, known for his love of media attention, kept quiet. On camera, President Santos also seemed less than confident.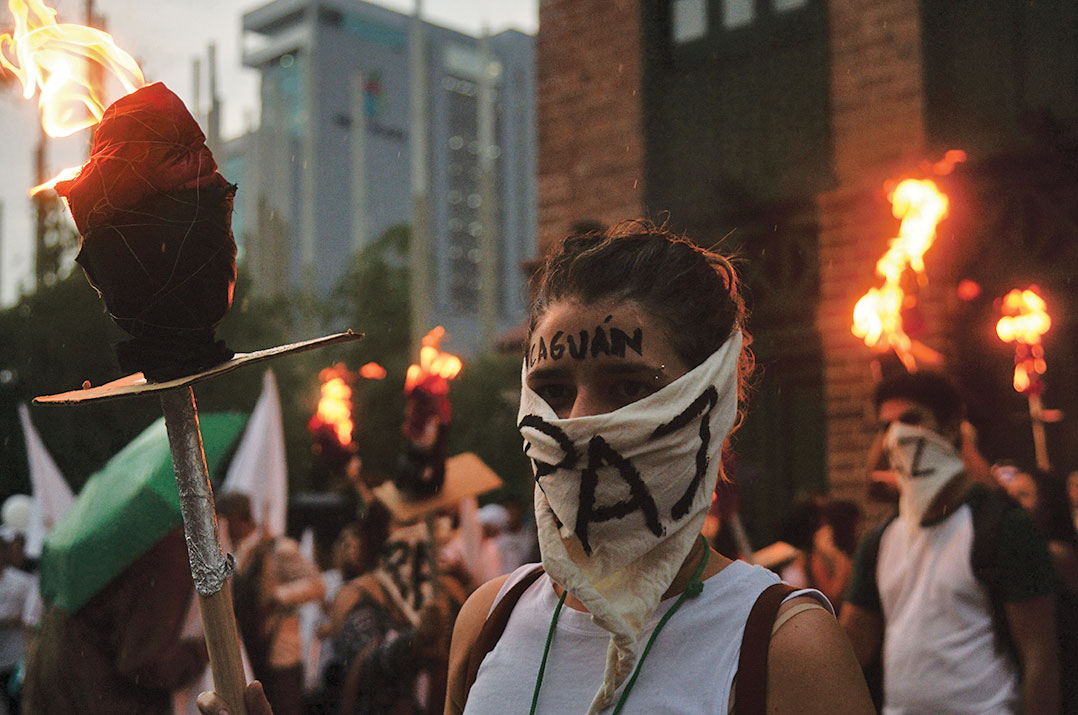 For Antequera, the disappointment was acute; the Yes voters, mostly younger Colombians and those living in the rural areas who were exposed to decades of political violence, had lost to the older, urban population that wanted to jail all FARC leaders and limit their political participation. Sixty percent of Colombians who could vote did not. He began to drown his sorrows in aguardiente. His mother, widowed by the armed conflict, looked out the window of his apartment, holding her head. His girlfriend cried on the sofa. One of his guests shouted, "What a shit country!" Antequera, however, promised himself not to let his emotions get the better of him. He was determined to survive. This is not a defeat, he told himself. It's a crisis.

As people spoke angrily around him, he received an invitation through WhatsApp to a meeting on the Park Way, a popular avenue in central Bogotá. He grabbed his drink and left his house. When he arrived, he found hundreds of lit candles forming a peace sign on the ground. There were friends, neighbors, and young people playing music and venting into a microphone.
Meanwhile, de la Calle was writing his resignation letter. "In a country where nobody answers for anything, I felt I had to assume responsiblity and face the consequences," he told me. The result had deepened the country's instability.
But Antequera didn't feel instability; he saw an opportunity. The next day, he went back to the Park Way. He was surprised to see that around 500 people awaited him. All of them agreed that it was necessary to defend what had been negotiated for four years in Havana. By 9 PM that evening, the spontaneous assembly declared itself permanent until what they saw as a crisis had resolution. People in the crowd shouted different names for the movement that was forming. "Suddenly a voice shouted, 'Peace to the streets!' and everyone started chanting it together; it was very exciting," Antequera told me in March. "If the crisis was prolonged, the peace process would be at risk." Soon, he'd convinced those in attendance, and hundreds more, to support a "March of Silence" scheduled for two days later. That march on October 5 evolved into a massive protest.
Just three days after the referendum vote, thousands of silent people filled the streets of Bogotá, Cali, Medellín, Cartagena, and Barranquilla. They walked holding Colombian flags and white candles and formed a huge moving mass crossing the country's largest cities. The message was overwhelming and targeted; the crowds wanted the government, FARC, and the opposition to know that they were the new protagonists of the peace process. The movement's demand was loud and clear: "A peace accord right now!"
The mobilization continued, and their message reached Havana, where Londoño and de la Calle, whose resignation letter had been declined by the president, reopened negotiations.
"I get goose bumps remembering that moment," de la Calle said, recalling the crowds in the streets. "It was the spiritual strength that we needed."
After the first march in Bogotá, a group of people decided to camp out overnight at Bolívar Plaza, the center of Colombia's capital. They set up right in front of Casa de Nariño (the presidential residence), the justice palace, and Congress. "We stayed there with drums, music, and drinks," Alejandro Diaz, one of the protesters, told me. "It was a rather casual experience." That scene gave birth to the "Peace Camp," which remained for 41 days and applied pressure on the government, until a new peace deal was reached.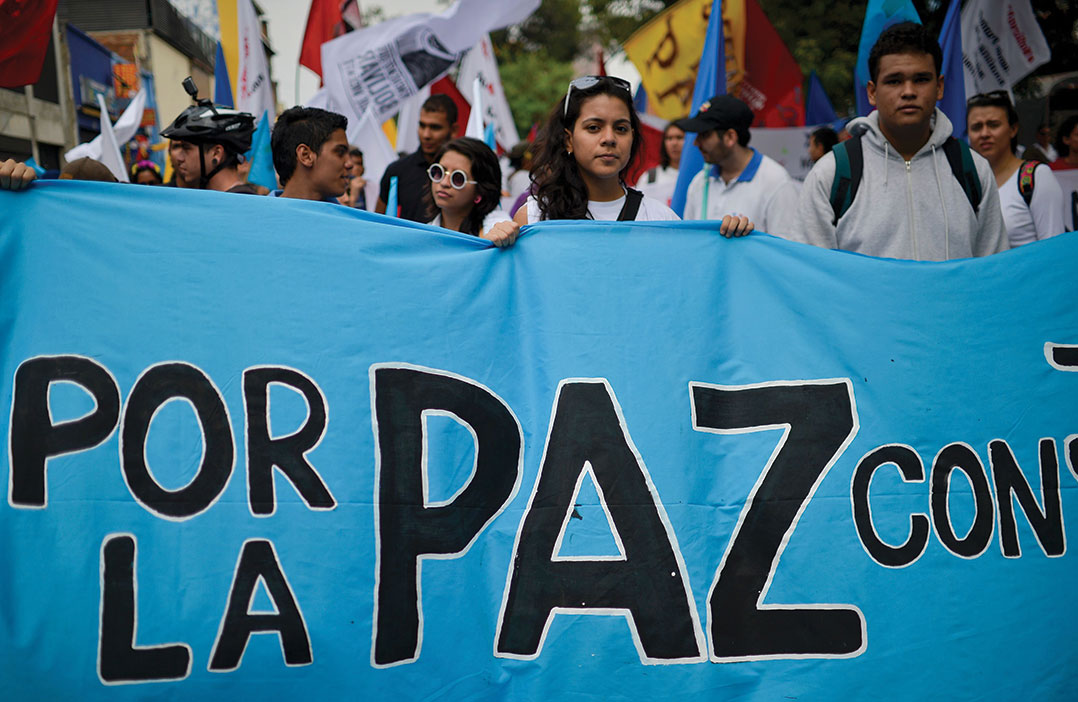 Since it began, Antequera has led Peace to the Streets and inspired thousands of Colombians who supported the peace process not to give in. "There was a sense of indignation and a visceral rejection but also a clear conscience that it had to be a peaceful movement, so it wouldn't scare off other citizens," said Antanas Mockus, the former mayor of Bogotá, who is an expert in civic culture and one of the most popular political figures in Colombia.

Bolívar Square became the epicenter for protests. Students, activists, intellectuals, and artists organized dance sessions, hosted readings of books about the war, set up a plant and flower installation on the square, and led street actions as well as social media campaigns. Colombian artist Doris Salcedo covered the square in white using nearly 23,000 feet of cloth covered with the names of victims of the conflict written in ash.
"I felt a great energy—clean, peaceful, and honest. There was a genuine preoccupation about Colombia's future. It was a very important moment in my life," de la Calle told me.
A week after the March of Silence, people took to the streets again to honor the war's victims. According to the National Center for Historical Memory, the bursts of violence during the war at the hands of guerrilla fighters, paramilitary groups, and state agents left more than 220,000 people dead and 60,000 missing. Antequera and his mother joined the march. They saw the widow of Carlos Pizarro, a prominent leftist leader and former guerrilla rebel who was assassinated. Antequera watched as people gave one another flowers, saying, "You are not alone." At one point, he told me, his mother turned to him and said, "What is this? This has never happened before."
Against the pattern that tends to follow civic mobilizations in Colombia, as the crowds grew, the public's attention increased; every public action increased the pressure. And it achieved the unthinkable: President Santos and the former president, Senator Alvaro Uribe, decided to shake hands and negotiate an adjustment to the peace accord. The government and the opposition, which had a rather hostile relationship for four years, sat down and got to work.
Bolívar Square was the focus of everyone's attention. Foreign journalists set up next to the Peace Camp, which at the time had more than 90 tents and 400 young campers. It became a symbol for citizens who demanded their right to live in peace. It also became a mandatory stop for all politicians, including President Santos and European ambassadors who supported the peace process.
"The referendum was met by a generation that has a humanitarian conscience, people who said, 'This crisis cannot take away the opportunity to stop violent confrontations,'" Antequera told me.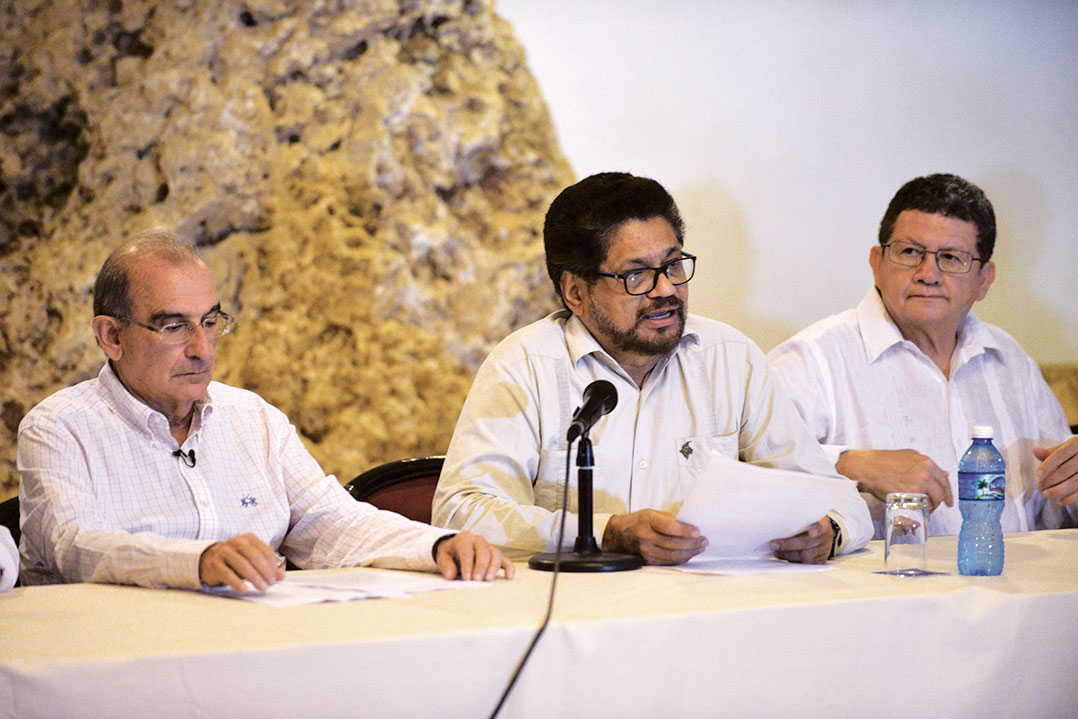 On November 12, radio and television stations announced that negotiators in Havana had reached a new peace deal. Forty-one days after the rejection of the referendum, de la Calle and Iván Márquez, a FARC leader, posed for the historic photograph. Despite his excitement, Antequera recognized that "the road to the implementation of the accord was going to be very difficult."

Young people were definitive in rescuing the peace process. "They left their mark on history," former mayor Mockus said. De la Calle added, "The fact that young people showed up again and again to the streets was a determining factor. First, for us as citizens; second, as a political message; and third, because they brought back to life something that had already died." He didn't hesitate to give Peace to the Streets the same historic importance as Séptima Papeleta (the Seventh Ballot), a 1991 student movement that legitimized Colombia's new constitution.
As weeks went by, the crowds dispersed. Peace to the Streets assemblies became smaller gatherings, the Peace Camp was violently evacuated by Bogotá's riot police seven days after the new accord was signed, and with it the enthusiasm for peace has dwindled.
"I was always certain that this movement had an expiration date," said Antequera. De la Calle, who today sounds like a candidate for the 2018 presidential elections, is less drastic: "This isn't something that is dead or a flame that has gone out or something temporal. There are great hopes that Colombia will choose a good path," he told me.
Recently, the wave of galvanized youth has split into two groups. One goes to the congressional sessions where laws needed to implement the peace process are discussed. Members keep a close watch to protect what was achieved in Havana. It has changed its name from "Peace to the Streets" to "Eye on Peace." The other group—mostly former Peace Camp members—visits rural areas and camps where more than 6,000 FARC members are concentrated as they prepare to give up their weapons and return to civilian life.
These young people gave hope back to a country that saw its opportunity for peace almost fade away. Antequera, the students from the March of Silence, and those who camped on the square during the cold Bogotá nights of October have become the face of effective civil resistance. They unleashed a revolution that, without firing a single gunshot, accomplished the signing of a peace accord Colombia spent decades hoping for.