It's one thing for people diagnosed with cancer to want to eat well and take extra care of their health; it's another for companies to try to take advantage of them by marketing "natural" products as ways to treat or cure their disease.
The Food and Drug Administration recently posted warning letters addressed to 14 US companies fraudulently selling products that promised to kill or inhibit cancer cells or tumors, reverse cancer, or prevent it altogether, both in humans and in pets. The products made claims about cancer generally, but also targeted specific cancers including breast, cervical, and prostate.
It's illegal for companies to market products that claim to prevent, treat, diagnose, or cure diseases without first demonstrating to the FDA that they actually do that AND are safe to use. Supplements often include a fine-print disclaimer specifically saying that they're "not intended to diagnose, treat, cure or prevent any disease" but that disclaimer doesn't cover a company's ass if they turn around and promise their product does exactly those things. (The agency has issued more than 90 such warnings about bogus cancer treatments over the past decade.)
After the FDA reviewed the companies' web sites, it took issue with more than 65 illegal products, including pills, topical creams, ointments, oils, drops, syrups, teas, and diagnostic tools. One example of a problematic claim: "Dandelion root has also been shown to have potential for fighting cancer." The products were most commonly sold online, sometimes via social media, and some were promoted as a treatment for multiple diseases in humans and pets. (If it sounds too good to be true...)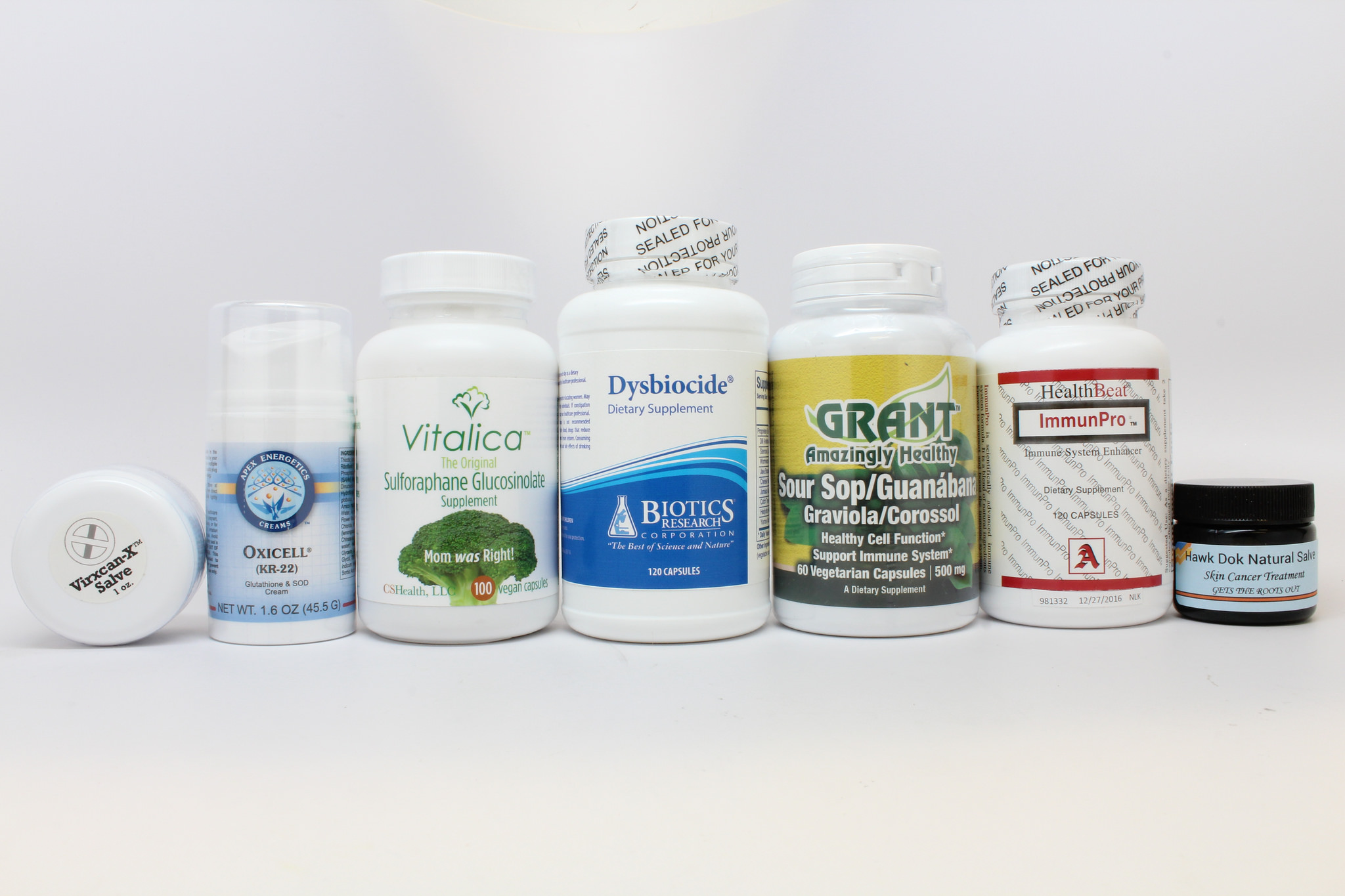 The FDA can't recall the products at this point, but it has requested comment from the companies on how the violations will be corrected, either by pulling the products or fixing the packaging and marketing. If they don't respond with a plan within 15 days, the FDA could pursue various legal actions, including court-ordered recalls of the products, criminal prosecution, and injunctions that would require the companies to get permission from the FDA before resuming operations. But in the meantime, the agency wants people to be aware of these products, and others not on the list that make similar claims, including:

Treats all forms of cancer
Miraculously kills cancer cells and tumors
Shrinks malignant tumors
Selectively kills cancer cells
More effective than chemotherapy
Attacks cancer cells, leaving healthy cells intact
Cures cancer
Douglas W. Stearn of the FDA's Office of Regulatory Affairs said in a statement that these products may not only be a waste of money and possibly unsafe but, even scarier, they "could prevent a person from seeking an appropriate and potentially life-saving cancer diagnosis or treatment." What should you do if you have cancer or are worried about getting it? Talk to a damn doctor.

Read This Next: 'Women's Viagra' Was Found in Shady Herbal Sex Pills