Blizzard Entertainment's team-based shooter Overwatch continues to impress almost nine months after its initial release, and as recently as last month the folks in the studio were celebrating that over 25 million people have played it so far. Yet even more impressively, a new report from NetEase, Blizzard's longtime partner in China, claimed that more than 5 million copies of Overwatch have sold in mainland China alone.
That's big news. The actual number might not be as big as Blizzard's total 25 million, but as analyst Daniel Ahmad of Niko Partners told me in an email, that's a record for full-price buy-to-play games in China. And considering that Overwatch has in-game purchases, the potential for profits is huge.
"It's very rare to see multi-million selling buy-to-play titles in China like we see in the West," Ahmad said. "What's interesting to note is that Blizzard have said that around half of all Overwatch players are based in Asia, which shows just how popular the game is there."
It's especially remarkable that Overwatch can boast these numbers in spite of the comparatively adverse conditions for gaming in China. As Ahmad notes, piracy is rampant, most PC gaming still takes place in internet cafes, and players often can't or won't pay for games at full price. Mash all this together, and you get an environment where the free-to-play model towers over all others. That's why China has its own free-to-play version of Call of Duty, and it's partly why China's home to free-to-play giants like League of Legends and Crossfire.
"The standalone game market is a tiny portion of the overall games market," Ahmad said.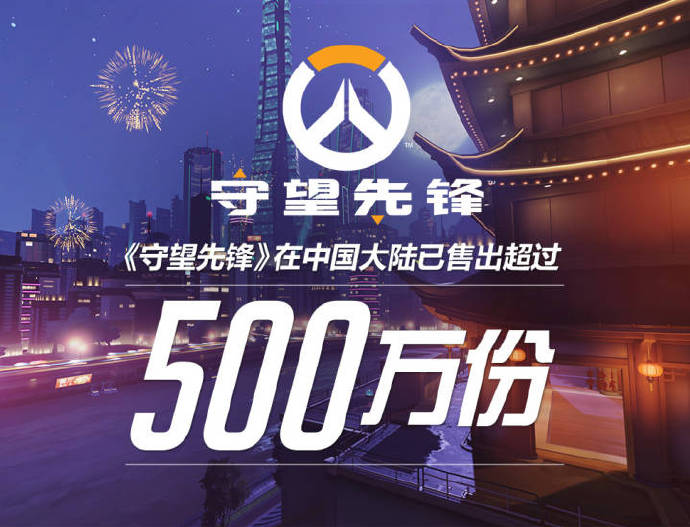 Even more remarkably, this isn't the first time Blizzard has pulled off something like this in China. Ahmad notes that previous record for the most sales of full-priced buy-to-play titles in the Asian country was Blizzard's own Diablo III, which moved around 3 million units.

"Blizzard has a great reputation in China and many young gamers were bought up playing titles like Warcraft and Diablo," Ahmad said. He adds that this reputation helped spur the wild success of the Warcraft movie in China, which pulled in $207 million there in 12 days—a massive leap over the mere $37 million the film amassed in the US in roughly the same time period.
That popularity certainly played a role in Overwatch's success, Ahmad said, though it's not the only factor.
"Buy-to-play is certainly starting to become a viable model in China and we could start to see other publishers see the same level of success as Overwatch over the next few years," he said. "However, it is important to point out that free-to-play will always rule in China and is without a doubt the best way to appeal to the mass market gamer in China."
Niko Partners has monitored what Ahmad calls "PC-packaged games" in China since 2002, but for most of the early years there were few on the store shelves since piracy greatly dampened the demand for physical disks at full price. Yet that doesn't mean there isn't a demand for standalone games.
"We track the demand in the market and gamers told us that they loved to play standalone games," he said. "In fact, from about 2002-2005 gamers reported that roughly 50 percent of their gaming time was spent on standalone games, but they downloaded them for free or bought cheap copies in a pirate store because they were not available otherwise."
Now, though, with average incomes growing in China, attitudes toward piracy are changing and players are starting to plunk out some cash for games they previously would have pirated. It also doesn't hurt that Overwatch avoids piracy through region-locking and by requiring online connectivity (although Ahmad points out that around 20,000 Chinese players have been banned from Overwatch for using hacks like aimbots).
"Platforms like Steam and TGP have started to take off in China and a lot more games are becoming successful with a buy-to-play model," Ahmad said.