The Wild Reeds Got Robbed While Making a Video About Getting Robbed and This Is the Video
Listen to "Only Songs" off of the LA trio's tops second album, 'The World We Built,' due out April 7.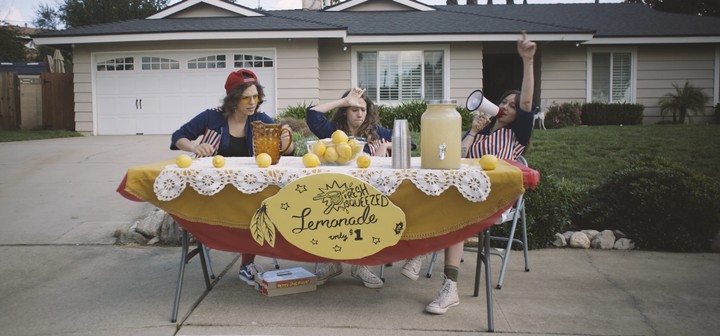 We all know the saying about making lemonade, but sometimes it gets literal—like when your guitar gets stolen out of your car the night before a gig and ends up at your neighbor's garage sale for $500, so you've gotta get scrappy with your bandmates and scrounge up some extra cash real quick.
That's the premise of the Wild Reed's new video for "Only Songs," a meditation on the travails of band life that's as lovely and triumphant as the song itself.
The trio—made up of wildly talented vocalists and multi-instrumentalists Kinsey Lee, Sharon Silva, and Mackenzie Howe—has been kicking around LA for a minute now, blending country, bluegrass, and Jenny Lewis pop sensibilities to establish themselves as one of the best live acts in town. They're gearing up to release their second album, The World We Built, on April 7 via Dualtone. It's a stylistically diverse work of often-fraught subject matter (self-destruction and loss are common themes) that finds absolution in goosebump-inducing harmonies and slow burning orchestration.
Here's what singer-guitarist Mackenzie Howe had to say about the Han-Su Kim directed video:
"This song is sort of a diary entry about how trivial things in life are often disappointing, but how playing music with the band over the last few years has been our steadfast source of fun and joy.
The story line of the video is that my Telecaster gets stolen out of my car, so the three of us girls find creative ways to make some cash to buy me a new guitar. The crazy part is day one of shooting, after we shot the roller skating/bike scene, my car did get broken into and I had many valuable things stolen. Among them were those roller skates, which I'd had since seventh grade. I called our director and said 'I have a broken window in my car, let's shoot the first scene right now, before I get it fixed.'
It was a total bummer, but in light of all that, the video became such a fun group effort, with all our friends and bandmates around, willing to dress up and play whatever kooky characters we asked them to."
Watch the premiere of "Only Songs" by the Wild Reeds below.
Andrea Domanick is Noisey's West Coast editor. Follow her on Twitter.