It is perhaps the most interesting free agent decision to ever face the Toronto Raptors. It may be the most important, too. Kyle Lowry, the 31-year-old point guard and three-time All-Star who is one of the chief figures responsible for the longest stretch of sustained success in franchise history, is an unrestricted free agent. He is due an enormous raise. He sounds unsure of whether or not Toronto will be the best fit for him, and the team sounds unsure of retaining him.
This is not Vince Carter demanding a trade, because Lowry has earned his right to test the market. This is not Chris Bosh darting for Miami after a series plagued by injury, despite some of the obvious similarities in situation, because the writing isn't anywhere near as on the wall, the path for player and team alike both (painfully) obvious. This is not even DeMar DeRozan, the first star to ever stay for a third contract.
"Well I got traded twice already, so," Lowry said Monday at Raptors locker clean-out day. "One thing about DeMar being drafted by here, he's never seen anything different, and he wants to be here, and he's built for that. Me, personally, of course you want to keep growing roots and sprouting more. It's always something you think about. When you've already established yourself somewhere, how can you make yourself grow, how can you get better or do this or that differently?"
If Lowry's response sounds conflicted, that's because it probably is. In speaking to the Toronto media for perhaps the last time as a member of the Raptors, the only thing that Lowry made clear was that winning was important to him. He shot down any talk of money, he gave little lip-service to fit (for what it's worth, he spoke highly of his relationship with head coach Dwane Casey), and he kept coming back to two things: He didn't know yet, and he wants to win a championship.
"Honestly I haven't thought about the criteria. I will be opting out and that's as far as I've gotten," he said of the formality of his $12-million 2017-18 player option. He'd later expand ever so slightly. "A ring. Nothing else. I just want a ring."
If Lowry is being earnest that all he wants is a ring, then any scenario is on the table, including a discounted Kevin Durant Lite path where he joins one of the league's two top contenders. The more realistic options pose varying degrees of threats to the Raptors.

Toronto holds extra chips in the form of a fifth year, higher annual raises, and a deal that can total an estimated $207 million instead of $153.5 million. If Lowry's decision is about more than maximizing a shot at a ring in 2017-18, then they remain in play and are probably his most likely landing spot. Lowry will have to decide, perhaps in conversation with the Raptors' front office, whether or not his desire to win a ring has a chance to happen in Toronto.
"I think I can do that anywhere I play," he said. "That's just how confident I am. I've just got to be better. I put a lot of pride and joy into how hard I work. I've just got to work harder. I've got to do something different. I've got to get better. I want to beat the best. Whatever it takes to beat the best, that's what I've got to do."
---
---
The last note is especially salient after Lowry made it seem to Adrian Wojnarowski of The Vertical that it was unlikely that any East team could catch LeBron James in the near-term. If there's convincing to be done on the part of the Raptors, it may have to come in the form of the significant changes to the team's system that president Masai Ujiri talked up Tuesday. That pitch won't be coming from DeRozan, though, as the two have went through free agency together as friends letting friends make decisions as friends rather than pressuring or pitching would-be teammates.

"We gained something that go way beyond on basketball," DeRozan said. "That's why when it comes to things like this, I don't put the pressure on him or I don't say do this or do that. He gotta make the decision and whatever one he make, as a friend, I gotta be there to support him. 'Cause it's something beyond basketball. I wouldn't wanna hinder him or make anything more hectic than it's already going to be."
The first part of the conundrum to be sorted out on July 1, then, is whether Lowry even wants to stay.
In an offseason with many difficult questions, ones that don't have clear right or wrong answers, everything flows from the Lowry domino. Lose Lowry and it probably doesn't make sense to retain Serge Ibaka and both of P.J. Tucker and Patrick Patterson. Despite their 14-7 record without Lowry, the Raptors succeeded against an easy stretch of schedule and struggled on the offensive end. A DeRozan-Ibaka core tops out as first-round fodder and still hinders the team's financial flexibility some moving forward, and so losing Lowry probably necessitates a difficult step backward.
Everything this summer starts and ends with Lowry.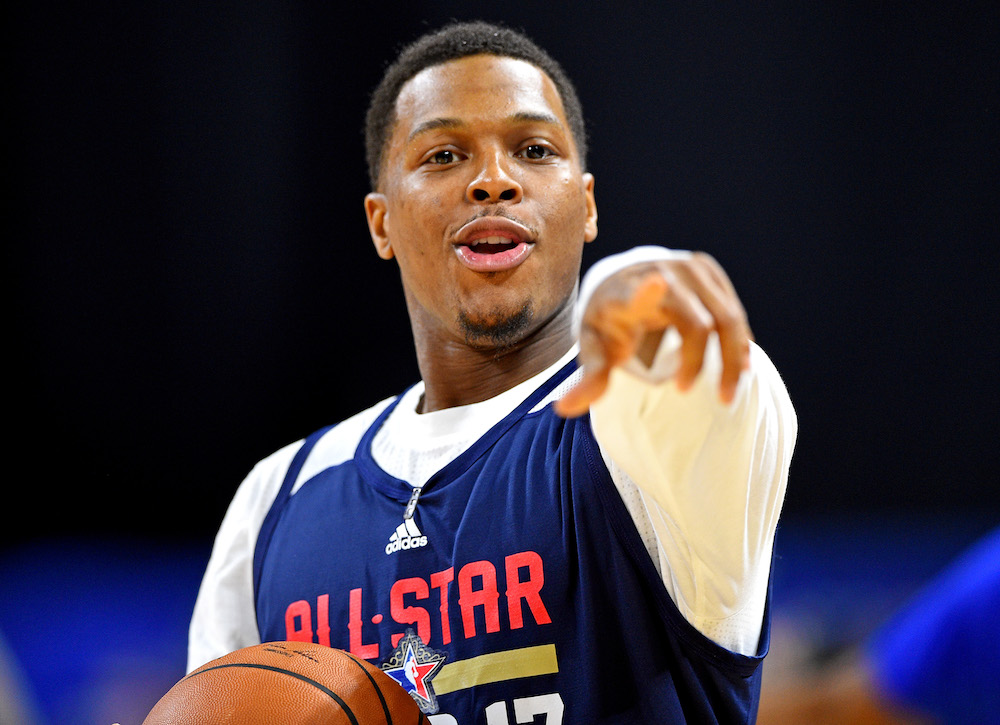 "We want him back," Ujiri said. "He's been a huge part of the success here. But what is to say Kyle doesn't call me five days from now and says, 'You know what, I'm not coming.' Then whatever I've said here doesn't mean anything. So yes, there is a domino effect there and we have to make the right decision."
Even if Lowry tells the Raptors yes, the matter is not clear cut, especially if that yes comes with the contingency of the full five-year max. The Raptors will probably aim for a four-year deal that ties the end of his contract to that of DeRozan's. If they give him a fifth year, it stands to reason that they'd want to pay him below the annual max, finding a middle ground between his four-year max elsewhere and his full max with Toronto (DeRozan, remember, signed for about 91 percent of a much smaller max; Lowry does not owe anyone that same courtesy). And while retaining DeRozan a season ago was a bigger deal in the larger organizational sense—retaining a home-grown star for the first time was a genuinely big achievement—Lowry's free agency stands to have a larger impact on the future of the franchise.
The case can be made that Lowry ranks as high as No. 1 in terms of the best players in franchise history. It cannot be argued that he ranks any lower than No. 4. DeRozan has led the team in scoring and they have the same number of All-Star berths, sure, but Lowry's impact on the court has been far more pronounced, both in the regular season and through his postseason struggles. As Lowry's gone, so too have the Raptors. Kyle Lowry Over Everything, and all that, with the Everything probably including a strict dollars-for-production calculation on what could be troubling back-end years of a big contract.
The decision to re-invest in largely the same core is a tough one, but at least with Lowry in the fold, competing remains an option. It does post a long-term flexibility threat, especially if the Raptors top out at what they were this year. Lowry didn't have a ton of mileage on him when he got to Toronto, but he's averaged 36.3 minutes over the last four years and made four postseason runs, with an Olympics mixed in. He's also listed at 6-feet, and while he's totaled 40.5 win shares over the last four years, the history of shorter point guards keeping up that level of production after age 32 is spotty. It's basically John Stockton and then an enormous cliff to useful secondary pieces.
There is no means of replacing him, though. Even renouncing all of their free agents and jettisoning their draft pick doesn't get the Raptors close to the salary they'd need for a player of Lowry's ilk on the market. This core without him is nowhere near worth paying into the luxury tax for, or even committing to long term. Keep him, and the long-term outlook turns cloudy with inflexibility, but at least they're assured of being good a while longer. Again, there are no clear answers, other than that Lowry is terrific, that he is an immensely important piece, and that he is due a substantial raise, in Toronto or elsewhere.
That the Raptors have the opportunity to retain a star once again, that they could continue the best stretch in franchise history by doing so, and that neither side seems sure as to whether that's the best way to proceed, well, that's a pretty good microcosm of the position the Raptors find themselves in this summer.