In the aftermath of Wednesday's attack on Westminster Bridge and the Houses of Parliament in London, a picture of the alleged attacker receiving medical attention began to do the rounds on Twitter. The name of this supposed assailant was Abu Izzadeen. The issue, however, was that Izzadeen was then—and still is, according to his brother and lawyer—languishing in a British prison for breaching the UK's terrorism act. On Thursday, police identified 52-year-old Khalid Masood as the man they believe to be responsible for the attack.

Abu Izzadeen is a 41-year-old British-born convert to Islam who previously went by the name Trevor Brooks. In the early 1990s, shortly before his 18th birthday, Izzadeen began to visit Finsbury Park Mosque and became enamored with the radical preaching of both Omar Bakri Mohammed— the "Tottenham Ayatollah"—and Abu Hamza, the one-eyed, hook-handed militant imam. Quickly, Abu Izzadeen settled into this jingoistic jihadi clique, which vowed Sharia law for all and openly supported acts of terrorism.
Izzadeen went on to be a core member of al Ghurabaa, an Islamist group now condemned by the UK government, and prior to 9/11, he visited Pakistan, where he gave a number of lectures.
---
WATCH: 'VICE News Meets Abu Rumaysah, the Brit Who Became an IS Executioner'
---
Throughout the 2000s, alongside his contemporary Anjem Choudary, Izzadeen's role in promoting their distinct brand of fundamentalist Islam grew. In 2004, he led a storming of Regent's Park Mosque, declaring true Muslims should take up arms against America. Immediately after the 7/7 terrorist attacks on London, Abu Izzadeen publicly declared his hope that "this would make people wake up and smell the coffee."

In 2006, during an open forum between the newly appointed home secretary John Reid and the Muslim community, Izzadeen disrupted the meeting, yelling about Reid being an enemy of Islam. He was eventually ejected along with his homemade sign that read "John Reid, you will pay." The following year, Izzadeen was arrested for inciting others to commit acts of terrorism overseas and supporting terrorist fundraising. He was found guilty and jailed for three and a half years.
After his release from prison, Izzadeen continued his method of firebrand preaching on the streets of London and via social media. The rise of the Islamic State saw many more of Izzadeen's comrades either jailed or illegally make their way to fight for the newly founded caliphate. Choudary, perhaps the most notorious of his group, was recently jailed in the UK for almost six years for pledging the oath of allegiance to ISIS's leader, Abu Bakr al Baghdadi. Another one of his companions and a fellow British convert, Abu Rumaysah, successfully fled to join ISIS while on bail and was recently identified as one of the group's new executioners in a harrowing video where he personally threatened then prime minister David Cameron.
In November 2015, Izzadeen was arrested on a train in Hungary bound for Romania. When asked to identify himself, he merely presented a Qur'an and was deported back to the UK and jailed for a another two years due to breaking the terms of his previous release.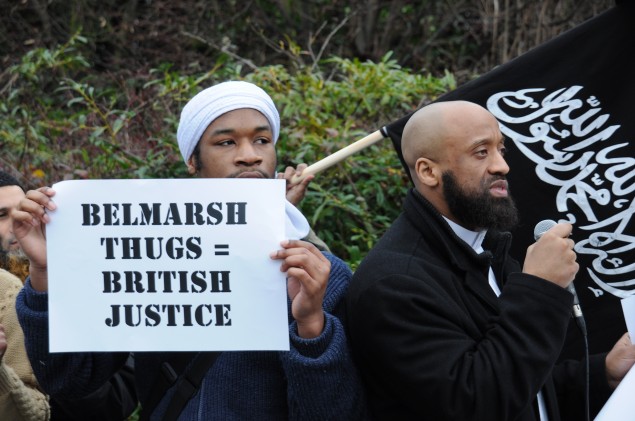 Despite having a CV that might implicate him in Wednesday's attack, Izzadeen was innocent of the accusations against him. Both Channel 4 and the Independent publicly named Izzadeen as the perpetrator, but it seems the sole basis for Izzadeen being named was a blurry picture of a wounded man on Twitter with a similar complexion and facial hair. Channel 4 has since apologized, and the Independent has deleted its story.

Abu Izzadeen is not the first to be named, accused, or even arrested for a terrorist act he didn't commit. Brandon Mayfield—another convert to Islam—had his fingerprints falsely linked to the scene of the Madrid bombings in 2004. He was subjected to torture and unprecedented police powers before being released with an apology. Mohamedou Ould Slahi is another example; the man regarded as the most tortured prisoner at Guantánamo Bay was arrested after 9/11, held for 14 years, and eventually released with no evidence to him being linked to the plot.
The reason Izzadeen was reported as the guilty terrorist Wednesday clearly has much to do with wanting to land the scoop. However, the danger is that it promotes a culture of "close enough" and "if the shoe fits," rather than forcing people to deal in substantiated evidence. Social media is a powerful tool for breaking news and citizen journalism, but it has no editor, no fact-checker, and very little regulation beyond an algorithm looking for keywords.
It is irresponsible to apportion blame for a crime without clear verification, regardless of previous guilt; it not only victimizes the innocent but also muddies the water in identifying those truly responsible.
Follow Jake Warren on Twitter.
UPDATE 3/23/17: A line was added after police named Khalid Masood as the attacker.