Day 100: "100 Million" – Birdman feat. Rick Ross, Young Jeezy, and Lil Wayne, 5 * Stunna , 2007
Did I ever believe, 100 days ago, that things would go this far? Yes and no. A Year of Lil Wayne is a project for the long haul, but also, other than brushing my teeth, there aren't many things I've done for a hundred days straight ever (and honestly, at the risk of being gross, it's possible that I missed a day of brushing my teeth over the last 100 days). So much has happened in that time. But here we are. This calls for a celebration, officiated by DJ Khaled.
Yup, that's right, today's song is peak late aughts southern rap posse cut: Rick Ross, Young Jeezy, Lil Wayne, and Birdman on a Cool & Dre track under the auspices of a younger, equally The Best but less famous DJ Khaled. Fat Joe and Gunplay even make cameos in the video, which, in keeping with the style of the era, is a big-budget spy caper involving boats, helicopters, cops, and a fuck ton of expensive cars. One downside of Birdman and Lil Wayne's schism, as well as the general loss of money in the music industry, is that you don't get videos like this anymore. This cinematography is peak Cash Money mixed with peak Khaled, and it's a marvel. There is so much money, and look at this shot of a fleeing Birdman: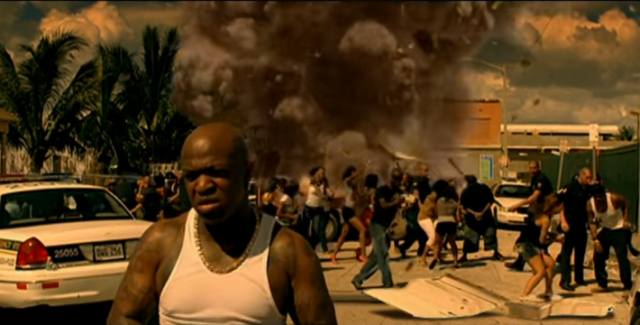 The $100 million in question has taken on a new significance in 2016, as the rapidity with which Birdman spent it has become the question at stake in Lil Wayne and Birdman's legal battle. He allegedly blew through $70 million of it, and Wayne didn't get much: It's possible the bed full of money he poses in front of in this video is about the most he ever saw. Anyway, this song is exciting because it was Jeezy and Wayne at their respective peaks, along with an ascendant Rick Ross and Khaled combo, but the end result is less than the sum of the parts. It feels like Wayne basically got roped into participating, but he does brag about his $100,000 grill, which seems like an appropriate way to commemorate day 100 of A Year of Lil Wayne. Watch this video and marvel:

Photos: Screenshots of "100 Million" via YouTube
Follow Kyle Kramer on Twitter.