Standing in the wake of a shallow river in Bundang, South Korea, balance artist Rocky Byun wrestles with the kick stand of a small motorcycle as he attempts to balance the bike atop a flat rock. Byun is the subject of a new feature by Great Big Story, the studio responsible for stories like that of this man-made island and amputee tattoo artist. Much like fellow balance artist Ishihana-Chitoku, Byun loves to create seemingly impossible arrangements that appear to defy gravity itself. However, while Chitoku focuses solely on stacking rocks, Byun works with all kinds of different objects. Byun balances everything from mini motorbikes and fresh fruit to flat screen TVs and smartphones. At the start of the video, Byun says, "Every time I see a new object, I think about how to find its balance point."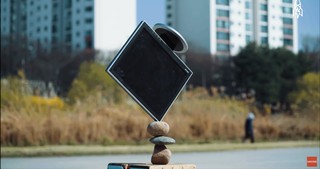 Both Chitoku and Byun stress the incredible amount of focus and concentration required to carry out these types of sculptures. "You have to be completely immersed in the process to make it work. I stop my thoughts, movement in my muscles, joints, hands, and eyes."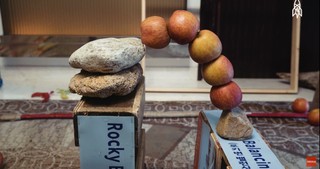 Working within the fast paced cultural landscape of South Korea, Byun believes balance art has helped him to slow down and "gain the right mindset to live a fulfilling life." Check out the video below:
Check out more works by Rocky Byun on his YouTube channel.
Related:
A Robotic Sofa That Can Balance On One Leg
Precarious Cut-Stone Sculptures Convey a Sense of Delicate Balance
Impossibly Posed Fashion Photography Defies the Laws of Physics