The VICE Morning Bulletin
Hurricane Irma leaves 11 dead in the US, the United Nations approves new sanctions against North Korea, 'Wonder Woman' director to return for sequel, and more.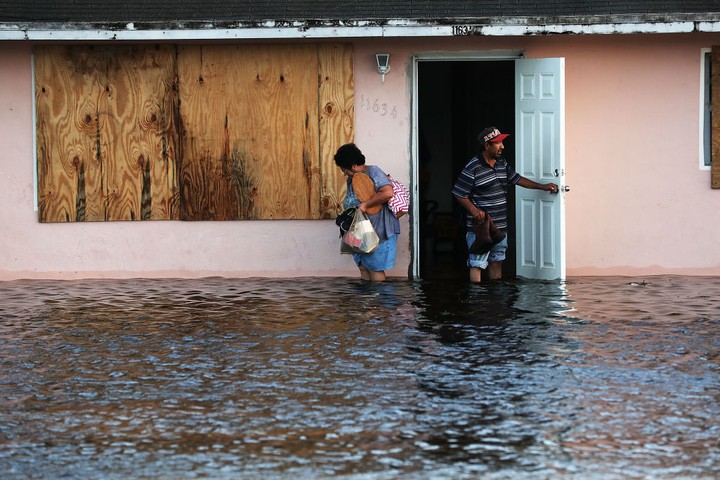 A couple leaves their flooded Bonita Springs, Florida, home on September 11. Photo by Spencer Platt/Getty Images
Everything you need to know about the world this morning, curated by VICE.
US News
Hurricane Irma Death Toll Rises
At least 11 people have been killed in the US as a result of the storms brought on by Hurricane Irma. The death toll in Florida rose to six after a man was electrocuted by a power cable Monday. Other storm-related fatal accidents occurred in Georgia and South Carolina. As many as 12 million people in Florida are estimated to have suffered from power outages. —ABC News / The Washington Post
Houston Floodwaters Could Make People Sick
The water in some flooded areas in the Texas city has been found to contain E. coli and other harmful pollutants, tests have revealed. A standing water sample taken from a flooded home had traces of E. coli 135 times over what's considered a safe level. A doctor at Houston Methodist Hospital said instances of the skin infection cellulitis had doubled in the aftermath of Hurricane Harvey. —The New York Times
Chris Christie Mocks Steve Bannon
The New Jersey governor has maintained he was offered a position in President Donald Trump's cabinet, contradicting former White House strategist Steve Bannon's claim he was ruled out for failing to show loyalty after the "grab them by the pussy" video controversy during the campaign. "Now that he's been fired, no one is going to really care about anything else Steve Bannon has to say," Christie told PBS. The governor said he hoped Bannon enjoys "his last 15 minutes of fame."—PBS News
Supreme Court Blocks Anti-Trump Decision on 'Travel Ban'
The Supreme Court stayed an appeals court decision to ease the restrictions imposed by Trump's travel ban, meaning that—for now—grandparents and other relatives of US citizens, along with refugees working with a US resettlement agency, cannot enter the country if they are from nations on a list of Muslim-majority countries single out by Trump's executive order. The Ninth Circuit had ruled that relatives of citizens had a "bona fide relationship" with a US person and should therefore be let in, but Justice Anthony Kennedy stopped implementation of the decision until the Supreme Court deliberates on the constitutionality of the ban in full this fall. —VICE News
International News
Bangladesh Wants Myanmar to Take Back Refugees
Bangladeshi Prime Minister Sheikh Hasina has urged Myanmar to accept the return of around 370,000 Rohingya Muslim refugees who have escaped what the UN has called "ethnic cleansing" by Myanmar security forces. Visiting a site for the refugees, Hasina said, "Hundreds of years they are staying there. How they can deny that they are not their citizens?" —BBC News
UN Adopts Weakened Sanctions Against North Korea
The UN Security Council has agreed to place new economic sanctions on North Korea, including a ban on textile imports and some restrictions on oil shipments. The resolution is a diluted version of the original drafted by the US, which included a total freeze on oil sales to North Korea. (It was reportedly weakened to attract the support of Security Council members Russia and China.) One US official said the approved resolution would cut the country's oil supply by 30 percent.—CNN
Aggressive Drug Tests Ordered to Halt in Philippines
Police in the Philippine capital of Manila have dropped door-to-door drug tests following the filing of a legal plea in court. Lawyers and campaigners claim the tests, part of President Rodrigo Duterte's brutal crackdown on drugs, can have deadly consequences—users have been shot and killed extrajudicially. Voluntary drug tests of residents would be allowed to continue.—Reuters
Pope Lashes Out at 'Stupid' Climate Deniers
Pope Francis spoke out against those who don't acknowledge climate change science Monday. On a return flight from Colombia to Rome, the Pope said "scientists clearly say what path we should follow." The pontiff also quoted from the Old Testament: "Man is stupid, he is stubborn and he does not see." —Al Jazeera
Everything Else
'Wonder Woman' Director to Return for Sequel
Patty Jenkins has reached a deal with Warner Bros. to direct the sequel to Wonder Woman, set for release in 2019. Jenkins will reportedly be paid $7 million to $9 million for directing, producing, and co-writing duties. —The Hollywood Reporter
'South Park' Episode Takes On White Supremacists
The famously foul-mouthed and relentlessly topical cartoon will return for its 21st season this Wednesday with an episode about white supremacists. "Protestors armed with tiki torches and confederate flags take to the streets of South Park," a show summary revealed. —Rolling Stone
Monkey Doesn't Own Rights to Selfie
People for the Ethical Treatment of Animals (PETA) have agreed to settle a high-profile lawsuit over the copyright of a selfie taken by a macaque monkey. Photographer David Slater will retain the copyright, but has agreed to give 25 percent of money made from the photo to a macaque conservation charity. —AP
Marilyn Manson Drops New Song
Marilyn Manson has released the new single "We Know Where You Fucking Live," and shared details on his forthcoming album and world tour. Manson begins touring at the end of September and Upside Down Heaven comes out October 6. —Noisey
Jordan Peele and Spike Lee Making Movie About Black KKK Member
The film is an adaptation of the 2014 book Black Klansman, about Ron Stallworth, a black cop who gains access to the Ku Klux Klan. Lee will direct and Peele, fresh off his Get Out success, will produce. —i-D
Foo Fighters Launch Pop-Up Pub
The Foo Fighters will open a temporary pub in the London's Hackney area this weekend. The Foo Fighters Arms will serve band beers and other merchandise to promote the new album Concrete and Gold.—Noisey
Stories