There's a pair of young jokesters up to no good in Daly City, California, according to an incriminating post on Nextdoor. As SFGate reported on Monday, a stack of two rascals on each other's shoulders, draped in a literal trench coat and cosplaying as a grown-ass detective, tried to grift some beer from the Loop Neighborhood Market along Gellert Blvd near I-280.
Damn, Bay Area Nextdoor just keeps bringing the hits!
"Was at the Loop and I saw what was obviously two kids on each others [sic] shoulders while wearing a trench coat to appear taller and pass as an adult," Ronaldi wrote in his initial post last week. "They were trying to buy beer."
Cut it out, kids! [shakes fist]
According to SFGate, Ronaldi spotted this "man" and was able to discern that the dude was actually two pranksters, one kid wobbling atop another's shoulders. Ronaldi claimed that these mischief-makers followed Ronaldi out of the store and asked Ronaldi to buy him-slash-them beer, using the excuse that "he" had left his ID behind at his place of work, a likely nonexistent "detective agency."
According to SFGate, the "man" then claimed—I swear I'm not making this shit up—he was investigating "people claiming to be with the Illuminati." Incredible. Ronaldi reportedly claimed to these pint-sized punks that he didn't have his ID on him, and they left him alone.
"It [happened] last Saturday around noonish," Ronaldi clarified to MUNCHIES on Friday via email. "I am guessing [they were] around 13? 14? Being on each other's shoulders, they were easily a foot taller than me. They may have well been doing it as a goof but I had not seen the kid before."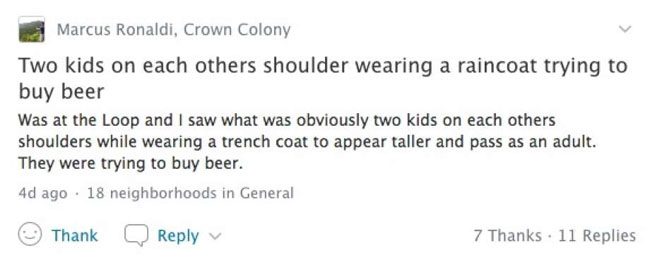 When reached for comment by MUNCHIES via phone on Friday, a man who answered the phone for the Loop location in question expressed utter confusion at the idea of two kids dressed in a large coat trying, and failing, to buy beer.

"When did this happen?" he asked. "No, I don't have anybody reporting that."
Hm... interesting.
If anyone has seen these ruffians, please—tell them to knock it off!