WeWork, a U.S.-based network of collaborative co-working spaces, recently hosted the first Creator Awards Global Finals, a worldwide initiative recognizing the creators of the world who are making an impact in their communities. These cover many fields, from humanitarian aid to environmental innovation, but their common thread was making a real difference in their ability to potentially help people around the world.
Two organizations—one for-profit, one non-profit—were awarded $1 million each, and eight finalists in total took home a total of $4.22 million. The $1 million prizes went to J. Kevin White of Global Vision 20/20, whose non-profit concept provides prescription eyewear to underdeveloped nations, and Samantha Snabes of re:3D who produces accessible 3D printers that use recycled materials.
"We're just trying to take it all in, and really appreciate what this opportunity is going to mean for us," said Samantha Snabes, founder and Catalyst for re:3D. "There's been very few people since the beginning that have really bet on this concept we had in 2012: to make a toilet-sized 3D printer powered by trash. To know now that this is going to become a commercial reality in 12 to 18 months, it's just mind-blowing."
We spoke to several finalists in the healthcare space whose work earned them between $1,000,000 and $500,000, to learn more about why they created their companies, what they plan to do with the money, and how people can get involved if they want to help move their causes even further along by donating their time or skills.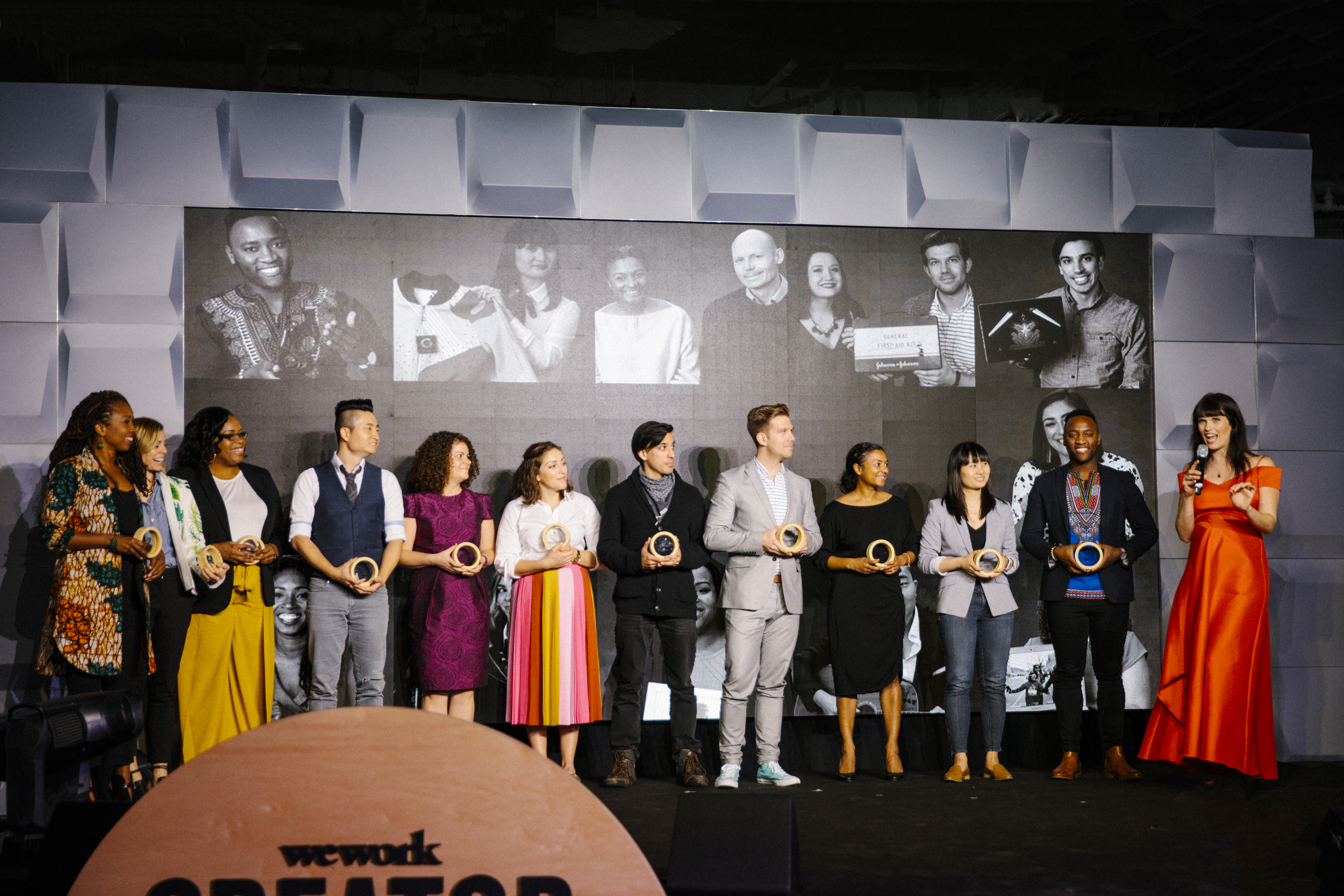 Grand prize winner J. Kevin White of Maryland, took home $1 million for his nonprofit, Global Vision 20/20 which prescription eyeglasses to the 2.5 billion visually impaired in the developing world using an efficient and cost-effective method he devised.
In 2005, White, a now-retired Marine who served for 20 years, came up with the idea while stationed in Germany and running the humanitarian assistance programs for the Department of Defense in Africa and Eastern Europe. He oversaw medical outreach by doctors, dentists, and optometrists, and, as a lifelong glasses-wearer, was especially drawn to the visionary aspect of the mission.
---
Check out more videos from VICE:
---
"This outreach was a very standard and conventional in distribution. The doctors conducted an auto-refraction using a portable computer device that measured the eye's refractive needs on the patients, and then matched the best fit of donated eyeglasses they could find,' he told VICE Impact.
However, he said, the inefficiencies of this approach were shocking: almost no one had 20/20 vision in both eyes, and often the patient would try and choose the frame they liked, but without the right prescription. He started on a mission to figure out how to improve that process, which he did with something called fluid-filled glasses. Still, they were too expensive at $22 a pair, and got to work inventing a tool that could help people self-diagnose their own vision so that the men on the ground could snap the right lenses into any frames that the people they were serving wanted.
"My 'gap analysis' exercise came up with a need for a user-adjusting diagnostic tool that could be easily translated to a proper prescription, and then pair that with a snap together pair of eyeglasses. The journey to production was really crazy as well," he said. "Once I drew the device I knew I needed to get it into CAD [computer aided design and drafting]. A friend of mine in New Zealand writes game code, so he did the first iteration. I then needed someone to 3D print the frames for me. I put out this request on Facebook and another friend of mine called me."
Many other steps and leaps later, clinical trials for the technology have been successful at the Wilmer Eye Institute at the Johns Hopkins University Hospital, and have in field distributions in four high schools is Mozambique, rural villages in Ghana, Tanzania, among students in rural China, and other countries. These distributions have been conducted by Church organizations, community health workers, NGOs, students, and have been distributed to men, women, and children of various ethnicities.
"We really are trying to show the diversity of workable distribution possibilities and have dispensed around 4,500 glasses using this kit so far," White said. "The best part of my day is when I hear the What'sApp notification sound off, and I get to see pictures from the field of people getting glasses for the first time in their lives."
In terms of how you can help, White says that while the million dollar WeWork prize money will take them far, they still need to raise funds to enable large scale programs to happen.
"If I simply spent the money delivering eyeglasses until all the funds were gone, we would help around 200,000 people (a great start for sure), but would be out of funds," he said. "This would be a huge disservice to the remaining 2,499,800,000 people that still need eyeglasses. My goal is to make this company a Social Enterprise that can enable existing networks to bring this tool into various communities."
Their $20.20 a month club allows you to provide funds for programs—you can then say, "I paid for glasses for 10 people in the developing world each month."
Also, he says, people can try to spread the word to Churches that travel overseas on mission trips, which is also a great opportunity for teenagers to make a direct impact on developing world communities.
Sebastian Jünemann of Berlin won $500,000 for his organization, CADUS, which is dedicated to developing and running mobile hospitals that are cheap to build and easy to implement, suited specifically for changing war zones.
A paramedic by trade, Jünemann had his first experience with natural disasters 1999 while working for a mobile clinic shortly after Hurricane Mitch hit Nicaragua. He proceeded to take part in relief for Ever large-scale international disasters such as the Tsunami in Indonesia, Haiti after the earthquake, and in the Philippines after Typhoon Yolanda.
"I was a little bit upset about my work with NGOs, because I had the impression that mostly the local affected community was not integrated in the decision making process when it came to disaster relief," he told VICE Impact.
Thus, CADUS was born in 2014, and Jünemann and his crew began work on the ground with war-affected Syria, building a mobile hospital, training paramedics, establishing a telemedicine program and providing materials for rescue.
"When out there in the fields, we witnessed that there are a lot of problems with non-existent technical or logistical solutions on the market," he said. "For example, we decided to create an affordable mobile hospital that could react on the dynamic frontline-situation in Northern Syria."
Help in the Kurdish-governed areas of North Syria, he says, is virtually non-existent, although inhabitants suffer under the consequences of the continuing war, the attacks of the IS (international humanitarian and economic embargo) and the international humanitarian and economic embargo.
They are currently working on different projects and solutions on a number of humanitarian aid issues, such as the need for a civilian airdrop solution, which became apparent after saw after the recent Hurricane in Puerto Rico.
"Every day out there in the field is full of new challenges, so every day we get new requests for our makerspace in Berlin. We search for existing solutions, and if we can't find them or they are too expensive, we create our own. For example, a lot of solutions for our mobile hospital we found in the music and event branche, where its normal that you have to work under incredible time pressure. So we just adapted these solutions to our needs," he said.
His team worked for over two years without salary, motivated by the notion that there are people who would not be alive today without their work—work that's not only designed to provide relief, but help people help themselves.
The WeWork prize money will help to keep their staff going, since much of their current funding goes directly to helping people on the ground. A portion of it will go to building their "mobile hospital vs. 2.0," being built at the maker space, and to other projects, such as a blimp-based mine clearance device, and a crowd-based telemedicine."
At their makerspace Berlin,people can stop by two days a week to drop in, take a look around, and help or offer to volunteer. .There is also an international team at CADUS, including IT-developers contributing to the makerspace, so you can join this makerspace in a virtual way.
"People from the US for example can apply as volunteers for our missions if they have credentials such as (M.D., Paramedic, Technician, and so on. You can find the crew-application on our homepage. And for sure, we are always happy for donations of money...you can find the possibilities for that on our homepage as well."
Naveed R. Parvez and Samiya Parvez, both based in the United Kingdom, founded Andiamo together after their son Diamo was born with cerebral palsy in 2003, which Samiya says was due to medical negligence.

Using 3D scanning, 3D printing and an advanced clinical service, Andiamo delivers a medically effective orthosis—a device used to correct spinal alignment—to families in only two weeks' time.
"Through his brief life, we tried to get Diamo the best care possible and enable him to do as many "normal" things as possible even with his complex needs. Most things depended on him getting the correct orthose," Samiya told VICE Impact. "Without those he couldn't sit upright, which meant feeding him became extremely difficult as he would slip out of his chair."
The process of getting one, however, can be traumatic in itself for both patient and parent.
"Forgetting how long you have to wait for an appointment in the first place, once you are there, you need to have the part of the body that needs bracing in plaster to make a mould. This has to dry whilst the kid is super still. Then, it is cut off and sent for manufacturing," she explains. "Now, If the kid moves—because kids can't stay still and they get agitated—you have to pray that it can be corrected or you would have to do the process all over again. Sometimes, this means booking another appointment on another day because the kid is so upset and nothing will calm him/her down, and another appointment on another day means another day off school, another day off work."
Because she had to take so much time off of work for Diamo's appointments—sometimes three times a week in three different locations to address three different areas of her son's body—she eventually had to opt to stay home from work. Diamo passed away in 2012, and in 2013, a mutual friend convinced her husband to attend a tech conference called MonkiGras, and it dawned on him that because 3D scanning and printing had evolved so much, with accuracy down to the millimeter, it should be used to help kids with disabilities access and obtain the equipment they needed.
A year later, Naveed returned to the conference with a prototype.
In a single appointment, the child has a 3D scan taken by a clinician and an assessment is made, which is then translated into a design for an orthosis and sent to a 3D printer. On the second appointment, the final fitting happens, having taken into account all sorts of components such as type of condition, spasticity, desire outcome, and more with the help of a 3D handheld scanner.
After that, a feedback loop is set in place so that parents and their children can let them know via text how the equipment is working, and they are currently working on being able to put sensors on the orthosis that can provide data on comfort and usage.
"When the child outgrows it and needs a new one, we assess how the device has performed by assessing how the child and their condition has progressed before we make the new one," Naveed said. Currently, they operate out of a clinic in London, where they can see and outfit 10 children per month. Ideally, they'd like to be able to find a full-time space with which to treat 10,000 children a month within five years, and "to impact at least 50 million people within 10 years."
If this is an issue that affects your family, Samiya suggests starting a local group that can link up with local charities that support children with disabilities. She also puts a call to action out for people to join the Andiamo team if they want to get involved with their mission.
"We are always looking for talented designers, engineers, developers, and clinicians," she said.
They are also currently looking for corporate sponsors to contribute.
WeWork's San Francisco Creator Awards applications (for the Western US and British Columbia) opened today, and the deadline to do some good is April 10, 2018.