These Two Students Were the Only Ones to Walk Out of Their School
"I was being recorded and laughed at, but I had to remind myself that I was fighting for what I believe in, and that it doesn't matter what they think of me."
On Tuesday, Erin Tracy-Blackwood, a digital content strategist and mom who lives in Belmont, North Carolina, posted an invitation to her friends on Facebook. Her son, 16-year-old Atraiyu Yeldell, was planning to participate in the National School Walkout, but he anticipated being on his own. "We live in a very conservative area," Tracy-Blackwood wrote, "and he doesn't think any other students at his school are going to participate. I'm going to stand with him so he's not alone, and if you happen to be free at 10am tomorrow, I invite you to join us."
Today, a month after the Parkland school shooting, thousands of students across the country are walking out of their classrooms in a massive protest organized by Youth EMPOWER, an affiliate of the Women's March. Organizers hope the more than 3,000 walkouts—lasting for 17 minutes to honor each of the victims gunned down at Marjory Stoneman Douglas High School on Valentine's Day—will help raise awareness on the importance of passing legislation that will help prevent gun violence.
A quick scroll of the hashtag #NationalWalkoutDay shows photos of tens to hundreds of students coming together this morning to champion their message. But the scene at Stuart W. Cramer High School, where Yeldell is a sophomore, was markedly different. At 10 AM, Yeldell walked out of his classroom, but he wasn't alone: his friend Michael Humphries, a 17-year-old senior, joined him.
"It was very quiet," Yeldell, a sophomore, tells Broadly via text message, "and as I approached [the door to exit the school] I heard the administrators calling my name. One of the administrators even tried stepping in front of the door. I just had my mind set on doing what was right." Yeldell says he was also threatened with suspension.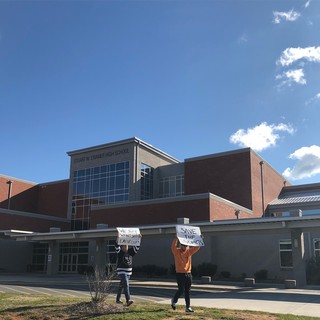 Understanding full well how much courage it would take for her son to participate in today's protest, Tracy-Blackwood tells Broadly she arrived at the school feeling nervous. She'd seen other parents in her community ridicule the walkout on Facebook and had heard rumors that teachers would block their doors. "I told him I'd be out in the parking lot if he decided to do it," she says. "And to be honest, I didn't know if he was going to come out or not. But he did, and I'm so proud. There were kids hanging out the window, some were cheering, some were laughing, and [Yeldell and Humphries] just stood there strong. It makes me want to cry just talking about it."
During the walkout, the two students marched in front of their school, which has an enrollment of around 1,000 students, in 30-some degree weather, holding up signs that read "Can we live?" and "Save the students." According to Tracy-Blackwood, the school offered students who wanted to participate today to go to the auditorium, and some students did, but her son felt that was the school's way of keeping them from being visible. (Stuart W. Cramer High School has not yet responded to a request for comment.)
"There were kids hanging out the window, some were cheering, some were laughing, and [Yeldell and Humphries] just stood there strong. It makes me want to cry just talking about it."
The whole time, Yeldell says, he was telling himself that he was doing the right thing. "I was being recorded and laughed at, but I had to remind myself that I was fighting for what I believe in, and that it doesn't matter what they think of me."
"We shouldn't have to worry about our lives in our place of education," he continues, "especially if we are basically forced to go." Humphries, also via text message, agrees, adding that "my reason for walking out was for the 17 lives lost [in] Parkland … and hopefully to incite a change."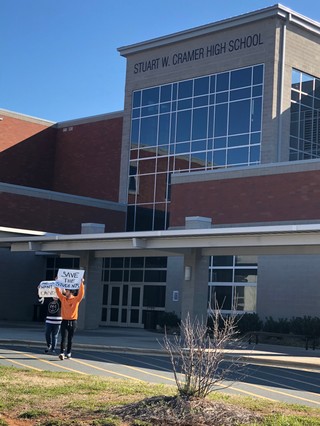 After watching from afar, Tracy-Blackwood says her son and his friend's actions today were particularly impactful because it was just the two of them—especially in a state that received a D- rating from the Giffords Law Center's annual gun law scorecard. "In a way, that's more powerful because it wasn't like a following in the crowd type of thing," she explains. "We don't have a crowd here to get lost in; it's just going to be us. We're vulnerable, and this is an unpopular opinion, and we're still going to take this stand."
"I told Atraiyu and Michael, I said, 'It only takes two people to start this. And maybe when these kids see you next time, they'll come with you. It takes a lot of courage to be the first ones. But maybe you taking this stand will help others feel comfortable enough to come speak out as well.'"
Stories