Emphasizing form and function, the vases and vessels of artist Elyse Graham are as practical as they are unrelenting in their beauty. Employing a fastidious hand-cast process to make these pieces, Graham's resin works are divergent in shape and aesthetic, but are always guided by conceptual precision.
Her most recent series, the Black Magic Collection consists of over a dozen elongated resin vessels, with each piece inspired by a specific culture or civilization where magic and ritual forms a central part of life, from Doba, Ethiopia to Erebus, the Greek mythological underworld. The visual essence of each culture is then transposed into an abstract array of colors and shapes, covering the entirety of each vessel.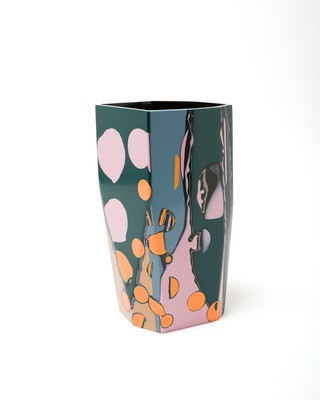 "Although the final appearance of each vessel is ultimately due to a bit of chance, the palette and initial design of each work are meticulously considered," Graham explains to Creators. "My studio assistant, Miller Robinson, and I discuss the palette first. I use a collection of art books, geographical clippings from fashion magazines, and the internet to source my inspiration."
Graham's calculated research cedes room to natural phenomena towards the end of the process. "Each piece is an experiment!" the artist exclaims. "Once the piece comes out of its mold, I carve and sand it to reveal hidden layers of color and unimagined patterns. No matter how much planning we put into a vase, it's always a surprise in the end."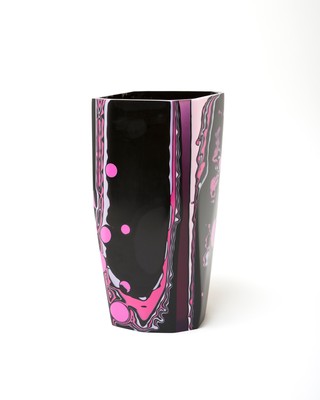 The unexpected plays a role in the artist's other bodies of work as well. Prior to the Black Magic Collection, Graham created a series of vases cast from balloons in varying shapes and sizes. Starting as a "fun weekend project of coating sand-filled balloons in bar top resin", the balloon vases eventually became a "multi-year, passion-filled exploration of resin and alternative processes to working with the material."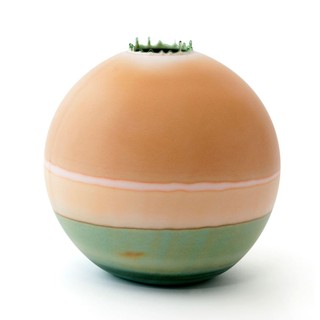 Graham seems to be most interested in the limitless potential of molds. She says, "Mold making is a constant interest and a method I usually integrate into every collection, although the specifics of the mold and the process I use to work with it are unique to each new body of work. My process is always in flux – by design!"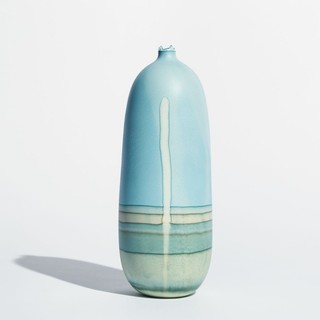 You can check out a full archive of Elyse Graham's vessels and vases on her website.
Related:
These Ming Vases Are Made of Toxic Sludge
150 Ceramic Red Solo Cups Look Just Like the Real Thing
Anthropomorphic Ceramics Embody a More Charming Internet Life