Ah, Lovebox. A true melting pot. For two days in July, the festival welcomes individuals from all walks of life to the green pastures of an east London park, so they can partake in some carefully controlled hedonism between the hours of 12 PM and 10 PM, or—as some preferred to—sit under a tree and repeat the phrase, "I'll be fine in a minute…"
This year, the event—celebrating 15 years—spanned a huge scope of punters. This was partly down to Frank Ocean, the supernova Friday headliner, counting fans in every demographic; we met Essex lads sporting identikit testicle-crushing Topman jeans, patellas artfully exposed, who waxed as emotionally about the artist FKA Christopher Breaux as queer art students in towering rainbow platform heels. But it was also testament to an excellently curated line-up, designed to pull in crowds with wildly different Spotify favourites, from Sälen, Kaytranada, Mac Miller and Rex Orange County to 67, AJ Tracey and Mist. Saturday was the electronic lover's wet dream; a roster including Andy C, Annie Mac and Chase in Status had teens with clenched jaws and cross-body bags thrusting their phones above pulsing crowds, capturing the drop on Insta Stories for posterity. Standard festival fun. Friday though? Friday was a moodt.
The presence of Sampha, Solange and Frank on one date was potent, their politically significant releases injecting an electric current into proceedings. Add to the mix acts like Ray BLK and energy was built to almost unbearable levels. Solange, a clear festival highlight, snatched everyone's collective wig at the Noisey stage with a set featuring a note so Minnie Riperton-high the girl next to me cried. Then, it was just Frank left to deliver the final, transcendent coda; 50,000 people singing "Solo", seeming to set a blissful seal on proceedings. But I wanted to go further. Sure, everyone looked pretty joyful but what burdens were bubbling away under the face glitter? We decided to hold an impromptu therapy session. Wisdom goes that those most in need are the ones who seem least likely so we hit up the happiest-looking people to dig deep into their inner fears.
Sam, 21, Spencer, 24, Will, 18, and Elliot, 18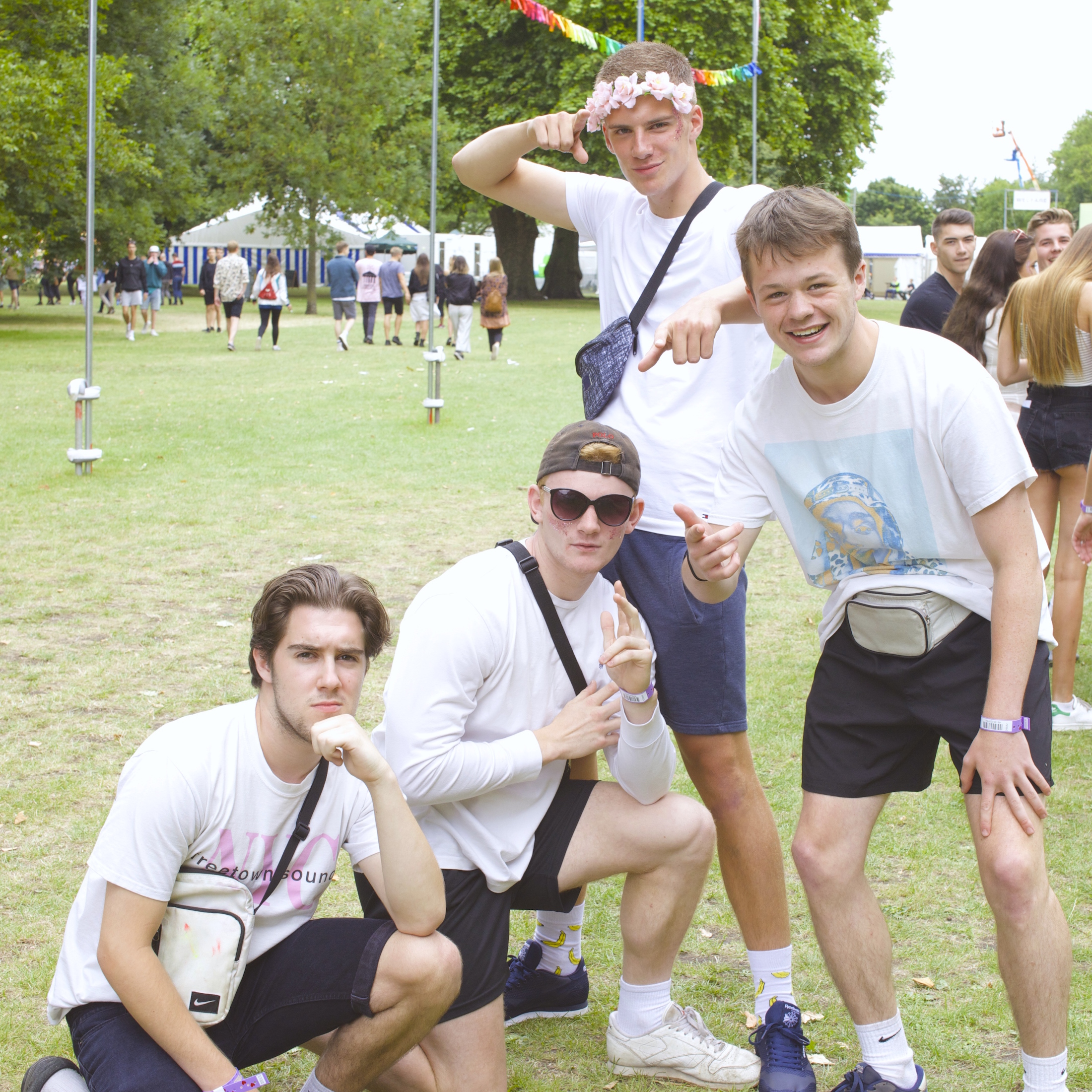 Noisey: You all look very chipper—do you ever get stressed?
Will: I was when we going through security and the dogs were out.
Spencer: My virginity stresses me—I'm never going to lose it.
Elliot: My only worry is that Tottenham won't win the League.
Who are you going to see to blank out your worries?
Will: Kaytranada! Those vibes. Very funky. I want him to bring Craig David out.
Ashley, 22, and Brianna, 27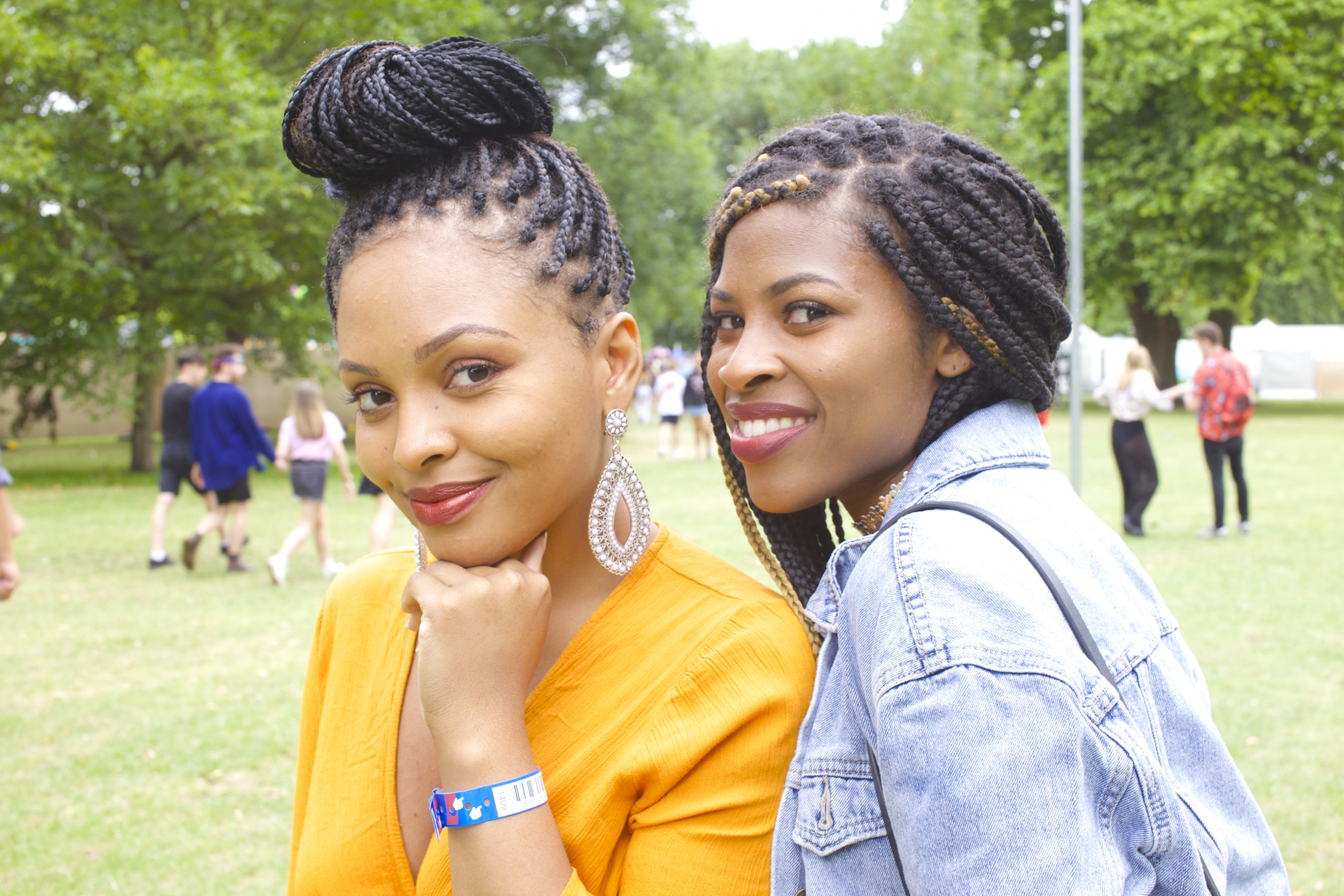 Noisey: You guys seem very chill—is this for real?
Ashley: Anxiety is actually a huge thing for me; music definitely helps. Solange and Frank's albums have got me through panic attacks I've experienced.
Brianna: We're from California and getting here was quite stressful. We were two hours late and on edge but once we stepped through the gates and saw everyone's vibes it put my mind at ease.
How do you deal with something like anxiety on a daily basis?
Ashley: I listen to music and work out a lot. Weight training is great—I hate cardio.
Brianna: Working out for sure. I really like Crossfit.
Is there anyone on the line-up who particularly soothes your stress like exercise?
Ashley: Being a woman of color, Solange makes me feel like my worries are heard. She's so angelic and calming.
Brianna: She puts my mind at ease and helps me be comfortable in myself, like loving my hair; I can come here in my braids!
Alero, 20, and Nicolai, 24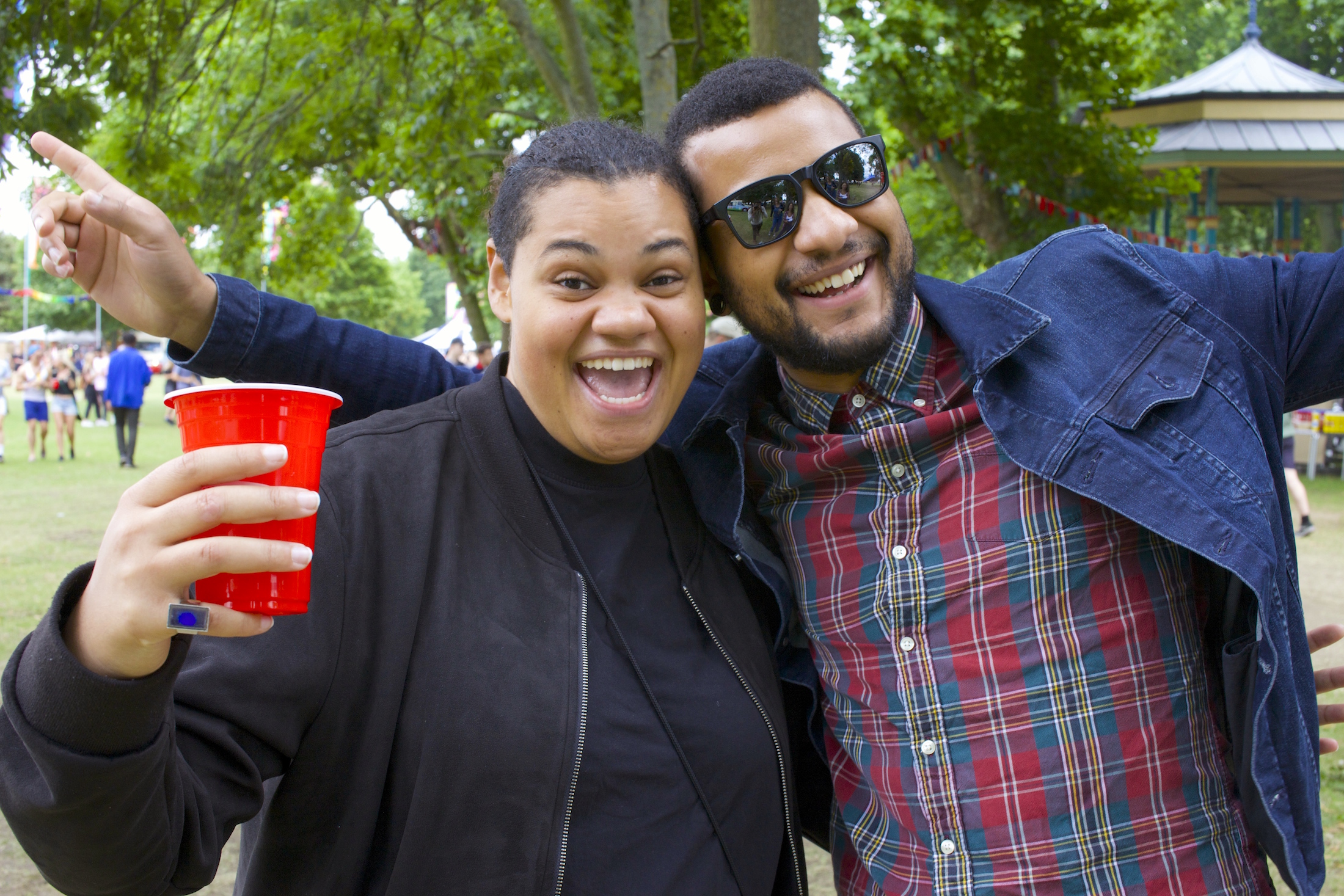 Noisey: Hi happy people, tell me your problems.
Alero: I'm a stressed person! I overthink things. I don't want to lose myself; I'm scared of losing purpose or doing stuff I normally wouldn't because I feel down.
Wow, that's real. How do you push those thoughts aside?
Nicolai: Partying a lot!
Alero: Getting a psychiatrist or a therapist is a good start.
Are your worries playing on your mind today?
Nicolai: Nah, fuck them!
Alero: Ditto fuck them—when I've finished my vodka Red Bull.
Daniel, 29, and Bronwen, 29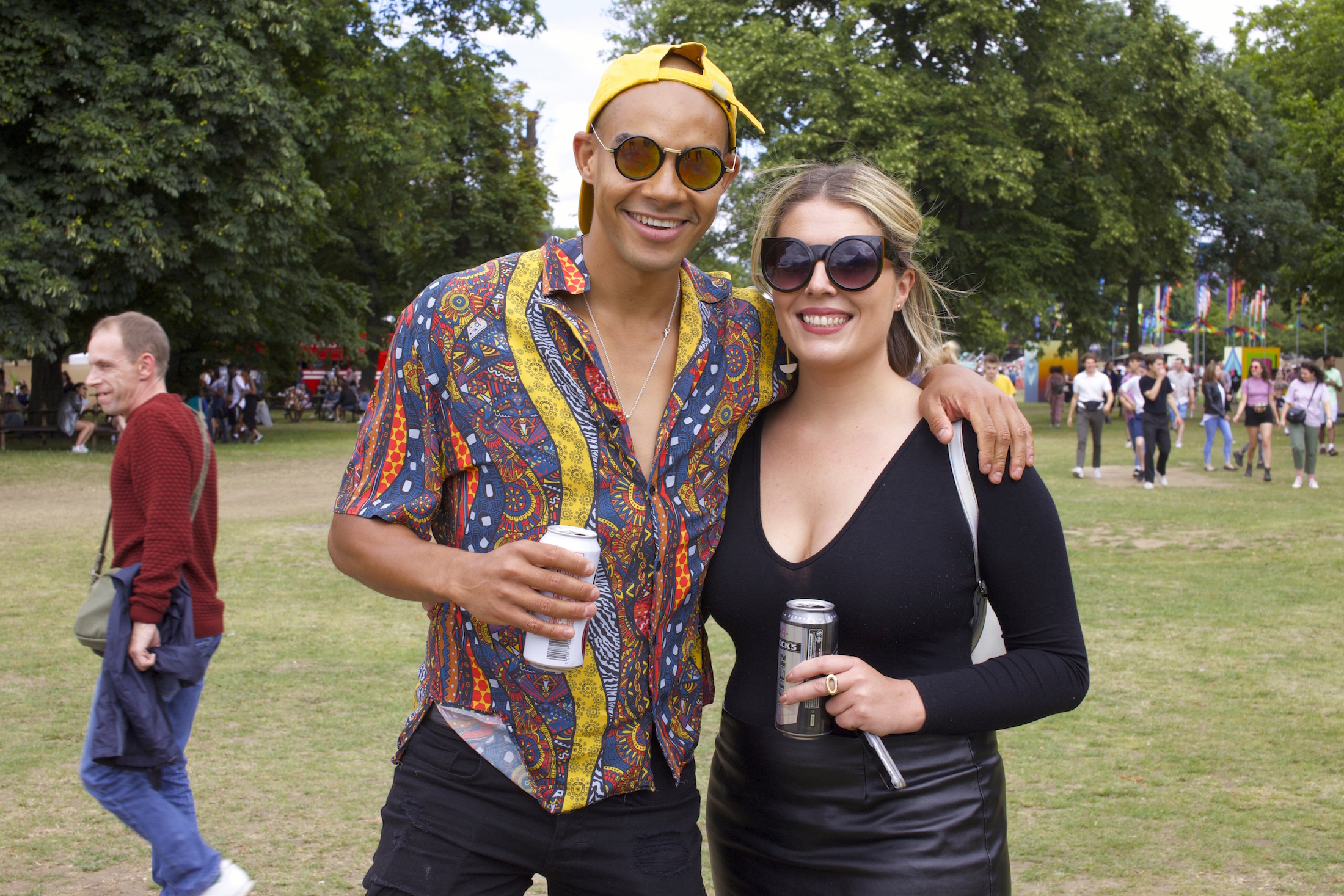 Noisey: You both have huge smiles. Let me wipe them off. Are you secretly stressing?
Bronwen: No! I don't worry about anything, I'm a really laid back person.
Daniel: I try not to worry but my work makes me stressed. There's a lot of pressure there.
What's your remedy for that?
Daniel: Going to festivals and enjoying myself. I let my hair down at weekends.
What about today—have you managed to detach yet?
Daniel: All my worries were gone as soon as I realized I wasn't at work.
Bronwen: He had his playlist on this morning when he was getting ready, it was a very chilled situation.
Who's going to do the best job of blanking out your worries?
Bronwen: Jamie xx, he's really upbeat. "Loud Places" is a great song, he did it at Glastonbury and it was really good.
Isn't that about a breakup?
Bronwen: I don't read into the lyrics that much! That's too deep for me.
Stee, 18, Natalia, 18, and Kate, 18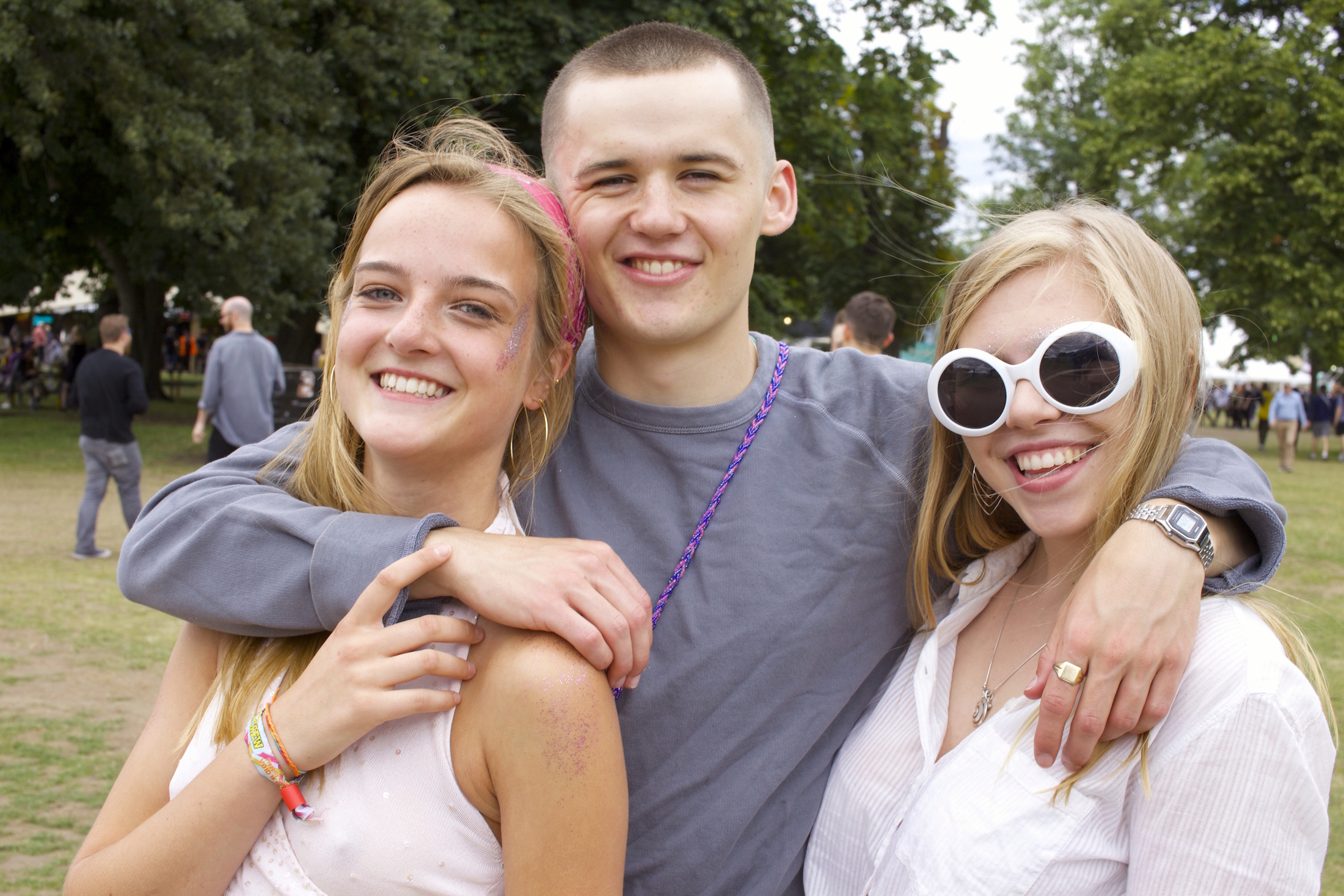 Noisey: As the officially designated voice of the Lovebox youth, what about the world worries you?
Kate: I worry about where the world is going. I don't know where my place is. The current political situation makes me scared but I voted Labour and Jeremy Corbyn gives me a lot of hope. Things like Lovebox, where people come together and celebrate—it's such a good thing for the UK.
Natalia: I worry a lot. Climate change freaks me out.
That's a lot of stress to carry—how do you deal with it?
Kate: It's always at the back of your mind but you try and get on with life and enjoy yourself.
Natalia: I volunteered at Wireless Festival with Greenpeace; I recycled plastic and paper and that made me feel better.
Is there anyone here today who might be able to help with your burden?
Stee: Mac Miller—he speaks the fucking truth!
Kate: Frank Ocean; he's the reason I came. I'm bi and he really speaks to me. He understands me. Blonde got me so deep.
David, 28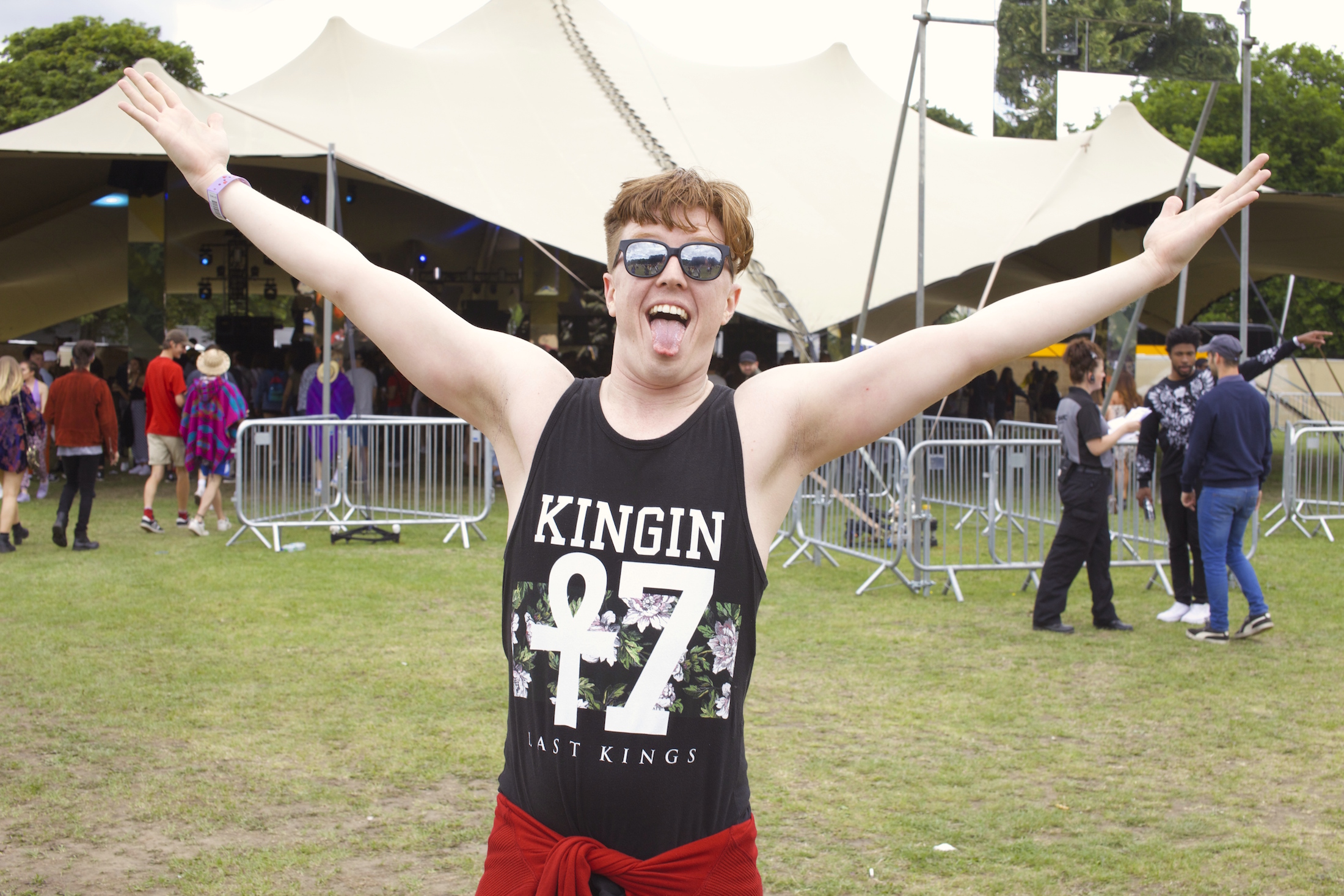 Noisey: You look full of magic beans. Is this your normal mode?
David: I'm from California and thanks to my recently-elected President, I'm stressed on a daily basis. But right now I'm having a great time—I've been dancing my butt off for an hour. Although there's a lot of gentleman shufflers I've been trying to make dance too.
Trump is enough to make anyone antsy. He doesn't seem to be bothering you now though.
What's the opposite of stressed? I'm currently that.
What's your advice for reaching the level of chill you're on right now?
I go to a lot of festivals—I just went to Coachella as well. I love movies too; I'm a teacher and run a film club. I took all my kids to see Baby Driver and they loved it.
Who should I go and see today if I want to de-stress?
Mac Miller. He always helps me let go completely. "Dang!" gets me going in the best way.
Dan, 43, and Noah, 25
Noisey: Hello boys. You seem to be on a very cheerful wave.
Noah: We're here to see Frankie boy! Although I'm more worried about him not turning up than I've ever been about anything else in my life.
What stresses you beyond the confines of Victoria Park?
Dan: Probably family. I've got a little girl who is two years old. I have general fears about what's going on in the world, especially with recent events in London.
Noah: The government. They're scary fuckers. Especially Tony Blair!
How do you blank out those thoughts?
Dan: We get spangled!
Noah: I just try to ignore them. It works terribly, nothing changes.
Your worries don't seem too close today…
Noah: Tony is a million miles away from my mind right now.
Dan: I've got some thoughts niggling away, but nothing on a national scale. Hopefully if I can get spangled, they'll go altogether. But they'll be back tomorrow.
Which artist is the best cure for your worries?
Dan: Frankie!
Noah: The sweet aroma of Frank has been wafting over London for days, like mother's cooking. I don't even know where we are, I just followed my nose.
Martin, 69, Jean, 69
Noisey: Hello, you two look exceedingly happy. Is this your normal mode?
Martin: I'm more chilled than Jean is. I do worry though, about politics, the environment, the chances for young people. We're separating when we should be coming together.

It's a lot to deal with. How do you manage your stress?
Jean: Yoga and exercise mostly.
Martin: Running, swimming, and music. We're here to see Solange and Frank Ocean. If Frank doesn't do it for me later, nobody will. I played both his albums again this morning and can't choose a favourite.

Is Lovebox living up to its joyful reputation?
Jean: Absolutely. All my worries are gone. This is the first festival I've ever been to so I'm just soaking up the atmosphere.
Thanks, you happy-looking people.
You can find Moya on Twitter and photographer Zo on Instagram.