Cartoonist Boldly Uses Art to Combat Oppression in Israel and Palestine
Mohammad Sabaaneh has been jailed for his controversial drawings but continues to create politically charged work his way.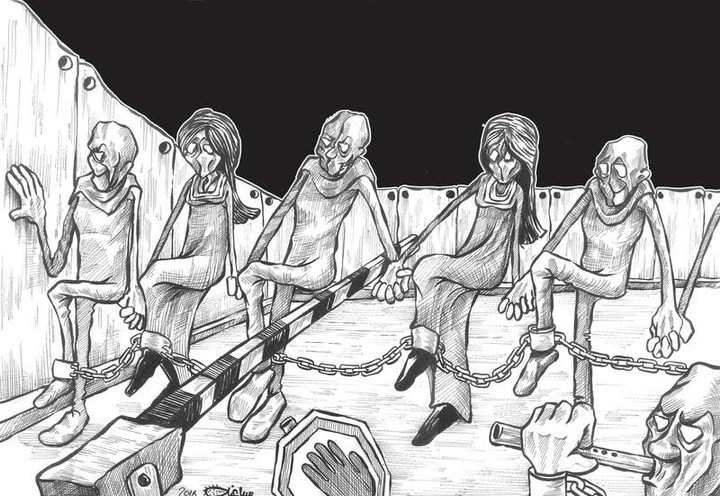 Illustration by Mohammad Sabaaneh Courtesy of Just World Publishing LLC.
Art has the power to evoke emotion, disrupt oppressive systems and change the way ordinary people think about issues. In the coming weeks, VICE Impact will be taking a closer look at young cartoonists and comic illustrators in the Middle East and how they use their art as an advocacy tool.
Small in stature and spectacled, Mohammad Sabaaneh is feared by the Israeli authorities and has, as a result, spent months in an Israeli prison and weeks in solitary confinement.
Why? Because he draws raw and brutal cartoons about the reality of day to day life for Palestinians living under Israel's ongoing Occupation. Because, according to the young cartoonist, that's what life is like for Palestinians in the West Bank and Gaza: raw and brutal.
Mohammad Sabaaneh is one of the most renowned Palestinian cartoonists today. His cartoons are published in several Arabic-language websites and newspapers, such as Al-Hayat Al-Jadida in Palestine and Al-Ghad in Jordan. He takes a tough stance on Israel and draws to make sure that the Israelis, and other politicians, even if Palestinian, are held to account for their actions. "It's called freedom of speech", Sabaaneh tells VICE Impact.
As an advocate of art therapy, Sabaaneh also teaches cartooning and the art of critical thinking that comes with it to young children across Palestine and in refugee camps too.
---
Watch some more video from Creators:

---
Sitting in Ramallah, Palestine, Sabaaneh spoke to VICE Impact about his cartoons sketched during his time in incarceration. For Sabaaneh, these drawings provide an insight into Palestine that the world critically needs to see.
VICE Impact: In 2013, the Israeli army arrested you and threw you in jail. You spent six months inside, two weeks of which were in solitary confinement. Many of the cartoons in your new book 'White and Black: Political Cartoons from Palestine' were drawn during that time. Can you tell me more about how these drawings came about?
Mohammad Sabaaneh: The Israeli army left me in a small cell with dim lights for more than two weeks, alone with nothing do to. It's a form of torture, a tool they use to interrogate Palestinians. They enforce this boredom on you. So instead of surrendering to boredom, I started to think about the cartoons I would make about the interrogation and the prison itself. When they moved me from the interrogation center to the prison, I drew the cartoons I had imagined in solitary confinement on shreds of paper. When I was released, I compiled all of them into a book.
You were held without charges for two months. Were the Israelis punishing you for your cartoons?
To be honest, I do not recognize the Israeli judicial system because there are so many Palestinians inside Israeli prisons that are not charged with anything. But yes, I had done nothing against the Israelis apart from drawing cartoons against the Occupation.
So you resisted by doing more of what they didn't want you to do.
Yeah, I always joke that the only time I spent solely focused on my cartoons was in prison. I worked as a cartoonist before, but I did other things too. In prison, all I did was draw.
How did your time in prison influence your work?
Before I used to represent prisoners as heroes but during my time there, I didn't think of myself as a hero but as a human being that just wanted to go back to see his family and that's it. So I began to concentrate more on this human element. Some have spent their whole lives in prison but they are human beings and we should speak about them as human beings. It was important to speak about the prisoners' mothers and kids too and the impact prison has on them too.
Prisoners and actually all the Palestinian people just want their life to go back to normal. So now I focus on the Israeli Occupation and its impact on the everyday life of Palestinians. That's how prison changed me.
Your cartoons haven't just angered the Israelis but Palestinian political groups too, like the Palestinian Liberation Organisation (PLO) and Hamas. You're not a fighter, but clearly all these political leaders feel threatened by your drawings. Why do you think that is?
Because they don't believe in the freedom of speech. The Palestinian parties, like Hamas and the PLO, think that as a Palestinian cartoonist, I should just support them and talk about them as heroes. They don't see that the role of a cartoonist is to criticize all political parties, not just the Israeli Occupation.
Mahmoud Abbas, the Palestinian Authority leader, ordered an investigation against you a week after he marched in Paris in solidarity for the Charlie Hebdo cartoonists, accusing you of depicting the Prophet Muhammad. You responded by saying: "If you want to support Islam and Muslims, you should talk about [Islamic] philosophy and dig deep into Islam." Can you tell us a little more about your thoughts on that subject?
After Charlie Hebdo published some cartoons about the Prophet Muhammad, many Muslim cartoonists started to criticize Charlie Hebdo. But I think that if you want to support Islam as a religion, or any religion for that matter and its philosophy and ideas then you should support it by ideas. You shouldn't kill or use violence against those that don't agree.
You should talk about it and you can do that by using artistic methods such as cartoons. That's why I drew some cartoons about Prophet Muhammed.
What do Palestinians think about your work?
When I criticize the Israeli Occupation, Palestinians agree with my work but when I am critical of Palestinian parties, not everyone likes my work. I get lots of attacks via social media but to be honest, I don't care. As a cartoonist, it is my role to be critical.
What about other Palestinian cartoonists?
Actually, there are not many cartoonists inside Palestine. Most Palestinian cartoonists are outside Palestine in Jordan, or the Gulf States or in Europe. In the West Bank, there are just four of us. We are good friends and we support and talk about each other's work.
At the moment we are organizing some cartooning workshops for young people because we do not have accredited cartoon art program in Palestinian Universities that teach you about comics or that give you the skills to become a cartoonist, so we are trying to set something up. We want to give young people the chance to become cartoonists. It's an important way for young kids to express themselves. We've done a few workshops in the past two months and we hope to do many more.
Your cartoons show Palestinians' daily struggle for survival and their ongoing battle for justice. As a Palestinian cartoonist, why do you think it is important that you do that?
The international media mostly talk about the wall and the different checkpoints and the political situation but most ignore the everyday impact it has on Palestinian life, on education, irrigation etc. That's why I try to show the human impact. Take the security checkpoints. If you want to go home to visit your family, you can spend up to four hours when it should just be one hour. It affects your relationship with your close ones.
I have just started a new short graphic novel that will focus on this daily struggle. I am interviewing Palestinians from Ramallah to Jenin, asking them how the Occupation has affected their daily life.
With the conflict in Syria and the political turmoil everywhere else, it seems the world has kind of forgotten about Palestine?
The media attention has shifted away from Palestine. The world is just thinking about what's happening in Syria and the Gulf while Palestine has sort of become old-fashioned. Even Palestinian cartoonists working for Arab papers have been asked to draw about Syria or the Gulf.
Have you felt the impact of this in Palestine?
Yes, Israel can and is doing what it wants to Palestine because no one is really watching. As a Palestinian cartoonist, I have a duty to report on what is happening here.
Discover more of Sabaaneh's cartoon's here.
The interview was edited for clarity and brevity.
Stories