Easy Langos Recipe
Fried potato bread is the perfect vehicle for, well, pretty much anything.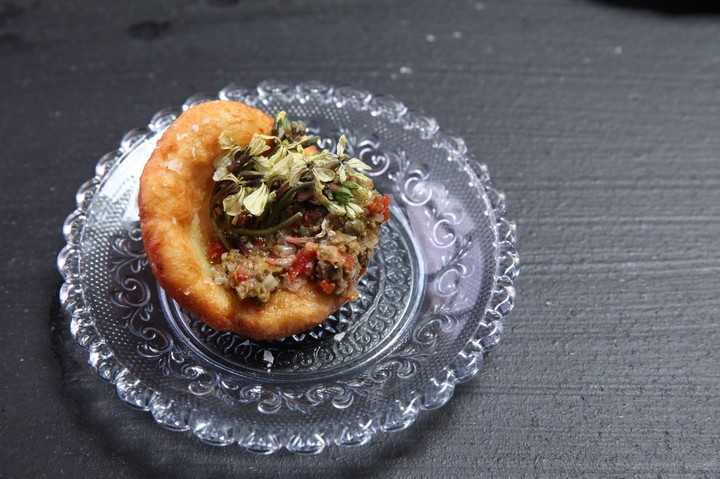 Photo by Farideh Sadeghin
Servings: 6
Prep: 15 minutes
Total: 2 ½ hours
Ingredients
2 medium Yukon gold potato, peeled and cubed (about 1 pound|500 grams)
1 tablespoon instant yeast
2 teaspoons granulated sugar
3 tablespoons extra virgin olive oil
1 cup|250 ml whole milk, heated to 115°F
3 cups|415 grams "00" flour, plus more for dusting
1 1/2 teaspoons kosher salt
canola oil, for frying
Directions
1. Cover the potatoes with salted water in a medium saucepan. Bring to a boil, then reduce the heat to maintain a simmer. Cook until tender, about 15 minutes. Strain and cool, then place through a ricer and into a bowl.
2. Meanwhile, bloom the yeast, sugar, and oil in the milk in a large bowl until it starts to foam, about 5 minutes, then add in the potatoes and combine. Working with your hands, gradually add flour and salt until a wet ball begins to form. Do not knead!
3. Cover with plastic wrap and let the dough proof at room temp for 1 1/2 hours until doubled in size.
4. Form the langos into 12 flat circles, using extra flour to coat your hands and surface.
5. Heat 2-inches canola oil in a large saucepan until a deep-fry thermometer reads 350°F. Working in batches, cook the langos, flipping once, until golden, about 3 to 5 minutes. Transfer to paper towel-lined plated and season with sea salt. Serve topped with tapenade or ice cream, or anything really. Your choice!
Stories