Women are overlooked far too often in photography. How can we continue to combat this erasure? My answer is this column, Woman Seeing Woman. While it's just the start of solving this problem, I, a female writer and photographer, hope to celebrate the astoundingly powerful female voices we have in photography by offering a glimpse into their work.
Can you name any female photographers who turned their lenses on their partners as their muse? Such is the case for Lissa Rivera, the photographer behind the ongoing series Beautiful Boy, in which she photographs her partner BJ Lillis.
Lillis, who identifies as genderqueer, revealed to Rivera several years ago that for most of his college life he had dressed himself in women's garb. Rivera offered him a new space to explore that side of himself in front of her camera, and an artistic and romantic partnership blossomed. In Beautiful Boy, Rivera captures Lillis in images that are intimate experiments with gender and identity.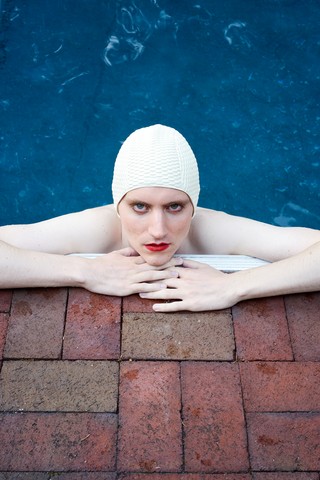 With bright red lips and darkened eyes, BJ stares at Rivera, and therefore the viewer, while submerged in a blue swimming pool, with a white swimming cap on his head like a 1930s starlet. Rivera also had BJ channel Priscilla Presley in a soft blue negligee in a rose colored bedroom, and a 1960s socialite in a room wearing a caftan of emerald green. There is an openness to the photos that a muse might only allow their artist to capture—an elusive vulnerability that so many spend their lives looking to capture. At the same time, Rivera, who also creative directs each shoot, confronts traditional notions of gender, seeking to add an oft-ignored strength to femininity.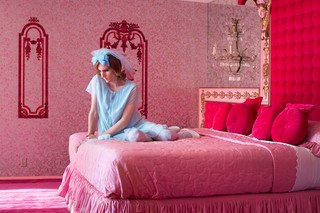 "I think a lot of myself goes into these images as well as BJ," she told VICE. "We put ourselves into it. A lot of what we're putting in is really a lot of pain and pleasure of inhabiting gender and enjoying the beauty of the textures and the colors and the ornamentation of femininity." There's joy in beauty, she noted, but also a sense of isolation and alienation: now that one inhabits this space, what happens next? Where else do you belong, beyond someone else's or your own aesthetic definitions?
"I think it's a really amazing experience to have someone who can empathize with what it's like to perform femininity, to go through the beauty rituals, to experience the gestures and to experience the posture and to go through these different historical periods to try to empathize with different ways of expressing gender in the past," Rivera said of Lillis. "It's a big relief to not just be expected to embody all of that on my own."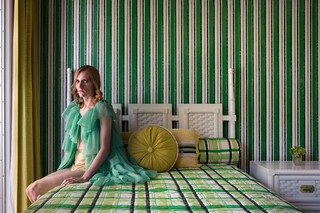 In the process of producing these images, Rivera brought to light the layered experience of the muse—that they're not just one to sit pretty in front of a camera, but are an active part of the creative process. Perhaps because muses are so often women, their roles are perceived to be passive. But Lillis—like all the other muses, no matter their gender—is an integral part of the process, Rivera said.
"People are interested in who BJ is in a way that [if] these were pictures of a woman taken by a man, people wouldn't wonder what she was contributing as much," Rivera said. "We're conditioned to be very judgmental towards whoever desires to be in that position [in front of the camera] so in a way, having BJ, who is not a traditional muse, be in that place, it revealed how much work was done through that role, and how much work it is, and how it should be respected and viewed differently."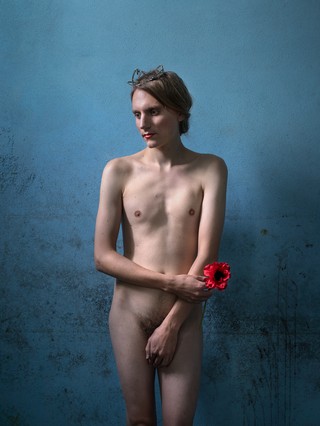 And yet, just as much as people are interested in Lillis, they also turn their eyes away from Rivera in a way they might not if she was male. There are so many times, she said, when people ignore her role completely and think Lillis is coming up with everything. "I get questioned all the time. People don't allow me to fully own the work, in a way," Rivera said. "I know that the work wouldn't be anything without BJ's presence, without BJ's work, without the story... but I also can't be fully accepted sometimes, as a male artist would be, as being the director of the project and doing all of the aesthetic work."
Rivera and Lillis continue to develop the Beautiful Boy series, each iteration unraveling a new challenge to traditional gender ideologies, even Rivera's own. "I think by doing this work, it's really helped me to not feel like I have to be a woman. I am a woman, but I'm kind of not anything. I'm just myself; I'm an individual doing my best to make work that I feel is saying as much as I can, as honestly as I can."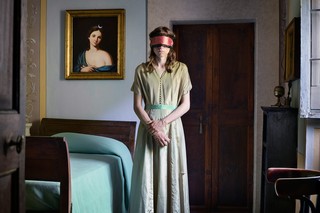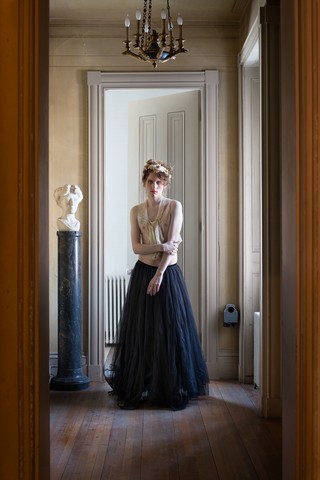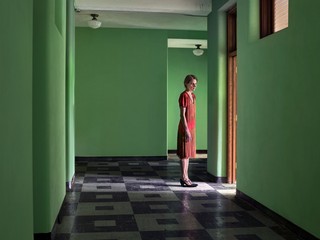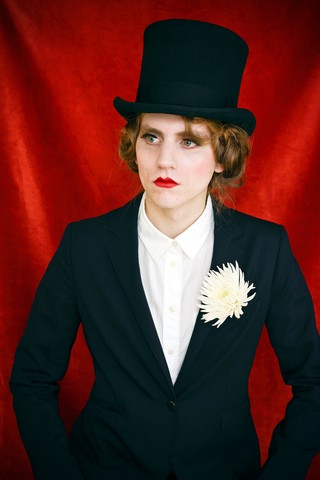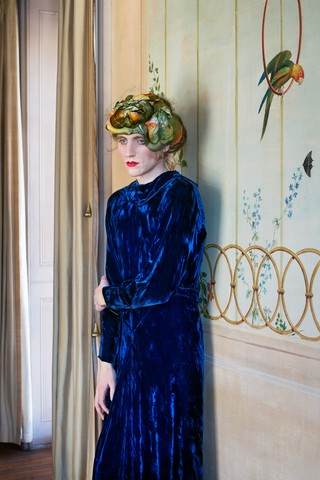 Follow Elyssa Goodman on Twitter.
Sign up for our newsletter to get the best of VICE delivered to your inbox daily.