How America's 500,000 Homeless Could Finally Get Off the Street
This is a solvable problem, and it's not always just a question of money and resources.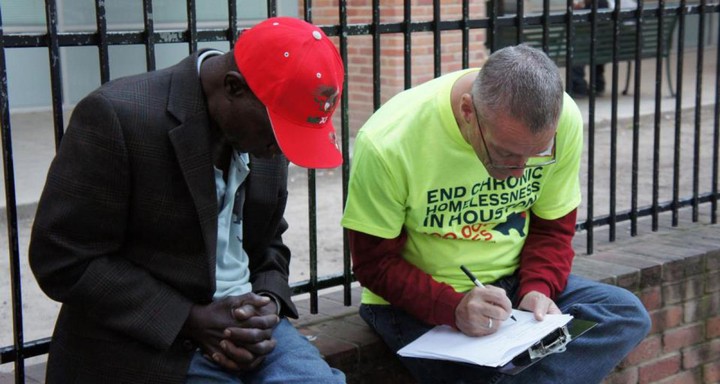 Photo via Community Solutions
This is part of an going series in support of the release of the new VICE Documentary Films documentary Shelter and part of VICE Impact's commitment to addressing teen homelessness.
Each night in the United States, more than half a million people experience homelessness. Of that number, about 84,000 are chronically homeless—meaning they have been without a home for at least a year and suffer from a disabling health condition. Community Solutions is a non-profit organization founded in 2011 that seeks to live up to its name by providing collaborative and comprehensive solutions to not just homelessness, but the myriad issues that lead to homelessness.
VICE Impact spoke with Community Solutions' direct of communications, Jake Maguire, about the work Community Solutions is doing from its New York City headquarters to stamp out homelessness around the country -- and even internationally.
VICE Impact: Pretty much everyone acknowledges that homelessness is an issue, but hardly anyone wants the solution in their backyard. How do you address that?

Jake Maguire: Nobody wants to be responsible. Communities have to engage the problem as whole communities. It can't be solved by any one group alone. If the whole community is not committed to solving homelessness then everyone expects somebody else to handle it.
Los Angeles is a good example of that right now because they agreed to a tax that would fund building homes for the homeless, but now nobody wants to have those homes in their neighborhoods. What we do is we try to bring people together and create experiences that tie in everyone in the community. If you bring in local residents and have them get to know the homeless people in their area by name and hear their stories, you get more empathy, understanding, and ultimately positive action. We try to combat myths with facts.
---
Check out more videos from VICE:

---
Speaking of myths, what are some common stereotypes about homelessness that make it difficult to implement solutions?
The fact is that homeless people are more likely to be the victims than perpetrators of violence. Another myth is that random homeless people from far away places come to certain areas if people are kind to them. People are concerned about property values, but new construction supportive housing tends to be beautifully built and in fact, has been catalytic for communities—ushering in other positive neighborhood changes.
Another big myth is that people choose to be homeless. It's a convenient myth that helps us avoid responsibility and it's a story that is allowing people to die on the streets. Few people would choose that life. Prolonged experiences of homelessness are brutal.
Some homeless people will literally say they don't want help.

When people say "I don't want help" it's usually someone who doesn't believe there is anything that can help them. They have been bounced around from service to service, but nothing has broken the cycle. It's nice to get an occasional sandwich or juice or a jacket, but
It can't be that alone. We need more people who think beyond the immediate, temporary need.
How can the different social service systems work together to prevent homelessness?
People who are homeless have touched other systems and they have not been successful with preventing homelessness. Those systems are routinely pushing people into homelessness. We are missing opportunities. What would it look like making the inflow into homelessness as a measure of success for these other systems like veteran services and foster care? There is no reason that these systems can't work together. The inflow is preventable. This is a solvable problem. It's not always just money and resources. We have to figure out how to create systems that produce more equitable outcomes.
What about legislative solutions?
We have relationships with critical programs like the National Alliance to End Homelessness. That is important work, but like everything else, it doesn't stop there. There's this tired excuse that it's somebody's job in Washington to pass a new law and make this go away. While skillful implementation of legislation is important, the solution here is not as simple as just legislating differently.
Community Solutions is pretty young. What are some of the biggest accomplishments so far?

We were founded in 2011. We work nationally on a systems level. How can we make sure that we have a system in your community to get help quickly and measurably? We don't house people ourselves. There are great organizations that do that work. We help create the conditions that lead to people getting into homes with the help they need.
With our Built for Zero program, we have 10 communities that have gotten down to zero on chronic homelessness or veteran homelessness and 22 more communities that are working steadily towards zero. In total, we work with 125 communities around the world. We've housed more than 180.000 people since 2011. We have saved taxpayers $1.3 billion. That's because it's cheaper to provide housing than to pay for emergency room visits, jail, and all of the other expensive services that get used the most with chronic homelessness.
What can the everyday person do right now to help end homelessness?
Call your mayor's office and get city hall to produce a weekly report on the homeless in the community. When it comes to homelessness data, most folks get 11-month old data from the federal government . That is a terrible way to manage the problem. They need real-time data in order to even have a chance to craft appropriate solutions.
Give to organizations that are invested in solving the problem. Think about organizations that provide permanent housing or places like Community Solutions that improve systems.
Simply stop and talk to a homeless person. Ask them their name. Ask them their story. Believe them. Being homeless can be a very isolating existence. If you are concerned for that person, call a health professional or outreach worker to engage them. New Yorkers can call 311. Other cities can call 211.
This interview has been edited for brevity and clarity