Papa John's has been hemorrhaging customers lately, and CEO John Schnatter isn't too happy about it. Shares for the company have fallen more than 13 percent, as reported by Bloomberg; his net worth also plummeted by $70 million in fewer than 24 hours after the earnings were posted yesterday.
Schnatter, the Papa John himself, places the blame squarely on one party: the NFL.
Schnatter let loose in a call with investors on Wednesday, wherein, as reported by Bloomberg, the NFL came up a whopping 44 times compared to 12 during last quarter's call with investors. (Papa John's has served as the official pizza sponsor of the NFL since 2010.) "We are totally disappointed that the NFL and its leadership did not resolve the ongoing situation to the satisfaction of all parties long ago," Schnatter told investors on behalf of the company. "This should have been nipped in the bud a year and a half ago."
READ MORE: Man Files Lawsuit Because Papa John's Won't Stop Texting Him
He was referring to the wave of protests of NFL players who've begun to take a knee during the national anthem. His logic: Due to the baggage of the association with the NFL and its declining ratings, fewer people have been inclined to buy Papa John's pizza. Schnatter maintained that "the controversy is polarizing the customer, polarizing the country," and the result is that fewer people want his food.
"Leadership starts at the top, and this is an example of poor leadership," he said. "The NFL has hurt us by not resolving the current debacle to the players' and owners' satisfaction. NFL leadership has hurt Papa John's shareholders." (The NFL did not respond to immediate requests for comment from MUNCHIES, nor did Papa John's.)
READ MORE: What These New Yorkers Learned from Eating at More Than 100 Pizzerias
This isn't the first time Schnatter has drawn a direct line between NFL's battered viewership and a resultant sales slump, but it's certainly the first time he has brought up the subject of athletes' personal beliefs. As some on Twitter have pointed out, it has lent a rather unsettling and racialized undertone to Schnatter's deflections. Though Schnatter has corralled many supporters on the right (note, too, that Schnatter also donated $1,000 to President Trump's campaign), his statements have struck some as convenient dog-whistling wherein he's scapegoated athletes of color, such as in the tweet below.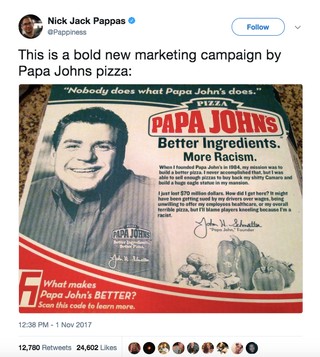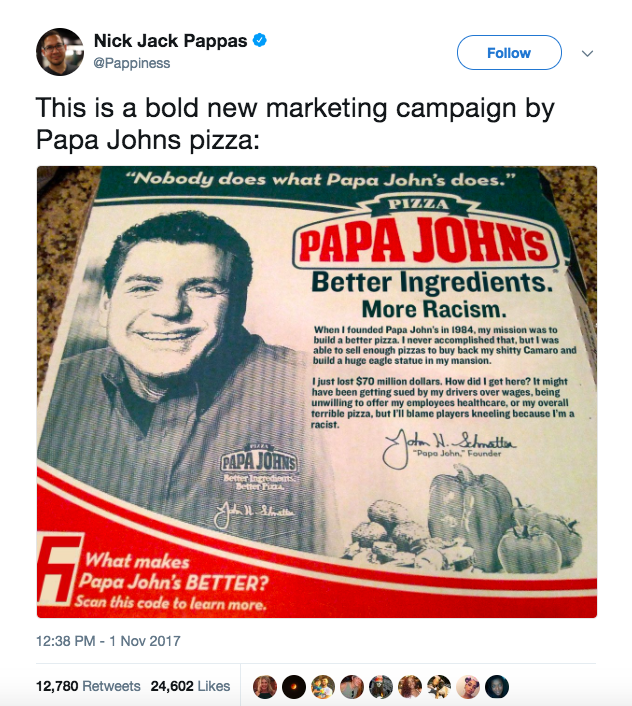 But maybe this is all just his way of dancing around a hard truth: that Papa John's pizza just isn't all that good.
The conversation surrounding his remarks has inspired a few of the chain's competitors to spit back. In a call with investors on Thursday, as Business Insider reported, the CEO of Pizza Hut parent company Yum! Brands, Greg Creed, commented that the company is "not seeing impact on any of that on our business," referring to athlete protests. (Of course, Pizza Hut isn't the sponsor of the NFL, like Papa John's is, though it is the sponsor of the NCAA. Pizza Hut did not respond to immediate requests for comment from MUNCHIES regarding why NFL protests may put a dent in its sales at all.)

DiGiornio, meanwhile, fired back in its own way on Thursday morning: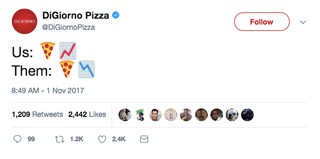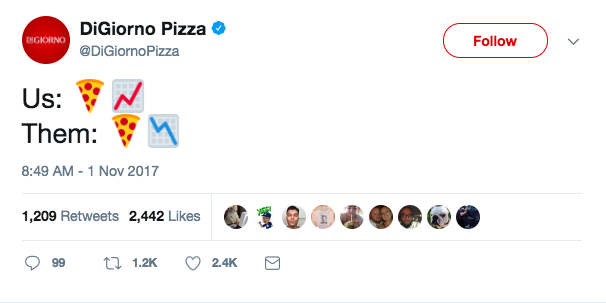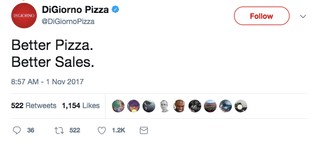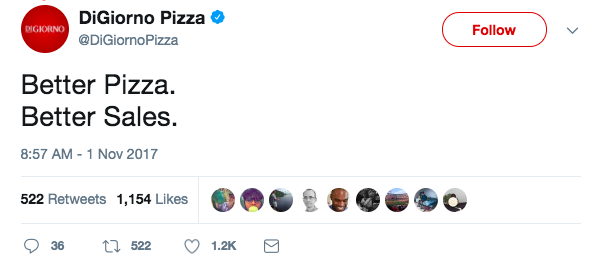 Ah, the great pizza chain wars of 2017. What a year it's been.