Draft night in any sport is a big deal for the athletes involved. Years of hard work and dedication—blood, sweat, tears, the whole bit—culminate in one life-changing moment. Your name gets called, you put a hat on and shake some weirdo's hand while posing for pictures. You talk to a whole bunch of people about "what's going through your mind in that moment?" You thank your mom. While this is all happening, the internet is digging through your online past to find embarrassing social media moments.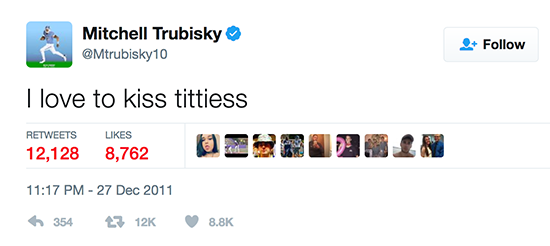 The pinnacle of the genre is recent Chicago Bears draftee, quarterback Mitch Trubisky, who as a 17-year-old declared online that "I love to kiss tittiess." The extra S lets you know he was serious. The newest Dallas Maverick, Dennis Smith, Jr. was a victim of this online sleuthing last night, as well. Shortly after being selected No. 9 overall, a tweet from Smith's timeline surfaced in which a not-quite-yet 15-year-old Smith discussed god-given talents. The tweet has since been deleted.

This now presents us with a challenge not many could have foreseen just four months ago. Which resurfaced draft night tweet is better: Kissing Titties, or Slangin This Wood? Both have their pros, and if we are being totally honest, it's really hard to circle in on a con for either. Both principle phrases, "kiss titties" slangin this wood" are inexplicably lyrical and poetic. There's the brashness of youth, with a hint of naïveté. All colored by the endearing goofiness of two dudes saying silly shit years before they suddenly got famous.
A quick poll of the VICE Sports staff leaves it a near 50-50 split on which one is better—we will leave the final decision up to you the reader—but what matters here is that they are both good, in their own horned up ways.