Welcome to Yakkin' about Baseball with David Roth and David Raposa. It's Friday and we're, uh, yakkin' about baseball, and later period Kenneth Branagh. Join us.
David Roth: I've been saying this for years, and it seems like everyone is finally admitting it: Zack Cozart is the most valuable player in baseball. The only person to predict that was me, in the Yakkin' About Baseball Season Preview, which is available only to subscribers of our Cyberdust account.
David Raposa: Smash that non-existent Patreon donate button. According to Fangraphs, the only player with a higher WAR than Cozart is Bryce Harper. I for one can't wait for all the misguided articles about Cozart's inevitable Yankee contract.
David Roth: The Reds are going to trade him for a bunch of good prospects and I'm here for it. The Reds have a few of my favorite goofy baseball types and I wish good things for them. I would like to see Billy Hamilton try to score after tagging up from second base on a fairly deep fly ball in a game that matters. I would like to live my life in the way that Adam Duvall approaches his at-bats, at least until the hangovers get to be too much.
David Raposa: Sadly one of those goofy baseball types is "hilariously ineffectual starting pitchers."
David Roth: The obvious way forward for the Reds is to take all their washout pitching prospects, turn them into multi-inning relievers, and then pitch them in a slightly different order every day.
David Raposa: A staff of substandard Chris Devenskis? I can dig it.
David Roth: While other teams are using effective pitchers, the next great innovators are already disrupting the idea of "keeping your team in the game, for a while."
David Raposa: It's June, and the Milwaukee Brewers and Minnesota Twins are (as of this typing) first place teams. In a season where Brett Gardner is a serious threat to go yard—like, in a traditional, over-the-fence fashion—it only makes sense for those two teams to run the table and meet in the World Series.
David Roth: Until we see evidence to the contrary, I have no choice but to agree with you that this is true and bet all the money I have on that specific outcome. It's hard to know what is sustainable, but I think there's a chance Cozart is having a real Daniel Murphy Moment. By which I mean not suddenly getting really upset about no-gender bathrooms, but abruptly becoming a genius because he moved three inches in the batter's box. That is why he is my June Superstar of choice.
David Raposa: He's probably going to be a good player for years to come, but I'm still holding out hope that Aaron Judge becomes nothing more than a post-Pog Kevin Maas. Once a Red Sox fan, always uh hoping that various Yankees revert to Maas. It's petty, but that is my heart.
David Roth: I implore you to keep the big picture in mind: there is a chance Aaron Judge hits a baseball through the windows of the odious sports bar at Yankee Stadium, exploding Rudy Giuliani's plate of loaded potato skins and Giuliani is like "aaaahhh." If only for that reason we should all give him our support.
David Raposa: On the "favorite June superstar" tip, I'd like to give both Ryan Schimpf and Joey Gallo an honorable mention, for taking Three True Outcomes worship to absurd extremes that even Rob Deer couldn't have dreamed.
David Roth: I have been wanting to write something about that but I don't have an angle really beyond "yo these two guys have a 700-point spread between their batting averages and OPS'" and a still in progress attempt to create a metric to fit the acronym SCAMPI to describe that thing.
David Raposa: Stop Chasing Average; Make Pitches Impossibletocatch. I'll send you my Direct Deposit info shortly.
David Roth: Both Schimpf and Gallo currently have more homers than singles. Which, again, is a brave and stupid way to live one's life.
David Raposa: Who needs one base, when you can have four?
David Raposa: Speaking (kinda) of the Brewers—don't hold me to this, but I think they actually might be a legitimate contender? God bless the Twins always, but outside of Jose Berrios showing signs of becoming a legitimate ace and Ervin Santana juking his peripherals, there's not much there, pitching wise.
David Roth: I've confirmed that Mike Pelfrey is no longer on the team and so must agree with you.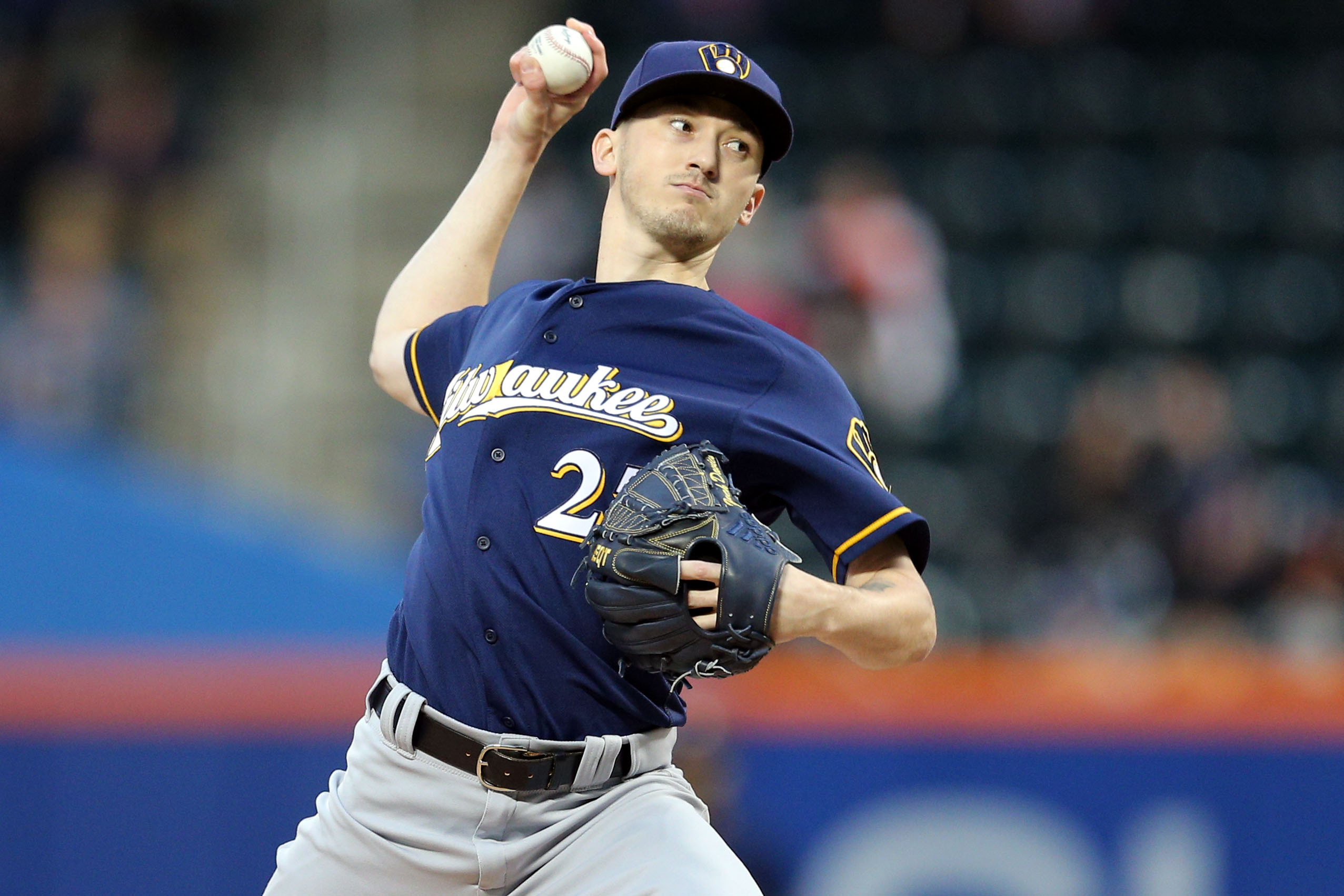 David Raposa: Milwaukee, on the other hand, actually has some arms. And bats. And Kenneth Branagh's Hercule Poirot as a mascot.
David Roth: Definitely bats, definitely a mascot who would do a good job priggishly solving murders committed on old-timey trains. All their pitchers seem like slightly different versions of the same guy. I know that Zach Davies is the only big league pitcher who could be played by DJ Qualls in a movie. I know Chase Anderson is slightly bulkier than him. But I cannot prove, and I would imagine you can also not prove, that they are in fact different people. We just don't have that data yet.
David Raposa: To get serious for a sec: both ACE Anderson and Jimmy Nelson have been good to great, and MLB's number one Static X fan Matt Garza has been surprisingly solid. If Junior Guerra is healthy and Zach Davies doesn't get pantsed during the school talent show, they have a shot ... of maybe playing one more game in October against the National League West juggernaut that doesn't win the division. Baseball!
David Roth: I assume you are talking about the Colorado Rockies. A very good baseball team that also looks like one of those barbershop hairstyle posters but every look is Guy Who Strikes Out 160 Or More Times.
David Raposa: Not to keep on bringing it back to STATS like some stupid NERD, but ... it looks like they might have some pitching to go with those taters. And not just on some 2007 "Jeff Francis and Aaron Cook and be quick with the hook" tip, either.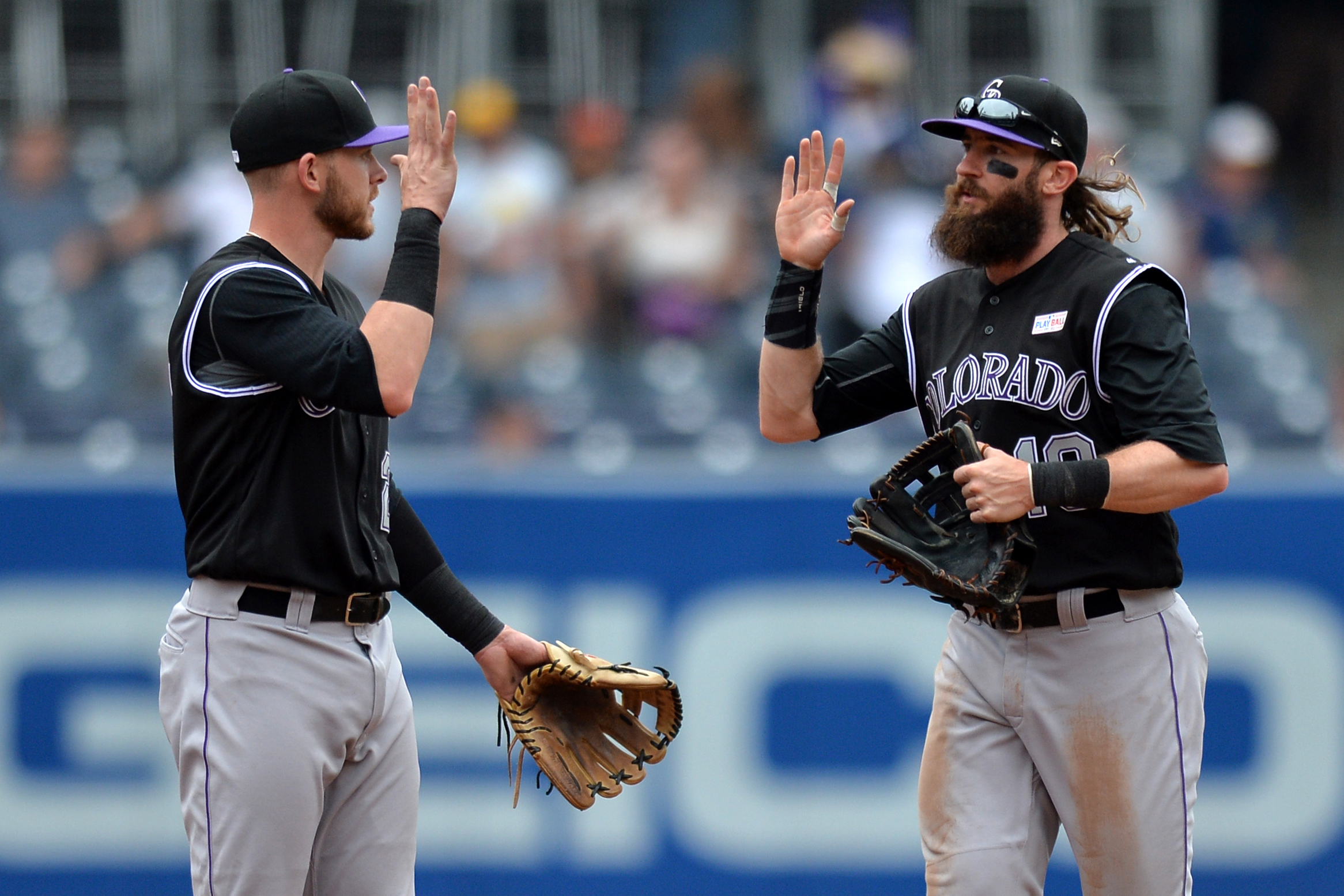 David Roth: I am prepared to believe it. This may be the earliest in any season that I have realized that I have no idea what I'm watching.
David Raposa: There's nothing to "get" about baseball, especially this year. Exhibit A, B, C, and D being Scooter Gennett.
David Roth: Scooter Gennett, widely reviled supporting character in The Phantom Menace, friend to Jar-Jar Binks, man who hit four home runs in a big league game. He basically had his entire 2015 season in three hours. I am just sad he is not with the Brewers, although I guess him and Jett Bandy on the Brewers in the same lineup is just too much George Lucas Baseball Name. Given what the Mets do to deface this game every damn day, have you chosen to adopt another team?
David Raposa: I'm just loving the game as a whole, maaaaan. As long as SNY keeps their broadcasters, though, the Mets will always be that annoying dirtbag friend I can't help but like.
David Roth: I would like to, say, adopt the Brewers, provided broadcasts could still come with Keith Hernandez free-associating about Badfinger records and sighing. Or I guess the Diamondbacks, but if they didn't have Tactical Uniforms and play in Arizona. And if staying up late to watch them play wouldn't lead me to embarrass myself with weird questions at Senate hearings. Although I guess this explains why Sen. McCain kept asking James Comey about Chris Owings on Thursday.
David Raposa: I'm sure he thinks the Dansby Swanson trade was the result of a Russian hack.
David Roth: Staying up late into the night to watch the Diamondbacks and Padres is honestly the most maverick-y thing McCain has ever done. Cursing in front of journalists isn't Maverick. An octogenarian staying up until 1:30 in the morning to watch Fernando Rodney face Manuel Margot is fucking Maverick.
David Raposa: Whom among us...