Night Works - "Long Forgotten Boy."
Full disclosure: I've known Gabriel Stebbing, the dude behind Night Works, since we were about 18 years old. At the time he lived in a tiny town called Totnes in Devon (South West England) and he was in a band called The Upsides. They wrote sunny, harmony-heavy indie-pop, and, like Gabriel, two of his bandmates continue to play music a decade later. The Upsides then-drummer, Joseph Mount, is
Metronomy
and James Hoare is in
Veronica Falls
. Over the years, along with their fellow classmate Robin Christian, who's now in
Male Bonding
, these four have collaborated on various projects and toured all over the world. They've been around each other during many of life's awkward stages, they lived through and were influenced by Britpop and DJ Shadow, and they experienced London's new rave ridiculousness. Some of them used to dress like skaters, some of them strapped emergency lights to their chests as stagewear, and some of them had an unspoken cardigan synergy. Although they don't play together with any consistency now, when I asked Gabriel to go through his old photo albums, his friends and former band members cropped up in countless pictures. They are part of Gabriel's story and they are part of how Night Works came to be.
Released earlier this year, Night Works' debut album, Urban Heat Island, makes for a rich listen—veering from dark, sophistico-pop with boldly inventive basslines, to Steely Dan-circa-the-70s-influenced grooves. Even when a song's sounding breezy, there's something a little strange and off-kilter lurking. Meanwhile, the album's characters have weird, sexy encounters in dark corners, they roam the city streets at dawn, they grope their way from the sticky chaos of their 20s towards adulthood, they f**k up, they backstab, they run away to mainland Europe in search of escape and adventure. It's definitely an album rooted in London, where Gabriel has lived for the best part of a decade, but the narrative is one which we've all taken part in, irrespective of geography. Seriously, it's a great record, and I'm not even saying that because Gabriel's whispering, "Blackmail," while holding a stash of pictures of me at 19, wearing Carhartt corduroys and SS20 hoodies, with braces on my teeth and a Green Day plectrum on a chain round my neck. Thank God this is his scrapbook and not mine.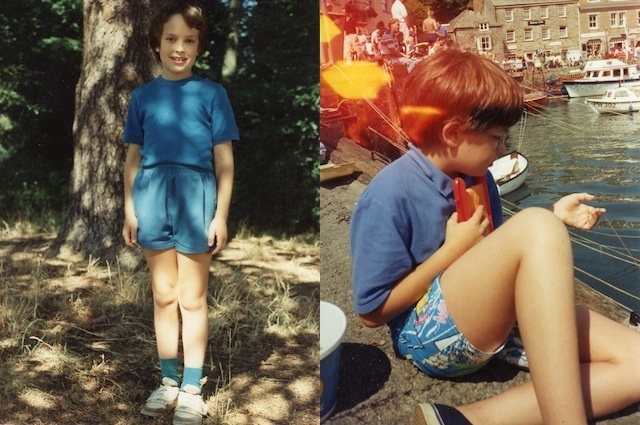 At eight (left) and nine (right), Gabriel was big into blue.

Night Works: I have an older brother and some of those pieces on the left are probably hand me downs. As you can see I'm going for the high, elasticated waist. A look that's popular today with women? Well, that's never been any kind of barrier. I seem to remember really enjoying velcro shoes. Actually I enjoyed velcro shoes until I was 11, then I went to laces, and then back to velcro in the late 90s when I got into hip-hop. In some ways I've never looked better than in this photo. On the right here I'm wearing Hawaiian shorts, deck shoes, an oversized blue polo shirt, a bowl haircut, and NHS (National Health Service) glasses, so that pretty much puts me slap bang in now: Dalston 2013 [the London equivalent of Williamsburg, BK].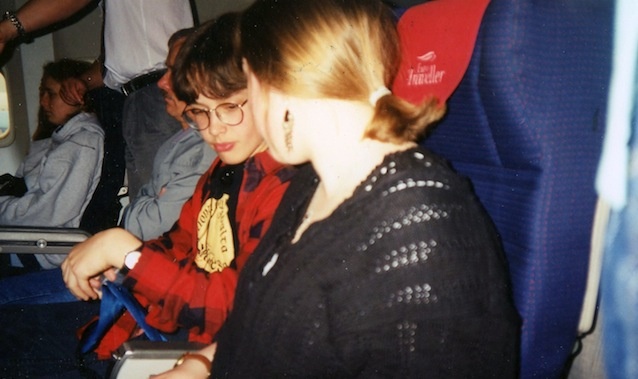 First time flyer.
Here I'm about 13 and I'm going to France on an exchange. I think this was my first ever flight, so in the spirit of the golden age of jet travel—like when Faye Dunaway or Mick Jagger would fly they'd wear their most fabulous outfit—I was like, "I'm going to wear my favorite clothes." I'm wearing a Guinness t-shirt, and my plaid shirt open to show it off, and I have these big glasses, that are quite fashionable now. I don't know who would have worn them in the 90s, maybe Johnny Depp? Ha. I think I'm wearing a Swatch watch. Again, I could wear this today and many people do, going down the strip in E8 [Dalston]. What did I learn on this trip? How to snog a girl. I kissed a girl on the French exchange called Helene. It was scary. [Laughs.] I didn't know what the hell was happening.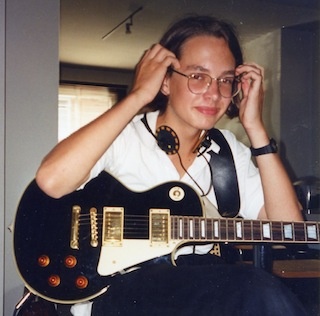 Gabriel at 15 (left) and Suede's Bernard Butler (right).

I got my first guitar when I was 15. During Britpop I oscillated between wanting to wear all black, like Bernard Butler in Suede, and wanting to look like Damon Albarn, wearing bead necklaces and three stripe Adidas. I wanted to be both. They were at opposite poles and that's the tension! This was during my Bernard Butler stage, which was why I wanted a black electric guitar. I would never go back to being 15 again. God, it was awful and awkward. Everything felt wrong: the stuff I wore, my body, terrible! I think deep down I knew I looked like a dork.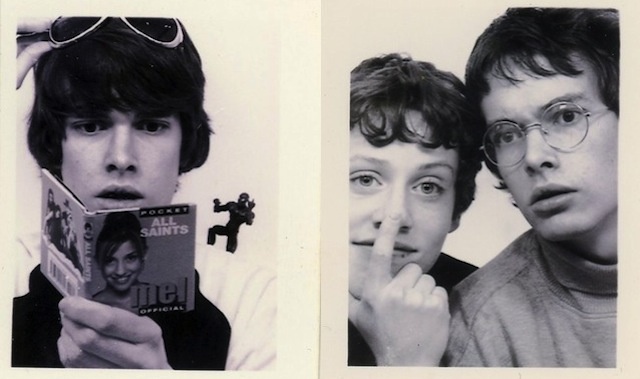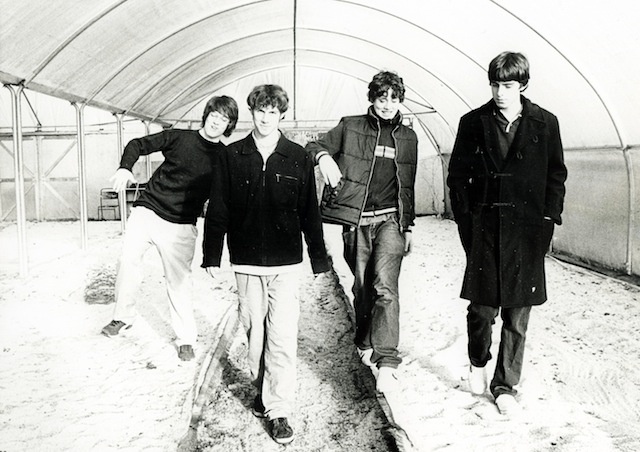 Gabriel at 17 and Joseph "Metronomy" Mount at 14/15.

There wasn't much to do in Totnes. Me and Joe used to go to the photo booth in Safeways. This is a staged photo where we got the props together. I don't know what's up with those Elvis glasses, but regarding the All Saints book—Mel was my favorite. I wasn't into the Spice Girls, they were weird. All Saints felt like the real deal. In fact our band, The Upsides, did a cover of "Never Ever." We only did it once, live, at a school concert for a joke. We got Joe to read out the speaking bit at the beginning. The girls went crazy. Joe was the best drummer in school.


The Upsides: Gabriel, Richard, Joseph, and James.

This photo is by Kate Mount, Joe's mum, who's a photographer. Here we're totally doing some Stone Roses swagger. I look like I'm going to fall over. It was as cool as Totnes had to offer in 1998. As a band back then we didn't think about fashion, we just kind of wore what we wore. James and Joe were skaters, but James had a mod sensibility too and me and Richard weren't really part of any subculture.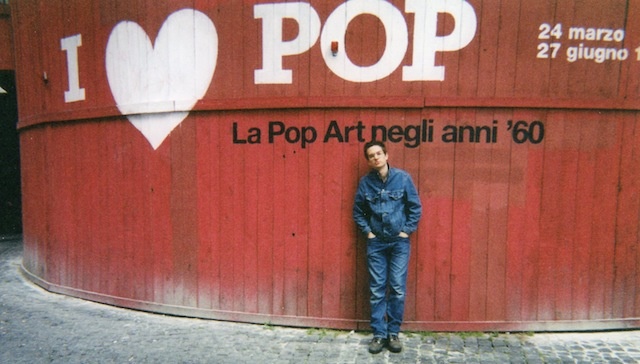 Gabriel in Rome when he went InterRailing through Europe at eighteen.

As you can see I'm rocking the Canadian tuxedo. I remember those Nike hiking boots quite well. Jesus God in heaven, it's a baffling look, but I felt comfortable in it! This trip was definitely the start of my obsession with Europe and travel and I've written songs about that feeling, like "Modern European." But I'm a little speechless about this look. It was probably the low point. I was flailing in the dark. I'd just come up from Devon—basically living for five years in the middle of nowhere—and this is what I thought was cool.

Gabriel at university (left), and post-university (right), when he was in need of a sandwich.
During this time I was pretty much exclusively wearing clothes that I bought in a thrift store in Hamburg. I had a German girlfriend while I was at university and I'd just come back from visiting her. What I'm wearing is very synthetic and if Jessie's cigarette had landed on me I'd have been consumed by a ball of flames. I kind of look like I'm a student from Austria called Hans. On the right is me after university when I just went out all time. This was the skinniest I've ever been. I'd say I've had one Breton shirt in my wardrobe since I was 25. They're timeless. Dunno what's up with my glasses and as for my hair, oh man, I think in the 90s, they used to call this the Caesar cut. I sort of look like Lou Reed.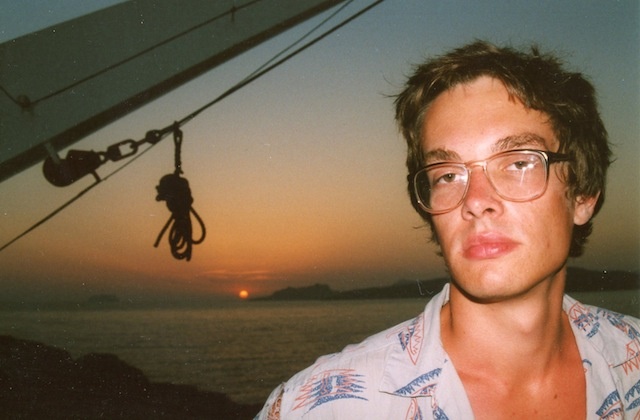 Yacht life in Greece in 2001.
This shirt was a hand me down from my dad. He had a lot of great 80s patterned shirts and you can actually see on the right shoulder it's coming apart at the seams. I just chucked it away eventually. I think this whole thing—the sun setting in the background, the clothes, the feel—that whole photo, I tried to distil into my band Your Twenties [which formed in 2007].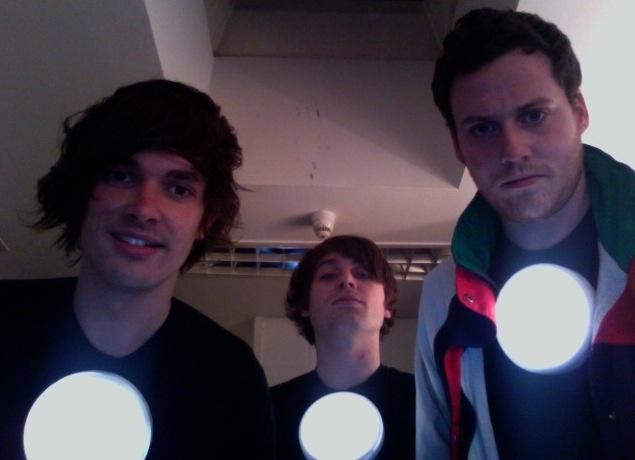 Metronomy MK 1: Gabriel, Oscar, Joe.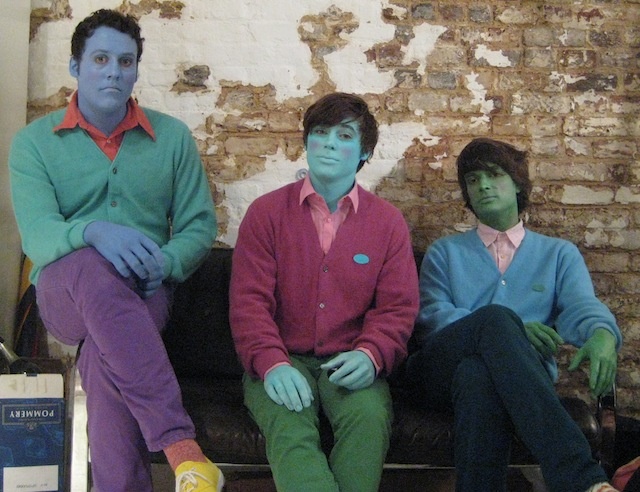 In the first incarnation of Metronomy we used to wear lights on our chests, so it was like a light show that was portable. We bought them at the pound shop and velcroed them to our t-shirts. Then we'd turn them on and off in time with the music.


Metronomy in 2008. Little bit creepy.

This is on the video shoot for "Radio Ladio." A lot of colors here! I remember all the materials were synthetic, so not only were we sweating through all the pancake make-up under studio lights, but the clothes ended up really stinky and disgusting. The stylist borrowed them from Beyond Retro and then just gave them back. I pity the poor people who had to put that stuff back on the rails.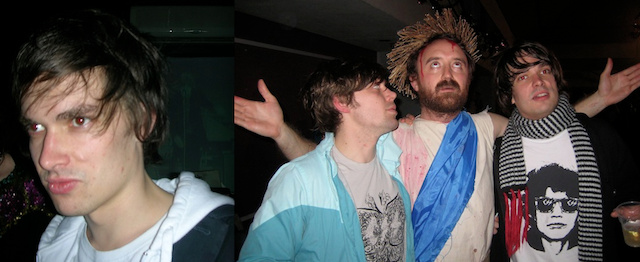 Gabriel in his disposable-fashion-nu-rave-garb (left), Oscar from Metronomy, Jesus, and Gabriel.
The white hoodie was de rigueur during the long hot summer of new rave. [Laughs.] I went to H&M and bought a white hoodie for a fiver. It didn't last very long. Like new rave itself, the white hoodie doesn't stay white: you get a few wears out of it and you have to throw it away. People were wearing neon, but I didn't go that far. At that time if you were wearing white and you had a glow stick you were fine. I think maybe it was a Klaxons thing. We toured with them a bit and there were some white hoodies and I was taken in! On the right is a shot taken at the Christmas show of the CSS tour Metronomy did. Pretty much all the members of CSS and their crew dressed up as something Christmassy and their lighting guy, Ed [who now does lights for Mumford and Sons], is dressed as Jesus. I have a double chin, I've got a pint of probably gin and tonic in my hand, I'm wearing a CSS tour t-shirt because all my laundry is really stinky, and my hair is long and greasy. Everything about me says: "I've been on tour for two months."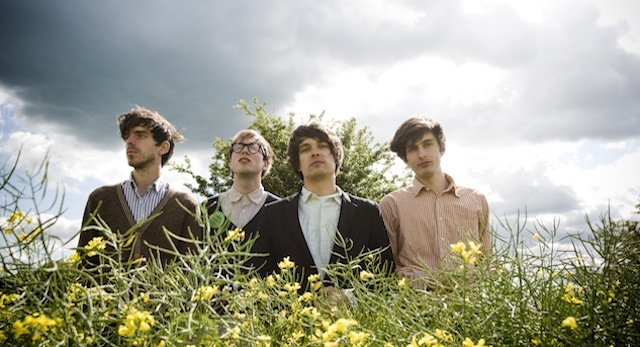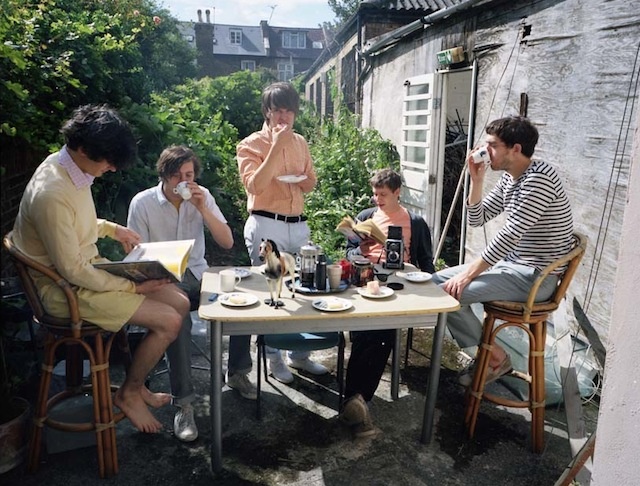 Your Twenties: James, Robin, Gabriel, and Michael. Cardigans, button downs, and flowers.


Your Twenties being terribly English: reading, drinking tea, eating cake, and so forth.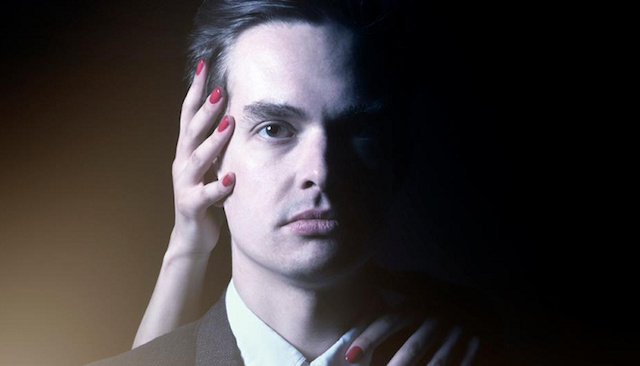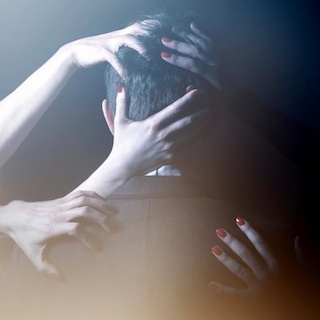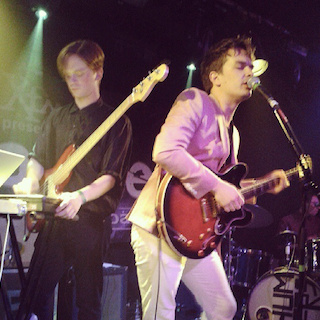 In Metronomy I didn't think about what we were wearing because we had a uniform, but in Your Twenties I started to think about the way we looked as also being really important. In this band it was one of those magical times when the stars aligned and people in a band just ended up dressing very similarly. Although Michael [Gabriel's little brother who makes music as NZCA/Lines] is wearing one of my shirts, so that suggests that I'd said, "Put on this shirt," otherwise he would have just worn his normal white shirt with stains on it. I still have a real soft spot for pastels, but during Your Twenties everyone was wearing pastels all the time. I don't think I even look that good in pastels, but I like the soft, dreamy colors, and it's summery! I'm not sure if Your Twenties looked particularly amazing, but we definitely looked like something.

The back of Gabriel's head. A little nod to Guy Bourdin. Night Works on stage recently: it takes balls to rock a pale pink blazer.

When it came to Night Works, I wanted it to look a bit more fashion, almost a bit commodified, slick and commercial. For the album and press shots we called in some Burberry and Folk and b store. In places, the album is about a certain strata of London nightlife or society and I wanted the shots to reflect that. It's kind of me playing a role. But at the moment, when we're playing live, I'm enjoying dressing up a little bit. My summer live outfit is espadrilles, white jeans, and a salmon pink blazer from Ben Sherman. I like the idea of making an effort. Maybe it comes a bit from 60s R&B and soul, where you're in show business and you get dressed up and play, so I'm riffing on that. It's entertainment!
Gabriel and Kim once had an encounter with a very camp German man who had a hostel in Berlin where he encouraged fellow backpackers to inform on each other. Find a stray pube on the toilet?That'll be a €1 fine. Anyway, Kim's now on Twitter - @theKTB.
For more trawling through musician's photo albums click here.

Style Stage is an ongoing partnership between Noisey & Garnier Fructis celebrating music, hair, and style.