The Illmore Was Stupid Wild Last Night and Here Are the Photos to Prove It
Jazz Cartier walked on the crowd, 21Savage stunted on the world, and Rae Sremmurd dabbed their fucking faces off.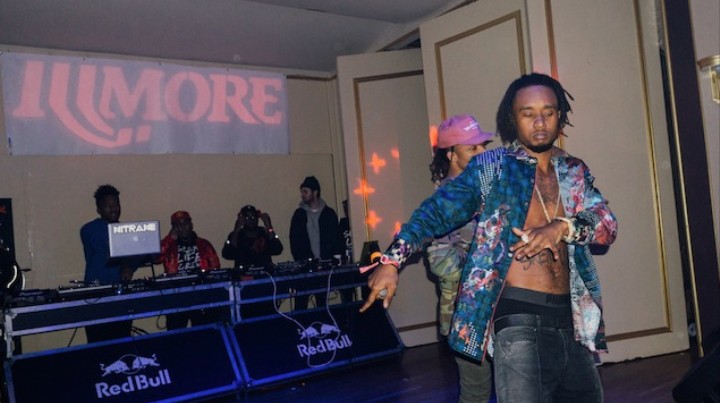 Jazz Cartier
As SXSW has grown into the monster that it's become today, people like to talk about how it's not as cool as it used to be—that it's abandoned its roots as a platform for music discovery and instead only serves the top one percent of music right now. This is probably true to some extent—but then again, isn't everything in the world not as cool as it used to be? The fact remains that SXSW is an opportunity for musicians to show their worth—whether that's performing in 19 different showcases over three days, or simply delivering one solid performance to prove to our fast-paced, Twitter driven, soul sucking culture that they deserve all the hype despite only having one song that's kind of a bite on one of the most successful artists right now (if our heavy-handedness and #hinting isn't obvious enough, we are talking about Desiigner). One of the institutions that's emerged from the annual festival is The Illmore, a moving hip-hop driven after party that's provided some of the most exciting moments in recent SXSW memory (past performers include Lil Wayne, A-Trak, and other shit you would want to #share).
This week has been no different, and yesterday was one of the more fun nights we can remember (kind of, because in truth, we've had a lot to drink). It featured performances from Rae Sremmurd, Jazz Cartier, Kehlani, Metro Boomin', and a whole bunch more. We had photographer Quinton Boudwin in the mix. This is what he captured.

Rae Sremmurd

21Savage

Jazz Cartier

Kehlani

Metro Boomin

Metro Boomin

Ramriddlz

Skywalker

Slim Jimmy of Rae Sremmurd

Jazz Cartier

Ramriddlz
Quinton Boudwin is a multimedia journalist based in Austin. Follow him on Instagram.