Pack Up Your Pentagrams and Sit This One Out: Metal And SXSW Are Officially Over Each Other
SXSW booked barely any metal this year, and metal fans have less use for the festival than ever.
All photos by Steven Ruud

One of the major narratives from this year's SXSW—the annual music conference behemoth in Austin that's created a small industry of "Don't Move Here" shirts for service industry workers—was that it was a slimmer festival, following years of outrageous growth that took a deadly turn with last year's car crash outside the Mohawk that killed four and injured 21. The festival definitely felt smaller for metal this year, which on the whole was still a massive party for some, a headache for others, and both for a few. Here's the truth: SXSW and metal are over each other. SXSW booked even less metal, and metal fans have less use for the festival – at least the official portion – than ever.
SXSW-branded shows can be a pain in the ass for a lot of reasons. Any band who's played previous incarnations of SXSW can attest to how much of a nightmare it is to load and unload and do normal band stuff when downtown Austin is pretty much standing-room only. When you play SXSW, you're competing with a lot of different musical acts, mainly because downtown Austin isn't all that big. Most metal fans won't be tempted to see who shows up at Fader Fort, but just getting down there involves a lot of traffic and heavy parking fees. If you're not a big draw (and most metal bands aren't), you're not gonna see a lot of people come out, even if you could get a decent draw at Red 7 the next month. Official shows also prohibit selling merch, which can spell disaster for bands coming from far away. Sure, you can ask. and they'll take you to their van and show you their wares, but having that display space in the venue matters. That's obvious to pretty much everyone in the industry except for the people who organize SXSW, it seems. Combine that with dwindling turnouts for metal showcases, and it's easy to see why more and more bands aren't bothering with the festival. Trying to make it in the music business is tough enough as it is, and if the hassle of going to Austin during Spring Break isn't worth it, why bother? All of that was too evident this year.
Big-deal metal labels like Profound Lore, Southern Lord, and Relapse used to do showcases at SXSW, but that's no longer the case. Show No Mercy, Pitchfork's metal column, used to throw stacked parties, but opted not to do so this year. If these names aren't willing to invest in the festival, that says a lot about how viable metal is there. There wasn't a uniting metal showcase this year, like when the Metalliance Tour stopped through with Helmet, Saint Vitus, and Crowbar in 2011. The days where there were competing showcases are over. Unlocking the Truth drew a decent crowd to Dirty Dog—the wannabe biker bar where most of the official metal showcases took place—but they were more of a curiosity than an actual draw for metal fans. Even recognizable names like Weedeater and KEN Mode who played this year's fest will likely be back in the future, and Mantar and Royal Thunder have already announced post-SXSW appearances in Austin. SXSW has never particularly been a metal destination, and it won't be any time soon.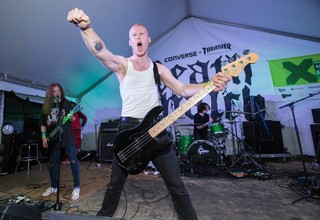 Code Orange
This year proved more than ever that whatever life existed was in the unofficial showcases and day parties. Even with the city and SXSW trying to curb their numbers, it's a known thing that those have been way more fun than the official showcases, and for metal, it couldn't be more true. Thrasher Death Match's Saturday portion was, by far, the most hyped show of the week. Goatsnake and OM were both huge draws despite the bad weather (especially in a town that worships Sleep). Put simply, Thrasher brought exclusives that metal fans wanted, and SXSW didn't. Rock of Ages' third annual unofficial SXSW at Midway Sports Bar brought Goatsnake back for the nighttime crowd, as well as Eagle Twin, who didn't play any other shows during the weekend. Hanno Klänhardt, the singer and guitarist from Mantar, told me before he came to the States that he was excited to play that show because of Rock of Ages' tattoo and metal cred. Branding matters, even in metal. Oh, and the unofficial shows allowed bands to sell merch too. Goatsnake made exclusive shirts for their shows, because they know metal fans eat that shit up.
New England Metal and Hardcore Fest catered to younger fans who don't have the money or clout for wristbands or badges, and they got it lit for Code Orange and Harms Way. Youth drives festivals – that's why hip-hop is bigger than ever at SXSW – and they can drive the metal portion too. Most kids are off during Spring Break, and if they got enough money from their parents, they'll come out in droves and buy some shirts. What it boils down to is this: having a badge is cool, but you'd rather get rowdy with your friends. That's a lot easier to do with unofficial shows than official ones. A lot of people still think that you need a badge at SXSW or else you can't see anything, and badges do give off an air of exclusivity. While you can get into most badged shows if you wait long enough and have cover money, there's a lot of inflexibility with in-and-outs if you want to jump around. For metal, having a badge isn't exactly the golden ticket. Most metalheads don't care about panels or who the keynote speaker is, even if they do like Snoop Dogg or Lady Gaga. We all participate in the industry in one way or another, but metalheads are vary wary of the industry and of trends...and SXSW is all about industry and trends. That's not a diss, that's just a fact.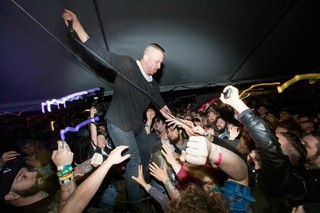 The Dillinger Escape Plan
Local bands in particular decided to look after their own, congregating for events held for themselves, by themselves. Events like the Worshipper Cabs showcase and Heavy Metal Parking Lot 2 were full of Austin bar warriors, most of whom would likely benefit more from a sweet opening spot on a later bill than a SXSW appearance. Those two events were also held at The Lost Well, which is already a metal-centric venue, and also far away from the downtown crowds. Take the anxiety out, and people come through. And who can blame the locals for sticking together? It would be awesome if Bridge Farmers or Destroyer of Light got a real chance to prove themselves to the out-of-towners, but there just isn't really a place to do so. People say SXSW isn't for the locals, and it's really not for the metal locals. Focus on keeping the kids happy, exclusives that the official fest won't bother with, and if nothing else, don't fuck over the locals. If you're thinking about organizing a SXSW show next year, try to keep those in mind.
Would bringing a big name for an exclusive show help? Would it be better if metal labels and bands said "fuck off" to the official portion of the fest and just stuck to day parties? Will a smaller fest open up more opportunities for metal? That's a little hard to determine. This year was a transitional year for the fest, so it remains to be seen whether it continues to contract .or if it thinks it can handle gorging on more next year. Either scenario seems reasonable—SXSW felt more of a sense of responsibility this year, but it brings in more money to the city than anything else, even University of Texas football.
SXSW's treatment of metal kind of reflects metal's weird relationship with the mainstream; we want a seat at the table, until we don't. People will complain about not getting covered in Pitchfork and NPR, then will complain when a review doesn't match their own view. Metal bands used to do more SXSW shows until it the gamble got riskier, and fans won't put up with crowds and shitty highway planning. The table gets smaller and smaller, and the chair isn't comfy anymore. To metal bands, I say this: Austin rules and y'all are welcome here any time, but SXSW just might not be the best time to try our barbecue.
Andy O'Connor is that Messiah Marcolin-looking dude you've likely seen at nearly every Austin metal show. Even during SXSW. He's on Twitter.