PREMIERE: William Elliott Whitmore Shares "Healing to Do" and, Oh Man, the Midwest Is Best
The Iowa-based singer-songwriter returns with his first new music since 2011.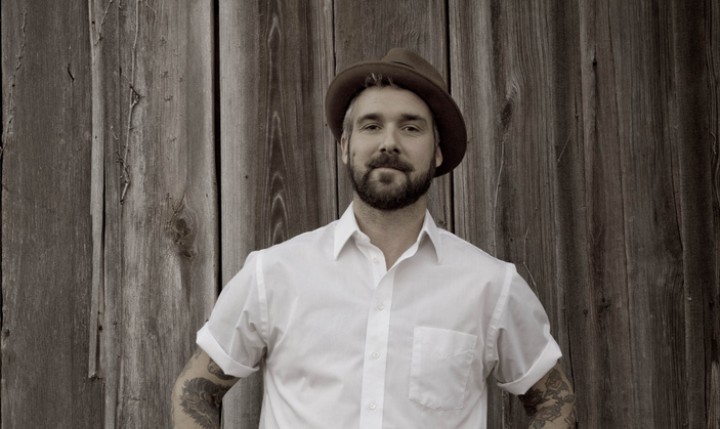 If you're an avid reader of Noisey, you might be aware that I'm from Iowa (yes, just like this year's Bachelor). And one of the greatest things to come out of Iowa—other than corn on the cob, Field of Dreams, Kurt Vonnegut's Slaughterhouse-Five, and the world's first electronic digital computer—is a man named William Elliott Whitmore. If you're not familiar with the latter, well, let's great ready to learn, children. Will is a banjo toutin', cheap beer guzzlin' motherfucker who's been making some of the most arresting folk music of the last decade. With a voice that sounds like he's smoked a pack of Marlboros every day of his life and at one point ate Tom Waits vocal box for breakfast, his music tells stories of the simple life you find in the Midwest. He still lives on the farm he grew up on, just near the Mississippi River, with his wife, and he's become a staple of the music scene in Iowa City (which is actually a lot more vibrant than you might assume). Below, Noisey is happy to premiere "Healing to Do," the first song from his upcoming record Radium Death (out March 31 on Anti-), his first record since 2011. The track indicates a bit of a change from what Will's become known for—mainly, he's grabbed an electric guitar—but is still rooted in the black Iowa dirt for which he's known.
Stream "Healing to Do" and catch William Elliott Whitmore on tour this year at the below dates.
Sat Mar-28 Iowa City, IA @ The Blue Moose
Sun Mar-29 Minneapolis, MN @ The Turf Club
Tue Apr-07 St. Louis, MO @ Off Broadway
Wed Apr-08 Nashville, TN @ Exit In
Fri Apr-10 Washington DC @ Rock & Roll Hotel
Sat Apr-11 Brooklyn, NY @ Rough Trade
Sun Apr-12 Boston, MA @ Arts at The Armory
Mon Apr-13 New York, NY @ Mercury Lounge
Wed Apr-15 Pittsburgh, PA @ Brillobox
Thurs Apr-16 Indianapolis, IN @ The Hi-Fi
Fri Apr-17 Madison, WI @ The Majestic Theatre
Sat Apr-18 Columbia, MO @ Rose Music Hall Outdoors
Sat Apr-25 Kansas City, MO @ Middle of the Map Fest
Fri May-15 Denver, CO @ Bluebird Theater
Sat May-16 Fort Collins, CO @ Hodi's Half Note
Wed May-27 San Francisco, CA @ Great American Music Hall
Thu May-28 Los Angeles, CA @ The Mint
Fri May-29 Santa Ana, CA @ The Constellation Room