Trending In 2013: Songs About Shit Cars
Since the very beginning, the automobile has been a staple focal point in popular rock. When Chuck Berry wasn't singing about questionably aged girls or his ding-a-ling, chances are he was expounding the virtues of Cadillacs, Fords and the 'Murican freedo
Since the very beginning, the automobile has been a staple focal point in popular rock. When Chuck Berry wasn't singing about questionably aged girls or his ding-a-ling, chances are he was expounding the virtues of Cadillacs, Fords and the 'Murican freedom they symbolised. Since then the car has denoted wealth, success, and a place to finger/be fingered, and pop bottles. However a strange trend has emerged in 2013, subverting longstanding vehicular glorification by substituting hotrods and Escalades with something a little more subdued. So what's the deal? Is it a reaction to the GFC? A response to global warming? A rejection of alpha-masculinity? Savvy corporate anti-marketing? Who knows, but whatever it is, someone is trying to say it with wheels.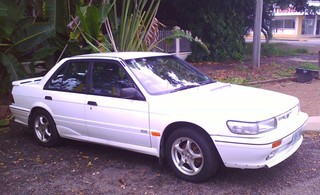 Kirin J Callinan
The Song: "Scraps" from Embracism
The Car: 1991 Nissan Pintara
"You're still with me / I'm inside of you." Only ol' mate Kirin J could make a loveletter to his car sound creepy as fuck. The Nissan Pintara was an Australian model produced for a few years in the late '80s and early '90s. It's a bit ugly, nostalgic, and 'Strayan; a neat embodiment of the wider aesthetic presented on Kirin's debut album. The song's uneasy ambiguity pays off with the wistful closing call of "Compacted with the scraps / Of the Nissan that I'm missin'", with a single tear welling for the befallen stationwagon.
Vampire Weekend
The Song: "Diane Young"
The Car: SAAB
"You torched a Saab like a pile of leaves / I'd gone to find some better wheels." A prestigious badge from a bygone era, the SAAB embodies Vampire Weekend's divisive vintage, preppy image. They set it aflame like deceased foliage, showing self-awareness and disregard for sentimentality. The track's lyric video (above) supposedly raised the ire of SAAB aficionados, but Ezra and friends don't give a goddamn.Hereis an Instagram of a bemused looking Steve Buscemi holding a Post article decrying Vampy Weekend's wanton arson because why not.
Kanye West
The Song:"Hold My Liquor"
The Car: Toyota Corolla
On his Yeezus cut featuring Bon Iver and Chief Keef Yeezy uses the humble Corolla as a symbol for femininity crushed by his monstrous, phallic ride, "When I park my Range Rover /Slightly scratch your Corolla / Okay I smashed your Corolla." So what happened to the Range Rover? Is it impervious to the impact? Either way, it's clear that Kanye West does not care about compact cars.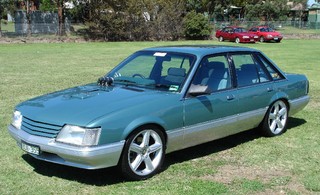 The Drones
The Song: "Nine Eyes"
The Car: Holden Commodore
On "Nine Eyes" Gaz Liddiard prowls the neighbourhood of his youth via Google Street View; stewing like a madman as he drags the little yellow floaty dude down the glowing blue road. Reaching the house of his late mum he finds an unfamiliar set of wheels parked in the driveway, "But what kind of arsehole drives this lime green Commodore?". The quip is shorthand for new-boganism. I mean Gaz is a bit of a bogan himself, but not of the cashed up Corona-swilling variety.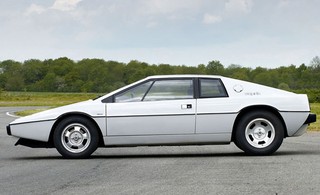 The Strokes
The Song: "Welcome To Japan"
The Car: Lotus
I guess this isn't really a "shit" car, but rather you're shit if you drive this car. In the words of the Strokes, "What kind of arsehole drives a Lotus?" Well this is pretty much the same deal as The Drones one, except this time it's a Lotus instead of a Commodore. When Hollywood does the whole double up, Antz/A Bug's Life, The Prestige/The Illusionist, White House Down/whatever that other White House movie is called thing, it's due to studios catching wind of what others are up to during long gestation periods. Both The Drones and Strokes released their respective LPs in the same month, so it's probably is just a big coincidence. Anyway I haven't actually listened to this track, because what kind of arsehole listens to The Strokes in 2013?

Follow Lachlan on Twitter: @LACHLANKANONIUK