Meredith Graves told me she had a dream once, before one of the first Perfect Pussy shows, that involved a table covered in fruit and cassettes. Being unable to sleep after it, she made a trip to a farmer's market, spent fifty dollars on vases, candles, flowers, and various produce and "hauled it to Buffalo" where the rest of her band members were told, "Hey I'm going to do this weird thing that could potentially be extremely stupid, and you're all going to have to go along with it." They obliged, and it seemed to stick.
Only several months later from those first shows, Perfect Pussy is in Brooklyn for a string of shows centered around New York City music festival CMJ, and Graves is on a familiar hunt through the neighborhood's thrift stores and antique warehouses. A freelance event and wedding stylist in the group's hometown of Syracuse, she's known to sometimes create still lifes to accompany the band's live shows, so of course we've stumbled into a number of 99 cent shops, bodegas, and thrift stores during her search for props, which she'll eventually build around the single t-shirt and cassette tape which makes up their "merch table". She delicately picks through embossed vases and bright white chinaware, smiling at almost every piece observed, and sometimes shying away from price tags to continue her search on another shelf while the rest of the band—affectionately referred to sometimes as "the guys"—seem to get lost among the stacks of old furniture and clothing racks.
The fall sunshine leaks in through the windows of a cluttered Williamsburg antique store as "Wouldn't It Be Nice" by The Beach Boys started playing quietly from the surround sound. Drummer Garrett Koloski recalls his dad's Beach Boys record collection while in another corner of the room, bassist Greg Ambler references his favorite moments from the movie Surf Ninjas. The Syracuse five-piece is wide-eyed, and not only in the presence of a warehouse full of VHS's, football phones, and couches spanning a century's worth of interior design periods, but at almost everything that's not their upstate hometown. They're modest, and besides her role as the singer, Graves seems to also assume the position of ambassador for the group's reticence.
"The whole reason I started doing this, is so people would talk to me. I'm so shy. If someone saw a bowl of cherries at our merch table, they'd have to come over and say something."
This humbleness makes almost the entirety of Perfect Pussy, including their live sets and the band name itself, seem tongue-in-cheek. But looking at the lyrics on the insert that's been slipped into the handmade cassette sleeve illustrates that, beneath however you choose to describe the band's personality, they seem most interested in their own release. Confrontation seems to be second nature.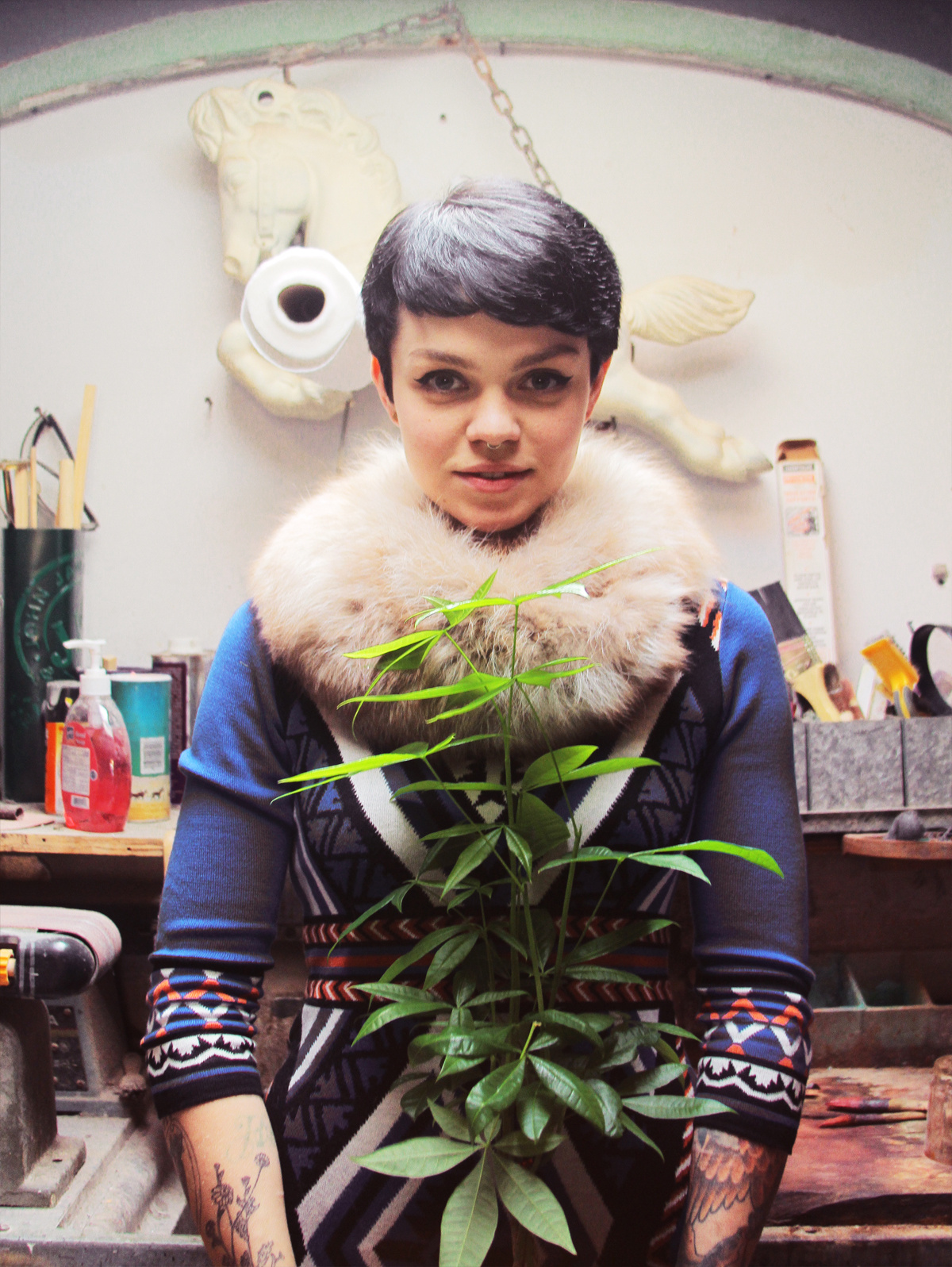 Eventually we're walking down another busy Williamsburg street (now just Meredith and I as the rest of the band went off to find hot dogs and beer) with hands and bags full of fake plants, real plants, candles, place-mats, and various bowls and vases. We stop in a 99 cent shop and Meredith picks up a children's sandwich bag decorated with Marvel comic book characters. She says it's perfect for Greg since he needs somewhere to stash his new Vaporizer Pen and he loves comics. After that we find a jewelry store that personalizes charms, and she decides to purchase one engraved with the word "Tender".
"I recently decided it was in my best interest to buy myself lots of presents often, because no one else is going to."
Another moment of modesty. But again, it doesn't seem dissimilar from what she seems to try and get across within her lyrics. Graves is interested in closure. "I'm writing about some of the very intense and often awful situations that led to me being so sketchy and gross and guarded for so long," she argues. "I couldn't repeat anything show after show that I don't really feel, so I have to sit with myself and abide in my feelings and make sure that everything I'm saying feels true and honest. And it never gets easier, so I'm never going to run out of things to write about."
When asked about worries regarding the authenticity of relationships made once the band began it's quick acceleration to it's current level of recognition, Graves replies, simply, "Constantly".

"That's more because of my past experiences than my recent ones. My whole life I've been pretty intense and emotional, so I'm used to people completely hating me, or at the least finding me extremely awkward. I'm trying to worry less about this...and to be less guarded so I can try to make friends for the first time in forever. I figure that, being so polarizing, any phonies will fall off pretty quickly."
Once everything for the still life is gathered and the band has reconvened, they set off for their set at 285 Kent, stuffed into their five passenger Chrysler Concord, that currently acts as their sole mode of transportation. The short drive is accompanied by a soundtrack of arguing over directions, jokes between Greg and Meredith about being an old married couple, and a Pandora playlist based off of En Vogue.
Again, Garrett waxes nostalgia, this time over an Enya track, remarking on his parents and their affinity for mood music. "My Lovin' (Never Gonna Get It)" pops on the stereo; someone says, "I guess I never realized this song was about sexual denial."
Lukas Hodge is a writer and photographer. He's on Twitter — @lukashodge