Photo by Ryan Muir

It hit you right away when you stepped inside the Duggal Greenhouse at the Brooklyn Navy Yard: 20 years is a long fucking time.
The massive wall covered in hundreds and hundreds of Vice Magazine covers staring at you in the face at the entrance was as good a reminder of the passage of time as any. Over the last two decades, Vice has made a name for itself in the changing media landscape by accompanying Dennis Rodman to North Korea, embedding with ISIS, and with its general willingness to go where no other journalists will step foot. But make no mistake: Vice was built on a solid foundation partying, a point driven home by the emcee of last night's 20th anniversary celebration, Mr. Andrew WK.
As the rain hit the roof of the massive building, sixty feet below, the man in white was busy welcoming one legend after another to the stage. The lineup covered the musical spectrum, from metal to hip-hop to hardcore and indie rock. It was like watching the best live mixtape ever, with something for everyone, from the gang of heshers in leather to the girl who came decked out like some kind of irredescent alien Barbie. Want to see Jarvis Cocker cover Sham 69's "If the Kids Are United?" It had that. How about Lil Wayne talk shit on his label for not releasing Tha Carter V, spark up, and burn through a bunch of songs? Also happened. Or maybe you just want to see Jonah Hill improvise to Drake songs? Sure, why the fuck not.
Somewhere amidst the party smoke and people puking in trash cans, some real shit went down. Pussy Riot, who came on stage after Scarlett Johannson covered New Order, reminded the crowd to grieve and protest for those who are no longer with us. Nick Thorburn of Islands took a more blunt method and said, "Fuck the police." And the punk rock supergroup led by John Joseph of Cro-Mags belted the fuck out of Black Flag's "Police Story" ("Understand we're fighting a war we can't win. They hate us, we hate them!").
It was an amazing night filled with powerful performances and good vibes. Even the rain couldn't dampen our spirits—if anything, it just helped to remind us how lucky we were to be here. Noisey's editorial staff rounded up a few more of our faves and observations about what went down last night; we hope you had as much fun as we did!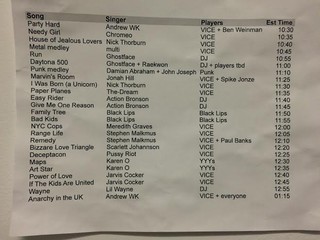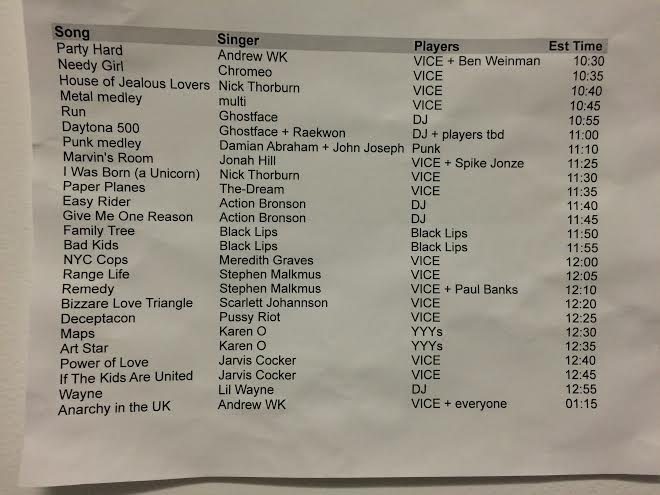 LIL WAYNE

- Lil Wayne was wearing some sort of fashion poncho, which was obviously awesome.

- Lil Wayne is one of my favorite rappers of all time, and I feel beyond lucky that I've somehow had the opportunity to see him perform multiple times this year. I was worried there might not be much to it, but he was on, performing sharply and energetically before wandering out into the crowd. It was just him onstage, and he came out doing "John," which was tight. He also did "Loyal" and "No Worries." A bunch of us in the middle of the crowd sang every word and were generally losing our shit, which seemed to piss some of our fellow audience members off. But if you see Lil Wayne and don't start flailing every limb with reckless abandon, does it even count? He also followed up his Twitter comments from Thursday about Tha Carter V being delayed by remarking that his album was supposed to be out next week but that it had gotten held up due to "technical difficulties," which was very diplomatic of him while still being a dig. Long story short, I gained even more respect for Lil Wayne last night, which is impressive considering that I would already pretty much jump off a bridge for the dude.

-I wouldn't call myself the kind of person who would willingly spend money to see Lil Wayne, but presented with the opportunity to stand in front of a speaker that Lil Wayne would eventually stand on top of, while blowing weed in my face... I obliged. It's hard to describe the type of energy that erupted when he came out, or how fucking loud the bass was (seriously I was standing next to the speaker). It was the type of bass that you could feel in your gut. It blew my bangs back. It hurt my ears in a good way. It was insane. Lil Wayne is a natural performer- he is a superstar. And even though his set was short, everyone was blown away by his performance.
Photo by Fernanda Negrini
JARVIS COCKER
- I have never listened to anything Jarvis Cocker has ever done, but I bought into that dude big time last night. What a voice! What charisma and stage presence! I am glad that somebody at this institution is into that guy and got him to play. I made a note in my phone about his two-song set (which felt like eight songs, performed by angels) that just says "Jarvis Cocker is dope as fuck and also British," which you really can't argue with.
RAEKWON/GHOSTFACE
- When Raekwon came onstage, Ghostface looked so genuinely amped to see him and be performing with him that I almost cried. They had a really jubilant handshake and we all remembered that Wu-Tang is for the children, who, because they were children, weren't even alive 20 years ago. I also ran into Dan at the end of their set for the first time all night and greeted him with similar enthusiasm.
-Raekwon and Ghostface came on stage at 12:15, marking what I can only assume is the earliest start time in Wu-Tang history. This was akin to seeing Lauryn Hill take the stage at OVO Fest before 9PM, and the moment should be marked and celebrated for its greatness.
- As soon as Raekwon hit the stage, one of my gilfriends started screaming, grabbed my hand, and started barreling through the crowd to get as close to the front as the laws of physics would allow. The people around us looked a little shellshocked, but hey—we had a dope view of these two hip-hop legends doing themselves proud.
​
Photo by Fernanda Negrini

METAL SUPERGROUP (Dave Ellefson/Megadeth, Alex Skonick/Testament, Tony Forsta/Municipal Waste, Acrassicauda)
- When the metal supergroup came out I immediately tried to find our EIC, Fred, because I knew that he would be freaking out. I turned to a coworker and said "this is some Fred shit right here," and literally before I could finish my sentence Fred comes out behind us with a huge grin on his face. It was sweet. There was a lot of hair flipping.
- I was definitely doing some hair flipping when they hauled out "Symphony of Destruction" and "Seek and Destroy." I know Tony Foresta was a little nervous about playing with dudes from Megadeth and Testament (who wouldn't be?), but he absolutely killed it up there.
- Also, the the guy in the weird tie-dyed shirt who was grinding with his ladyfriend during "Seek and Destroy"—why? Just, why?
ACTION BRONSON
- While Action Bronson was performing "Amadu Diablo" he launched into a new song to end his set. While that's not newsworthy by itself, the fact that this song sounded like a reworking of Ginuwine's "In Those Jeans" made my night. Action Bronson is one of the few performers I've seen who consistently does something cool and interesting with his time on stage. I don't think the man even knows the meaning of the phrase "mail it in."
- Action Bronson covered Genuwine's "In Those Jeans," and I'm pretty sure the best moment of the entire thing was when he repeated the line "and you're tasting mighty scrumptious" twice. #MUNCHIES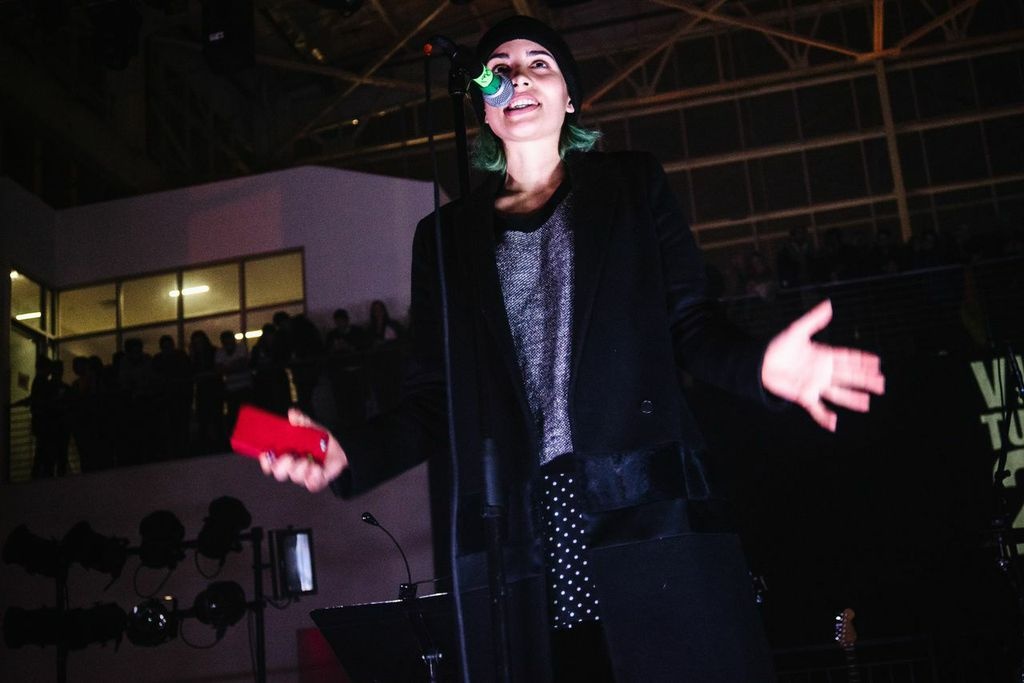 Photo by Ryan Muir

PUSSY RIOT
- Pussy Riot keeps shit real. In this case, they came out and dropped some lines like "I think that murder is murder everywhere" and "you have the right to speak and be heard." They apologized for their English, but it was some of the most poignant stuff I heard all night (certainly eclipsing everything anyone in the crowd said), and it was a night full of performers referencing New York police, police violence, and the recent Eric Garner case. It's pretty cool that what was ostensibly a VICE 20th anniversary party was also kind of an anti-police-themed concert.
- Pussy Riot covering "Deceptacon": genius.
- The ladies of Pussy Riot came to the stage speaking in broken English before announcing their new band member(?) - a miniature lady with a bowl cut who destroyed Le Tigre's "Deceptacon." Seriously, I was in shock of how much she sounded like Kathleen Hanna. I danced and sang and kept telling my coworker that I wished I was her, and probably every other badass chick that joined the stage last night.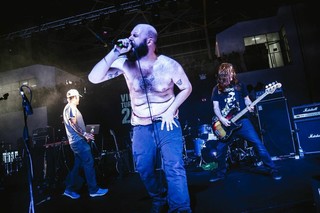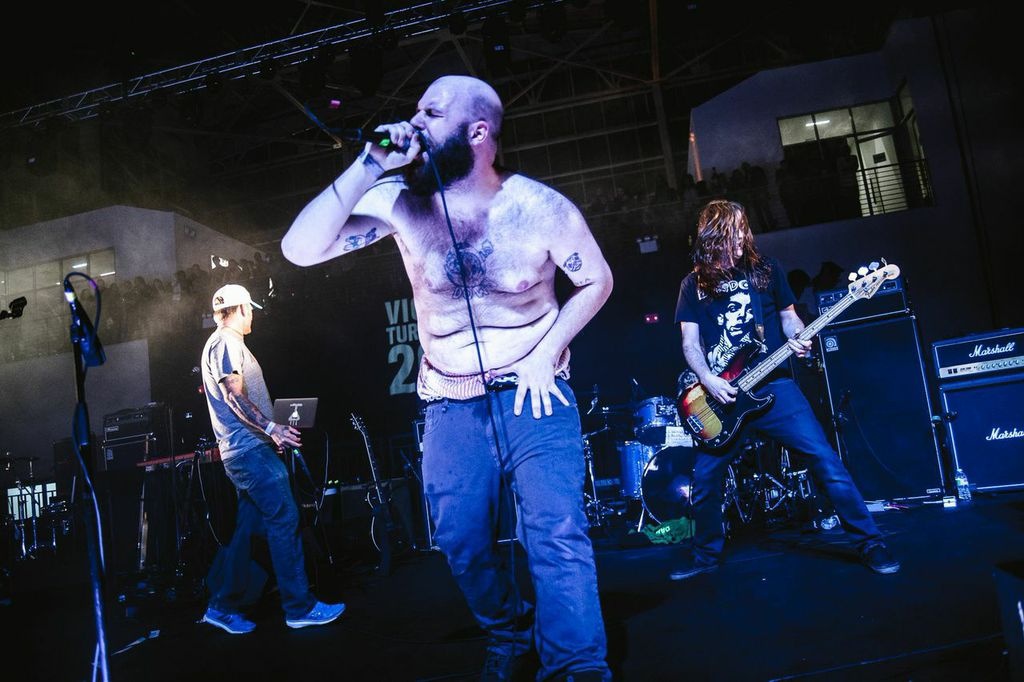 Photo by Ryan Muir
PUNK/HARDCORE SUPERGROUP (Damian Abraham/Fucked Up, Steve McDonald/OFF!, Ben Weinman/Dillinger Escape Plan, Hisham Bharoocha)
- Although my knowledge of punk music isn't as encyclopedic as, say, Dan Ozzi's, I know what I like, and I like Fucked Up. That's why when Damian Abraham took the stage with what was essentially an Avengers formation of punk music, I started to go wild, despite not knowing a single word to "We Are 138" (I was able to pick up the lyrics fairly quickly). This performance also marked the only time in history when beer cans were thrown at the stage in a positive way.
- Damian from Fucked Up screaming, "Fuck you!" without a shirt on in my face with a DGAF attitude about his jiggly man boobs was tight.
- I got chills when John Joseph of the Cro-Mags paid his respects to the fallen victims of police brutality before tearing into Black Flag's "Police Story."
Photo by Fernanda Negrini

SCARLETT JOHANSSON
- Scarlett Johansson was doing something musical, but I couldn't really make out what it was because for the entirety of her set, I kept looking around at everyone nearby and yelling "oh my god is that ScarJo? Look at how attractive she is!" The red wig would've really brought her whole look together though, but beggars can't be choosers.
- Fresh from popping a baby, with a new pixie haircut, she did her husky finest to New Order's "Bizarre Love Triangle."
- I didn't realize what a great voice ScarJo has! Nicely done.
THE BLACK LIPS

- When the Black Lips played "Bad Kids" my friends and I all turned up in a circle and danced like the drunk idiots we were. I forgot how much I loved that song.
Photo by Fernanda Negrini

YEAH YEAH YEAHS

-Everyone got emotional when Karen O sang "Maps" because it's the most beautiful love song on earth and we would've all shed a collective single tear as per the video but we were all cognizent of Andrew WK's order to PARTY HARD.
- Also she followed it with "Art Star," a song that took us back to 2002. Brutal, raw, simplistic, killer.
- This is my highlight for many reasons. First of all, my obsession with Karen O goes way back, so any time I see her I basically cry at some point. While I was hanging over the guard rail admiring her embellished leather jacket that reads, "K.O," an old man next to me grabs my arm and says "that's my son!" I ask him, who is your son? He points to Nick Zinner. I say, "I'm a huge fan of your son." The old man looks at me, laughs, and says "I'm a huge fan of my son, too." I successfully chilled win Nick Zinner's dad while crying to "Maps." So there's that.