When it comes to North American sports leagues, the Canadian Football League is definitely one of the most overlooked. Sure, there's plenty of diehard fans out west in Saskatchewan, Alberta, and British Columbia, but no one really cares about the CFL in Toronto and the rest of Canada. There's an NHL lockout happening right now--which means it's likely there won't be any hockey for an entire season--and most Canadians still can't be bothered to watch the CFL. They're far more likely to turn to watching the NFL or even American college games, because the rules are more straightforward and the players are more likely to be filthy rich. The biggest story leading up to this year's Grey Cup (the Canadian equivalent of the Super Bowl) game between the Calgary Stampeders and the Toronto Argonauts, was Toronto's widely-reviled mayor (ex-mayor) Rob Ford making a bet with Calgary's widely-beloved mayor Naheed Nenshi, with the loser donating his weight in food to a food bank in the winner's city. A bit of a kerfuffle arose when the Stampeders' mascot, a living, breathing horse named Marty, was barred entry from Toronto's Royal York Hotel, which provided a bunch of bored journalists with a reprieve from a slow news day. There was also a zipline for no apparent reason.
This brings us to this year's halftime entertainment, which featured performances from two of the biggest pop stars in Canada, and probably the world. I'm talking about the pride of Stratford, Ontario, Justin Bieber, and the only contestant to appear on Canadian Idol and go onto any success, Carly Rae Jepsen. They were "supported" by Gordon Lightfoot, who for those of you who don't know, is a Canadian folk-rock OG like Neil Young (seriously, YouTube "The Wreck Of The Edmund Fitzgerald" right now, I'll wait) and I wouldn't dare talk shit about for fear of being run out this country by a pitchfork-wielding mob. While I know next to nothing about football, the possibility of writing about this cultural spectacle was to intriguing to pass up, so I applied for accreditation and was only slightly shocked when I was approved.
After picking up my press pass and dodging the throngs of tailgating fans (apparently freezing temperatures weren't enough to stop several individuals from covering their entire bodies in red and blue paint) that had taken over the downtown core, I headed over to the SkyDome (which is technically known as the Rogers Centre now, but only the company's employees or cowboy hat-wearing tourists call it that). The press box hardly contained the depths of human desperation that Hunter S. Thompson described in his 1970 article "The Kentucky Derby Is Decadent and Depraved"--there were a few people in suits talking in serious tones about fucking "special teams" for Christ's sake. The most excitement was at the buffet table, where there was a full Thanksgiving spread pre-game (complete with a MVP-worthy apple crisp). At halftime there was a pizza party, which combined with the performances, turned a bunch of professional journalists (and this guy) into the equivalent of a group of 16 year-olds having a sleepover.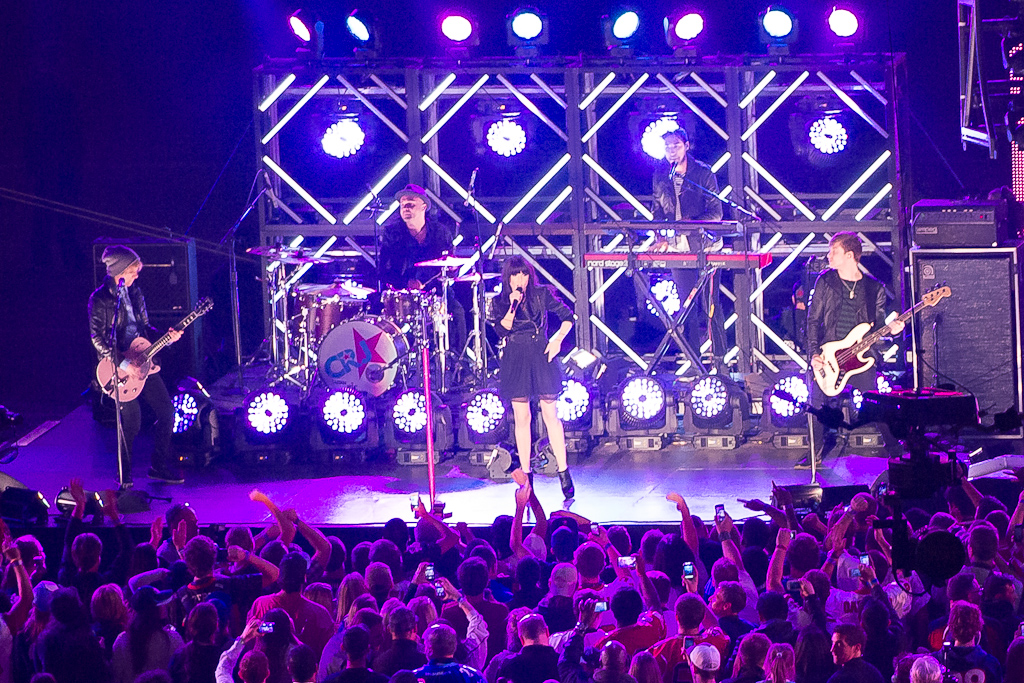 After a dull first half, the lights were turned off, and a stage was rolled out. Lightfoot played and then it was time for Mariana's Trench. They were fucking dreadful, but their lead singer co-wrote "Call Me Maybe" which probably made him enough money to buy his way into the Grey Cup halftime show.Carly Rae Jepsen did a medley of "Call Me Maybe" and her new single,
"This Kiss,"
which sort of sounds like a less catchy "Call Me Maybe." Unlike Janet Jackson at the 2004 Super Bowl or Madonna at last year's Super Bowl, Jepsen's set was pretty tame, with nary a nip slip, middle finger or Roman chariot in sight.
Then it was time for Bieber, who entered through a tunnel and a bevy of backup dancers, which had all the production values of a vaguely ambitious high school musical. Based on the black leather tanktop and single glove he was wearing, I'm willing to bet any money he caught Spike Lee's Michael Jackson documentary on ABC the other night. While the cheerleaders who flocked to the centre of the field were going crazy, the majority of the 53,200 people in attendance weren't impressed and weren't afraid to be vocal about it.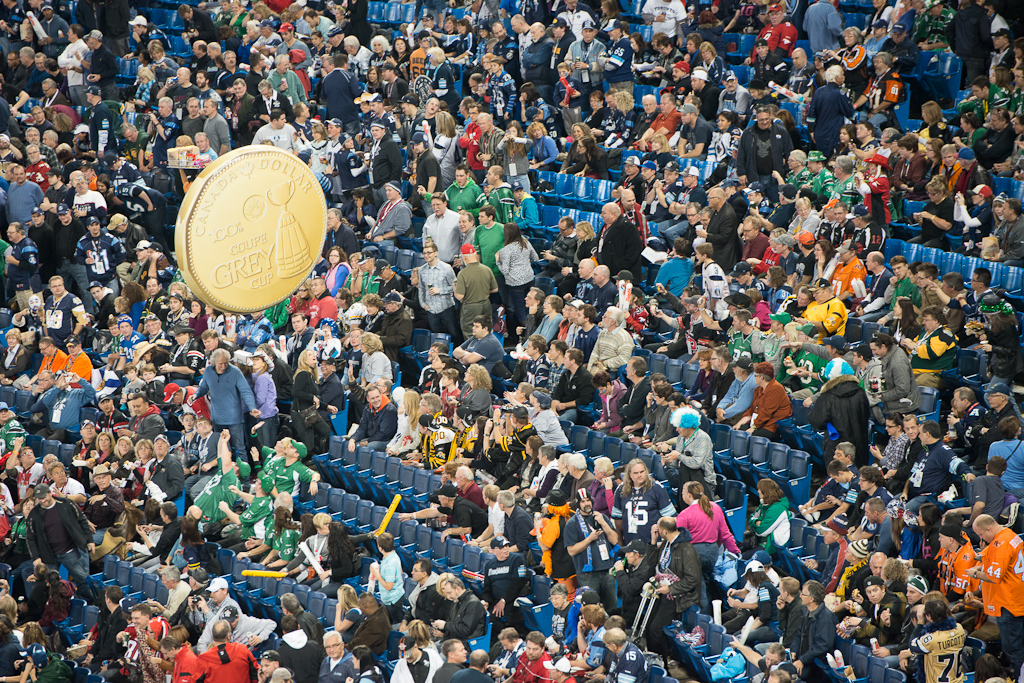 Why was he booed? A few theories:
—He was clearly singing with the use of backing tracks.
—Fans were really upset about his decision to wear overalls when he met Prime Minister Stephen Harper recently to receive some medal for being Canadian.
—While the CFL were clearly hoping his massive Twitter following would translate into more younger viewers, he simply was too much of a departure from the league's history of picking shitty radio rock bands like Nickelback and Theory Of A Deadman.
My money is on a bit of the former and mostly the latter. Still though, the press gallery was loving every minute of it, and Bieber seemed relatively unfazed by the less-than-hospitable reaction (he was probably just excited to get home and watch the
interview he did with Oprah
). He can also take comfort in the fact that he wasn't booed nearly as bad as Justin Timberlake was during his
infamous performance
at a charity benefit concert in Toronto in 2003.
Here's a shitty video of the set that I found afterwards:
If I were to rank the whole performance in the annals of Canadian sports and music, I'd put it above
Shania Twain singing "Forever And Forever"
in a sequined Maple Leafs jumpsuit but below
Drake's performance at the NHL All-Star Game in Ottawa
. Oh, and just in case you were wondering, the Argos won, with the final score being 35-22. Nobody rioted because it's still Canada.
Photos By Corbin Smith