Just Because They Can: An Interview with The Young and a Stream of their New LP 'Chrome Cactus'
The Austin quartet talk about the fine line between "do it yourself" and "just because you can."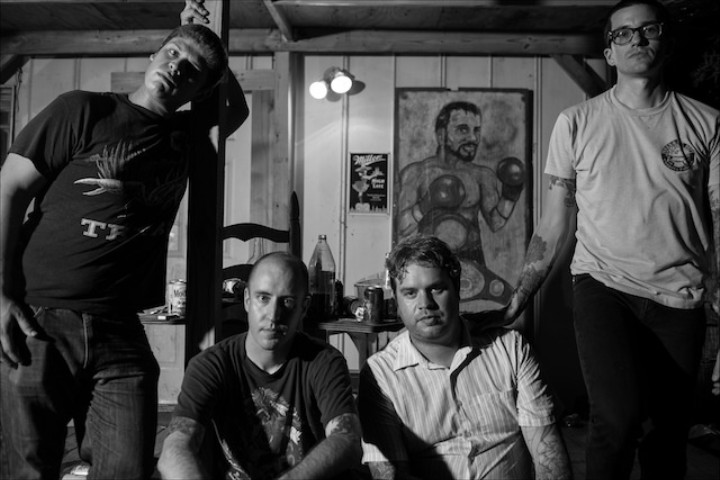 Austin's The Young return with Chrome Cactus on August 26th, their sophomore effort for Matador and third long-player in four years. Mixing elements of psych, krautrock, shoegaze, and simple rock n' roll, Chrome Cactus is the band's most direct and accessible record to date. If you aren't familiar, check out their recent "Cry of Tin" video and stream the LP in full below for the first time.
With the record due next week, we cornered vocalist/frontman Hans Zimmerman to talk about the band's new focus, Austin, and the fineline between "do-it-yourself" and "just because you can." The results of our conversation are below.
Chrome Cactus seems to catch on really quickly, the record feels a lot more focused. How do you guys feel like your approach to this record yielded those results?
Hans: Yeah, it's definitely more direct. I think it probably still has some outliers that are maybe head-scratching moments, but overall it's definitely more cohesive. I don't know if we necessarily did it on purpose, and it was how we were writing songs at that time. Lucas, our new bass player has more of a direct style of playing than our previous one, so that really solidified the rhythm section. And I play drums and bass, so I'll demo stuff through playing all the instruments. So when I'm playing guitar, I'm thinking about the rhythm section and that kind of informed a lot of the material on this record. The majority of stuff on there is a three or four chord song-writing, there isn't a lot of super complicated changes, or "smart guy" stuff going on, it's more straightforward than the last one.
Was that kind of a goal? Something more straightforward?
I don't know that it was a goal. On the last record, that record was kind of focused on subtle changes and accents and moves and stuff, like taking two or three chord riffs and pump the most out of them. Mostly we would play the riffs, then do a different riff for the chorus, but on the last record and even this one sometimes, we'd just keep playing the same thing and change one little thing about it to make it feel different. To your point, it never was a conscious thing. It just kind of came about naturally. I was going through some old stuff last night, because we were talking about maybe putting together a tour tape with some leftover pieces and instrumentals we recorded at our space when Lucas joined the band. Some of those pieces are more interesting to me because they're sort of transitional between how we were playing when he joined and what we morphed into now. I don't know where I was going with this, I was like "huh." People have reacted in a way that says this record is so different and I acknowledge that on the one hand, but I also think the change feels natural and organic. It doesn't really feel like we turned on a switch and now we can play riffs, it's all really natural. Those demos are like an evolutionary footnote for us.
It's funny that you mention the cassette as a showcase for that "in between," because a lot of people view a band through these discrete moments in time. Like Chrome Cactus, this is what they sound like now, when in a lot of ways it's a dynamic entity. The cassette connects record A to B.
I think bands operate in a way that's usually not like this, where they're like "ok, we have enough songs for a record," and they put them out. We're just cruising along and when it feels right we'll go for it. There's a lot of stuff we've done or didn't do that's just sitting there currently. And it may or may not that it need to be released, but it is still a fascination part of our history. That sort of "in between" is missing from a lot of people's understanding from a lot of bands. As much as what you may think you know by listening to something, it's a lot of times what you're not privy to that might inform that band more.
Are you guys planning to do any extensive tours around this? What're the plans?
We're gonna do three west coast shows at the end of this month, and the middle of September we're doing a tour up to New York and Chicago. Midwest-east coast thing. And hopefully a larger west coast tour after that. It's kind of difficult because everyone has full time jobs. It's never been a priority to make money from playing music, so our approach has been sort of guided by that. If it's compelling and fun and working for us we'll do it. I think the statement is in the record and when we play live, but I'm not compelled to play a festival circuit, or where bands like us go next. I'm not concerned with that, yes I want to tour and play shows and people to hear our record, but at what cost?
It's funny, I did an interview with DX of Total Control and he told me he'd rather play a 200 cap packed out show with three bands he loved than play in front of 60,000 people at a festival with half the people paying attention.
Yeah, I absolutely feel the same way.
As far as Austin goes, how do you feel Austin has formed and fostered your creativity as a musician? It's a small city, but it's a small concentration of artistic folk and people who care about music.
It's funny, because obviously there's this huge industrial and monetarily backed and subsidized capital M "music" thing that happens here that sucks for all the reasons that doesn't need to be mentioned. But one of the things that the underground scene might have benefitted from some small ways, like the runoff of the term "live music" changed the way normal people think about music in the city. I feel like you can practice in your house and make a bunch of noise, because this is the "live music capital!". So you have permission almost to fuck up and be loud sometimes, more so than other places. On the other side there's never been a time where it's been like "oh, well there's nowhere to book this show." Whether it be at a traditional venue, bar, house show, record store, whatever. There's always been a place to do it.
Austin in a lot of ways is the way bigger cities work, where there's competing shows on a night. There's also a lot of players here from different genres, so you can go to the pawn shops for decent gear for cheap, you can find a place to practice for not a ton of money. It's conducive to a lot of that behavior. There's tons of bars to work at and you can fuck off and go on tour.
It just seems like it's easier to do more with less in Austin.
I think that rings true. The inverse is true also, the quality control might go bonkers if you just do shitty stuff. The "just because you can" mentality should probably be on more people's minds.

THE YOUNG on TOUR
8/25 Austin, TX - Waterloo instore (5pm)
8/29 Los Angeles, CA - Los Globos (w/Milk 'n' Cookies, Lamps, Gun Outfit)
8/30 San Francisco, CA - Hemlock Tavern
8/31 Oakland, CA - 1234Go Records (w/Rat Columns, Violent Change)
9/04 Austin, TX - Hotel Vegas
9/05 Birmingham, AL - Bottletree
9/06 Atlanta, GA - 529
9/07 Durham, NC - Pinhook
9/08 Asheville, NC - The Mothlight (w/Potty Mouth)
9/09 Washington, DC - DC9
9/10 Philadelphia, PA - Boot & Saddle
9/11 Brooklyn, NY - Glasslands
9/12 New York, NY - Mercury Lounge
9/13 Boston, MA - O'Brien's
9/14 Montreal, QUE - Vitrola
9/15 Toronto, ONT - Silver Dollar Room
9/16 Cleveland, OH - Now That's Class (w/So Cow)
9/17 Columbus, OH - Ace of Cups (w/So Cow)
9/18 Chicago, IL - Empty Bottle
9/19 Memphis, TN - Hi-Tone Cafe
9/20 Dallas, TX - Foundry Beer Garden (free show) (w/Radioactivity)
Stories