What Musicians Were Wearing and Sharing on Instagram This Week 1/18
Madonna's feeling like a #rebel again, the Spice Gils get a millennial makeover, and Yung Jake wins the Internet.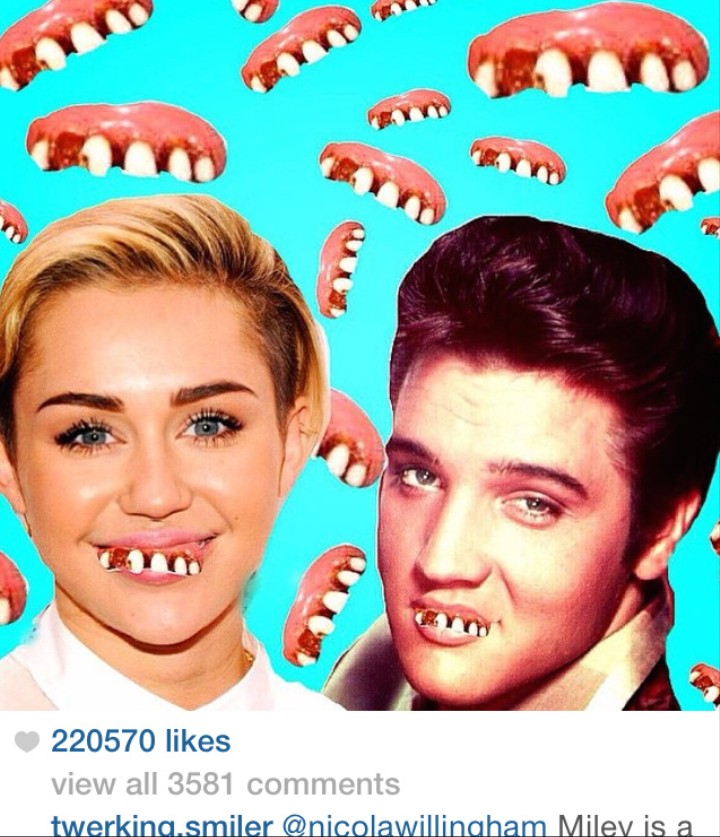 In this weekly roundup, we take stock of what musicians were wearing and sharing on Instagram.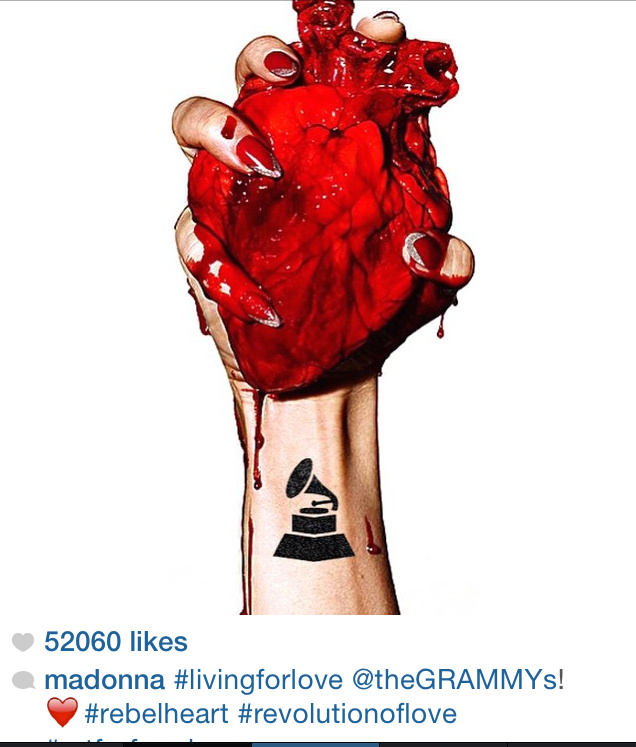 Bashing Madonna's social media output has become an online sport in 2015, so, having recently posted examples of the Queen of Pop's slightly overenthusiastic enjoyment of a new, "on fleek" Internet phrase, I couldn't help but take another "on peek" at her Instagram account. Here, I found Madonna is still using her rebel heart hashtag to full #effect, in this case to publicize the Grammys. You probably haven't heard of the Grammys, as they're so underground, but they're a bastion of free expression and anti-establishment feeling who last year awarded Best Rap Album to Macklemore. The revolution has arrived.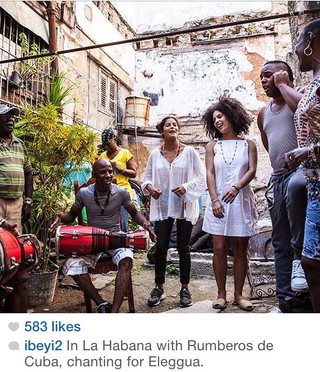 While some of us freeze our little bums off in sub-zero Atlantic freeze, here's twin sister duo Ibeyi flaunting their ability to wear linens while joining a drum circle in Cuba. I'd smile at the general loveliness and perfect level of twin coordination in this picture, but my face stopped moving three days ago.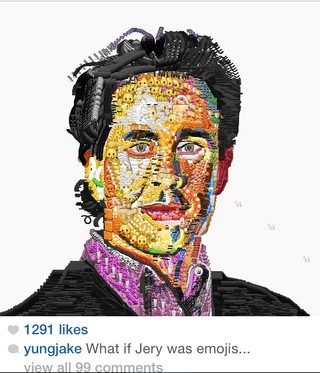 LA rapper and artist Yung Jake has been outrunning the zeitgeist this week by creating emoji pictures of your favourite celebrities. If you know your emojis, these paintings are like an intricate, millennial version of Where's Waldo, wherein you can spend hours searching for your favourite dancing girl. I see this series of portraits as a definitive moment for a generation, and I like to think that, somewhere in the Internet, Jake has now unlocked a new level and is currently siting in a virtual spa waiting room with Boo the dog, Kim Kardashian, and this guy, who likes shoes.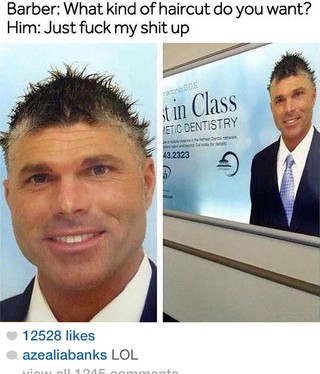 Thanks to Azealia Banks for reposting Miley Cyrus' picture of a man whose unique hair texture has brought me so much joy in recent weeks. Another thing that brings me joy is writing "Azealia Banks," because I finally figured out the correct spelling, and have thus entered the colorful world of being her Instagram follower. So many likes, Azealia! See, I spelled it right again.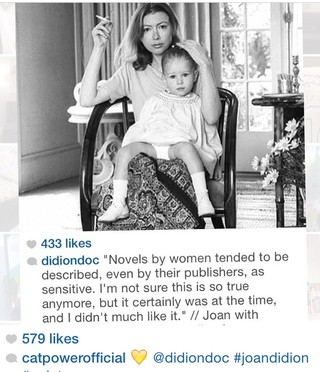 It's probably not surprising that the notoriously shy Cat Power is virtually invisible on her Instagram, preferring to post inspirational images of cultural icons instead of pictures of herself. Here's a recent post of Joan Didion, which caught my eye. Didion is probably best known as a Pulitzer-prize-winning writer who broke through political and journalistic boundaries, but in this photo she proves herself to be also a great wearer of accessories, working the baby and cigarette combo to perfection.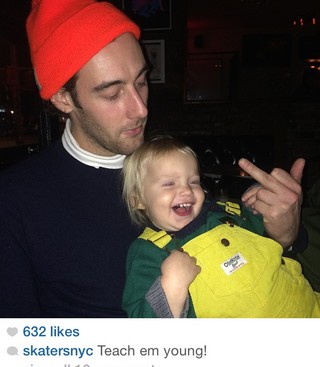 Speaking of babies, Skaters kept it punk this week by teaching this little guy how to count to one and tell someone how you feel at the same time. I guess those yellow overalls means that rave is back. Thanks for the memo, Skaters Baby.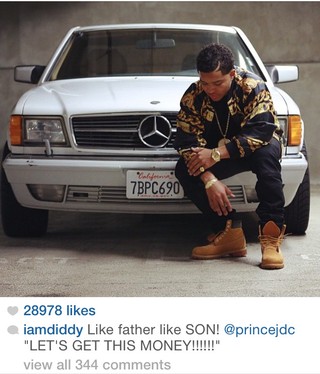 Diddy's son, Justin Dior Combs, apparently dropped some money this week, and had to crouch down in front of this vintage car to look for it, while Diddy offered fatherly encouragement in the caption. By the look of those accessories, it was more than a quarter. Quick q—if Diddy is your dad, do you call him did? I have to know.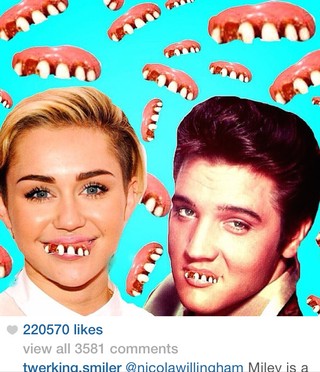 Miley Cyrus is equal to Yung Jake in winning-the-Internet stakes, so I assume this photo is a real photo taken at that secret VIP Internet I was telling you about. The King's not dead, he's IN THE WIFI.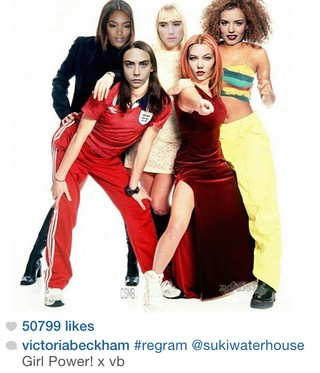 My favorite Spice Girl, Victoria Beckham, might be more of a designer nowadays, and some might debate that she used to be a musician, but I'm always in the mood for some Spice Girl nostalgia. This mashup of models and Spice Girls is a little surreal, but also rewarding. Who knew that Georgia May Jagger as Scary Spice would be scarier than the original Scary Spice? And how could I forget that Geri Halliwell once perfected the prom dress/ sneaker combination? Kudos to Cara Delevigne, always on trend even when her face is being superimposed on a two decade-old picture of a girl group.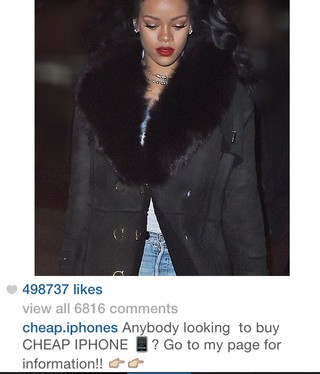 CHEAP IPHONES.

Emma-Lee Moss is on Instagram, obviously.
Stories