Stream Eaux's Remix of "Head," Which Sounds Like Spooky Witches and Toads Music
Plus, read our interview about why London kind of is OK but also kind of sucks.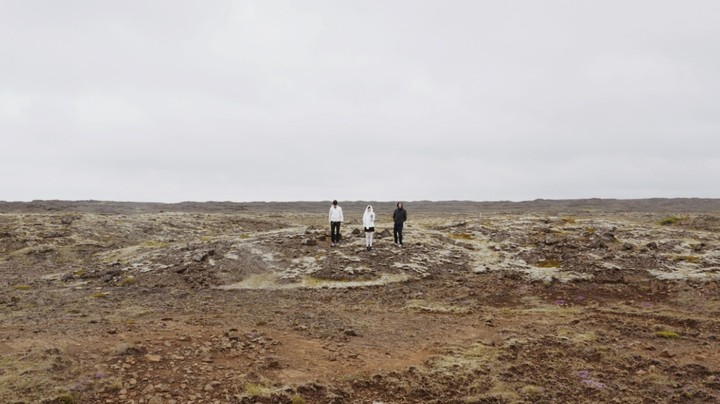 Photo credit: Hans Lo
I moved out of East London three years ago to New York because I got over living in a state of near suicide in one of the most over-priced cities in the world, where the constantly grey muggy weather feels like being trapped inside a witch's fallopian tubes. I do not miss the city but I dearly miss some people, places and things. Two of those are Ben Crook and Sian Ahern, who used to be in the Sian Alice Group, but are now in a group called Eaux with a guy called Stephen Warrington.
They gave us a remix of "Head" from their new record Plastics via ATP Recordings, which you can stream below, and we talked about what it's like living in London now (which kinda sucks but is OK-ish).
Noisey: The record reminds me of living back in London and having like, the spookies and the fear... but in quite a pretty way. What's it like living there at the moment? The last time I was there, the nightlife was like an Hieronymous Bosch painting.
Sian Ahern: Well I think you're right about the pretty / spooky / neg blend of London life. It pulls you in all directions. One minute you feel like you're drowning under a capitalist yuppie tidal wave and the next you're marveling at the sheer joy of the multiculturalism and the survival of any counter culture against all odds.
The most annoying new thing perhaps is all the influx of money forcing out the normal folk out of Hackney and other historically poorer parts of London, and I think my favorite new thing would be the ATP / Primavera / Jabberwocky festival. It's going to take place at the Excel Centre- a better / healthier cultural event than the worlds largest existing Arms Fair that also takes place there.
What is the current most worrying trend in modern music / British culture and why?
Jeez, in British culture it would be the worrying trend of facism and censorship in the mainstream press and Parliament.
In music it'd be the strange news I heard today — that Sam Smith, Disclosure and Ed Sheeran were voted most important acts in Black and Urban Music by the BBC.
Those guys are like the modern day Black Panthers, but they're white guys who make white music for white people; its an incredible situation.
Other than that, and more related to me personally, is the small issue that all of the money has disappeared from alternative music. By alternative music I generally mean those of us musicians who would rather sell records than help sell cars and soft drinks.
What's this remix track all about that we have?
It's weird binaural remix of the song "Head". It's the same technique the CIA used on music for mind control when they really dug MK-Ultra. Their signal processing division worked on it with Bell Labs. Specific drugs can be mapped to certain frequencies.