Noisey's Best of 2014 - Kayla Monetta
A little bit of emotional guitar rock and a lot a bit of garage/psych.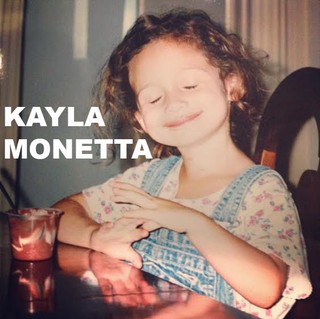 The #trend this year is to begin a year-end list with a statement about how self-aware you are about year-end lists being lame, or how you don't care what people think, or basically prefacing the entire thing with some sort of statement defending the stripped down vulnerability that comes with putting your deepest and truest feelings about music you actually admitted to "kind-of-sort-of-whatever-getting-into" on a platform like the internet, that lasts forever. Phew.
Well, screw that. Here's an idea: let's make liking music cool again!
These are the 10 albums that got me through the most transitional year of my life: 2014.
10. Pure X - Angel
Do you ever get sick of putting on a Real Estate album in order to "play it safe" when you have people over for a chill hang? You're welcome.
9. Future Islands - Singles
My love for Future Islands is the responsibility of a boy that I "loved" when I was 17, who lived in New York and wore black rimmed glasses and actually finished books. He burned me a CD with bands like Animal Collective, No Age, and Times New Viking. "Little Dreamer" from Future Islands' first album Wave Like Home was on there. I would listen to it every night while I missed my hip prince charming. This created a longer lasting love for Future Islands, and their entire discography. Although Singles proved to be the album that allowed them to sell out Terminal 5 and appear on Late Night TV, this album stands as their best one to date.
8. Caribou - Our Love
This entire album is sex music. Try it. Trust.
7. Massenger - Fright Eye Split 7"
I went to this bar in San Francisco in order to see Melted Toys. This band that I had never heard of before called Massenger opened, and then the next day I purchased all of their releases from their Bandcamp. Massenger's music is a mix of garage and punk, and sometimes a bit of Riot Grrrl. It's badass. Music like this makes me stoked about being a lady.
6. Alvvays - Alvvays
Alvvays is the answer for all of those 20-somethings who were fans of Best Coast's early 7-inch releases like Make You Mine. Best Coast basically became an irrelevant Billabong ad in order to make room for Alvvays' existence. TBT to that time when Noisey's Managing Editor, Eric Sundermann, came to my apartment before 4Knots music festival while I blasted this song and cooked him eggs.
5. Meatbodies - Meatbodies
As a Ty Segall fan, I was a bit disappointed with Manipulator. If I choose to listen to Ty, I want it to hit HARD. Thank bajesus for Meatbodies' self-titled album. Every single song absolutely rips. I am pretty sure I listened to this album every day for three months straight.
4. Angel Olsen - Burn Your Fire For No Witness
Kudos to Angel Olsen's parents for naming her, because home-girl literally sounds like an angel. Kudos to lyrics being showcased in front of instrumentals and not drowned out by reverb. Kudos to yodeling. Kudos to baby bangs. Kudos to the lyric, "Are you lonely too? High five, so am I."
​3. Cool Ghouls - A Swirling Fire Burning Through The Rye
Whenever people are like "OMG RIP SAN FRANCISCO, TECHIES, GENTRIFICATION, LA," I want to give them this perfect record. I've been a fan-girl of this band since I lived in San Francisco, and these guys are not only stand-up dudes, but they make incredibly amazing music that can't even be defined as primarily garage rock. Cool Ghouls are a psych/garage lovers dream. They also have a horn section live. A HORN SECTION.
2. Sharon Van Etten - Are We There
I have this specific memory of sweating my ass off in the middle of the summer while straddling a fan that I was building from the dollar store, listening to Sharon Van Etten performing songs off of Are We There live on WFMU. I never finished building that fan.
Everyone has an ex that can be filed in a folder titled: "Break my legs so I won't walk to you / Cut my tongue so I can't talk to you/Burn my skin so I can't feel you / Stab my eyes so I can't see / You like it when I let you walk over me / You tell me that you like it / Your love is killing me."
Jesus Christ.
1. The War on Drugs - Lost In The Dream
Everyone has a story about that one record that "really got me through it, maaaan," and Lost In The Dream is that album for me. I was living in San Francisco when "Red Eyes," the first single from the album, was released. I was in a weird place at the time- working three different jobs seven days a week, figuring out my "why aren't you calling me your girlfriend?" situation, arguing with my parents about my career, and unsure of what the hell I was doing with my life. Since thinking about my own timeline was too anxiety inducing, I focused all of my energy on the timeline of this album's release. Somewhere during this time, I was offered a job in New York, and made the long, cold move back to the city that I thought I had escaped forever. I first heard Lost In The Dream in its entirety while sitting on my deflated air mattress in the middle of my empty bedroom. I somehow justified purchasing a $65 ticket for their already sold out show at The Bowery. I went to the show drunk and alone, lingered the front of the stage, and cried for the entire set. It was a good year.
Kayla Monetta is a giant cry baby who likes making hashtag jokes. You can follow her on Twitter.