All photos by the author
It took thirty minutes for the beat-up bus to arrive and take us from the dusty gravel parking lot to the heavy metal show at the North Carolina State Fair. I climbed aboard behind a retired Navy vet whose jacket was decorated with medals, the stained trucker hat announcing his branch snug upon his head. I hoped he was joining me to watch Chapel Hill post-metal trio MAKE, who, on the second day of the state fair, in the middle of the afternoon, was slotted to play behind the iconic waterfall where lost children are often told to wait for their parents. For the first time in our fair's history, a diverse set of local acts would perform each day, rather than the regular cast of country stars (we have a lot of those in North Carolina) and American Idol winners (strangely, we have a glut of those, too).
The bus dropped us off at main gate, a wide artery with several offshoots housing pepper jellies and quilted blankets, honey cotton candy and blue-ribbon biscuits. It was a drizzly Friday afternoon, but enough folks had either taken off from work, or were here due to work, that navigating through the crowd required a mixture of jostling, bumping and apologizing (unless someone was wearing an "I Support Confederate Heritage" sticker, in which case, the bumping was maximized and apologies were minimal). But the biscuits would have to wait; I was here for the show. The closer I got to the large waterfall in front of Raleigh's parabolic Dorton Arena—the funny-shaped crown jewel of the city's architecture in the 1970s—the louder it became. Luke Herbst's tromping drum hits on "Breathe," a long and energetic jam from MAKE's most recent album, The Golden Veil, floated through the air, along with the smell of French fries and farm animals.
Tucked beneath the edge of the parabola, on a stage decorated with yellow and red chrysanthemums and six plump pumpkins, Herbst was joined by Spencer Lee and Scott Endres, who began a slow build-up on bass and guitar. The stage's backdrop was made of wrinkled black curtains, and towering stalks of corn and golden bales of hay framed the band. During the quieter moments of melodic progression, folks in the crowd tapped along. But MAKE isn't satisfied with just creating a psychedelic atmosphere—in fact, they seem happiest when they're tearing it apart. Much of the audience, who presumably wandered up without much knowledge of the act, was caught off-guard by the band's escalation into loud, plodding riffs and Lee's howling vocals. The air was humid from the spitting mist, and Lee's red mane went wild when he sang. He looked like an aggressive version of a lion that a person might win if they could get three rings around the milk bottle.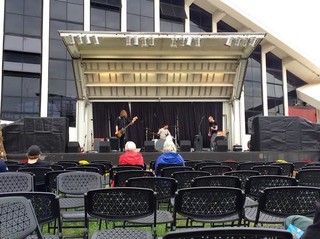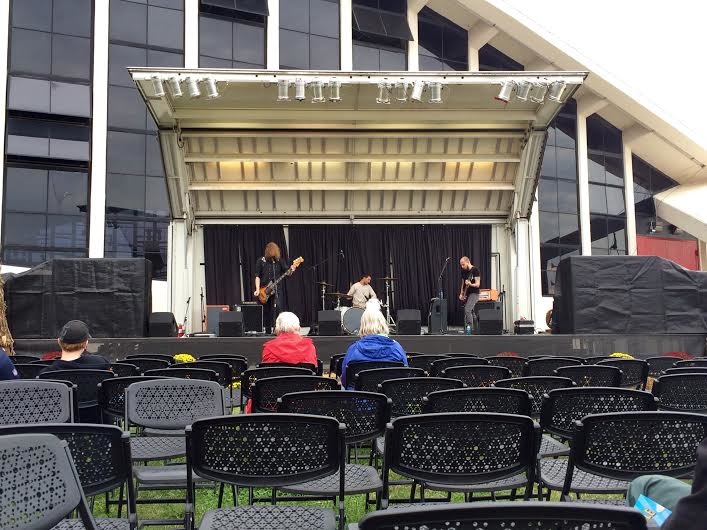 Indeed, it was the most diverse crowd I'd ever seen at a metal show. At one point, a teddy bear the size of a Mini Cooper floated past the stage. Propped up on the shoulders of its proud owner, the brown bear appeared to be moving on its own. A handful of local faithful, mostly bearded dudes in drone t-shirts, stood along the fringes and bobbed their heads for the duration of the set. But around them, the audience continuously morphed and shifted. There were children dressed in tutus with Geico-sponsored satchels on their backs, gray-haired veterans tucking into sloppy hoagies, white men in black hoodies and black women in matching "My Best Friend Thinks I'm Crazy" t-shirts. And, incredibly, they were all watching a local metal band perform at the North Carolina State Fair.

The look on this guy's face made our day.
Posted by
MAKE
on
Friday, 16 October 2015
Teenagers were especially curious, drawn from the depths of the deep-fried vendors by the sound of something sinister. During "Ancient Tongues," a mid-tempo doom march that builds to accompany deep, growling vocals, a group of shiny-haired boys embraced the opportunity to practice head banging. It was clearly a novel activity for them, and every few measures, they'd exchange glances and giggles, titillated by this act of defiance during their otherwise wholesome daytime activities. The boys kept time until taking a selfie proved too difficult and prompted their exit.
MAKE played for a little under an hour to a crowd that ranged from five to 55, in both age and number. Their set comprised nearly half of The Golden Veil, plus a new song and an aggressive Stooges cover. It was energetic and entertaining, if a little sloppy. Only during the short interludes between songs could you make out the loudspeaker announcements for AgriSupply Farm Equipment and Tractor Parts, a quaint reminder of your location if you happened to get lost in one of the band's psychedelic meditations or cathartic, heavy releases. And, if you looked out from the stage, you could see the soundboard—not itself unusual, but this one was tucked into a wooden barn with a tin roof—and a shiny red blimp with the words DEEP-FRIED CHEESECAKE in the air overhead.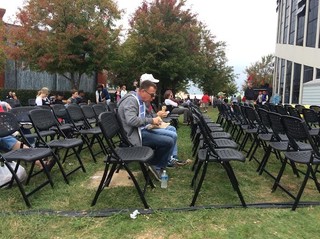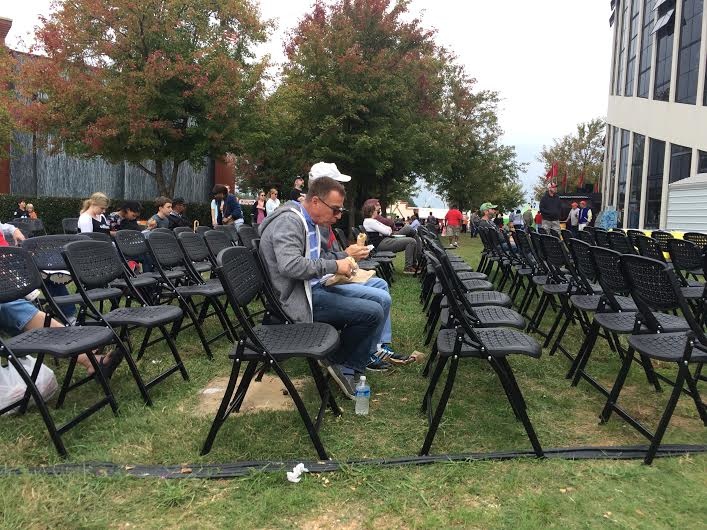 Near the end of the set, Endres called a time-out. From behind an amplifier, he summoned a deep-fried, bacon-wrapped Twinkie—one of the newest fried-food mashups for which our state fair is known—and passed it around the stage. All three members took a bite. "That might be the best thing I ever put in my mouth," Lee announced through a mouthful of Twinkie. "Wonderful," Endres confirmed. Afterward, the band had to pause for several water breaks.
When the show was over, my ears tingled a bit, as though one of the bees from the honey exhibit found its way inside my head. I hadn't expected the volume of a fair show to be loud enough to warrant earplugs, but happily, I was proven wrong. I meandered to the other side of the waterfall and watched a man conjure a crowd of more than a hundred people in half-moon formation. They were all eagerly waiting for him crack a small brown coconut with his forehead. He lobbed the fruit into the air, and it came crashing down onto his face with a hollow thump. As the audience whooped and hollered for this odd display, I hoped that at least a few of them caught the real weirdness only a few feet away, on the other side of the waterfall.

Tina Haver Currin is staying hungry on Twitter.