The Naked and Famous Gave Us an Exclusive Stream of Their New Album!
And we had a chat with them about living it up in LA, Miley, and writer's block.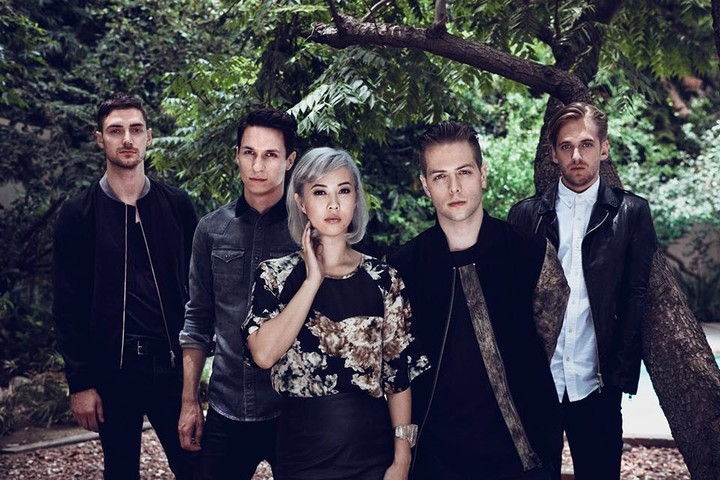 The Naked and Famous' second album, In Rolling Waves, was recorded in Laurel Canyon, which is the go-to hangout of every mid-70s singer-songwriter with a pocketful of dreams. It's made the band's sound fresher, less moody than their debut, and more like they've been reading back copies of Smash Hits in-between writing emotional synth ballads. And, we've got an exclusive stream of it which you can take a listen to below.
In return for such a nice gift, we had a chat with Alisa and Thom from the band to find out where's best to listen to the album and what song means the most to them.
What's the meaning behind the odd trailer for the album? It features a half naked guy dragging another half naked guy's body.
Thom: Is that a leading question? I think that with a lot of the director's work he doesn't try to be obvious. For me he's trying to avoid being literal, he directed the "Young Blood" promo and I think it's the same narrative for that.
Did you live every LA rock star cliché when you were recording in Laurel Canyon?
Alisa: It sounds like such a cliché thing if you wrote it down on paper, a ridiculous place to write a record. Los Angeles is in the middle of everywhere. We've experienced the tacky Hollywood side of it before. Laurel Canyon kinda reminds me of home with all its trees and open spaces.
Didn't you see Miley Cyrus in Laurel Canyon?
David, our bass player, saw her and he crashed his car. He's a big fan!
Tell me a good story about writing a song on the album?
There's a song called "I Kill Giants" that was supposed to be on the first record but wasn't totally finished at that point. It's so special to me because it's a reconstructed memory of when I lost my mother; she died when I was young, around seven. It was the biggest moment of my young life. It wasn't until years later that Thom gave me this graphic novel called I Kill Giants. There's this character in it that I related a lot to and it encouraged me to finish the song.
So does the idea of playing the song live daunt you?
I thought about that but I get such a cathartic release from music. Music can be like therapy for me.
Are the songs written from your own relationship perspective or do other people influence you?
It always starts from somewhere personal but I then add more of a story to it, taking in stuff from the people around me.
Does it feel unusual to have your boyfriend at the side of the stage? [Alisa and Thom have been dating since before they formed the band.]
Mine and Thom's artistic relationship never gets complicated, we're best friends. When you find someone whom you can create great art with, you should just hold onto them. There are times when it can be a bit emotional but we work it out.
How should someone listen to the album?
Listen to it in the car, get your friends and have a Naked and Famous car party!
That should totally be a thing...Did you get writers block during the recording of the album?
A few times actually and especially with the fact that me and Thom are both songwriters, the rest of the band felt it as well. I felt really low and that everything I made was terrible. The song "Heart's Like Ours", it's a song about anxiety and being brave to go somewhere new. It made me feel like I could turn it into something positive.
That's made me feel all warm and fuzzy. Thanks guys!
The band's new album In Rolling Waves is out on the 13th September, pre-order it here.